When a company is sitting on a pile of cash, investors begin to wonder if it is the right time for a dividend. The cash-rich company has numerous options available, such as reinvesting the cash if it has growth opportunities present, buying back some of the share float, or giving the money back to shareholders in the form of dividends instead of allowing inflation to nibble away at the bills in its vaults or in low-interest investments.
Let's analyze two cash-rich firms and see if they should start paying dividends.
Cash-Rich Firms
We will look for non-financial, non-utility, and non-real estate stocks. They will currently be profitable according to the earnings per share, and their debt to equity ratios – both short- and long-term – will be below the industry average. At a minimum, they will need a market cap of $300 million, a price of $5 per share, be on a major exchange, and offer very high cash (and net cash) per share.

| | | |
| --- | --- | --- |
| Company | Ticker | Market Cap(mil) |
| Diana Shipping Inc. | | 986.9 |
| InfoSpace, Inc. | INSP | 312.2 |
DSX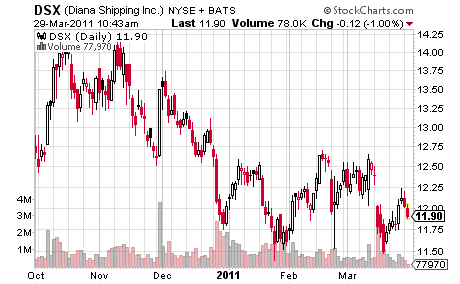 Diana Shipping has $4.28 per share in cash with a price tag of $12 per share. Not since 2008 has it paid a dividend.
Why not start again now? First of all, the shipping industry is going through some tough times at the moment. It is hardly the time to erode book value with a short-sighted move of paying dividends.
Diana has a very strong balance sheet with high free cash flow over the past two years. Its strategy is to expand the fleet where possible, and lock into long-term contracts so as to lower exposure to the falling "spot" rates of one-time voyages. Its long-term strategy is strong, but the same cannot be said of the muddy forecast for dry-shipping. This makes paying dividends difficult.
Personally, I like its long-range view of the market and expansion of the fleet. When the dust clears and the market improves, I am very bullish for DSX and its prospects of paying a healthy dividend once again.
While Diana is the third highest relative cash-rich shipping firm (small cap and above), it comes out on top when you include other factors such as better-than-industry-average short- and long-term debt loads.
| | | | |
| --- | --- | --- | --- |
| Ticker | Company | Price/Cash | Market Cap(mil) |
| | Genco Shipping & Trading Ltd. | 1.48 | 399.76 |
| | Danaos Corporation | 2.5 | 574.55 |
| DSX | Diana Shipping Inc. | 2.83 | 978.79 |
| | TORM A/S | 3.53 | 422.97 |
| | Seacor Holdings Inc. | 3.93 | 2031.26 |
| | DryShips, Inc. | 3.98 | 1462.36 |
| | Excel Maritime Carriers, Ltd. | 5.24 | 345.25 |
| | Global Ship Lease, Inc. | 13.12 | 371.96 |
| | Kirby Corporation | 15.47 | 3025.91 |
INSP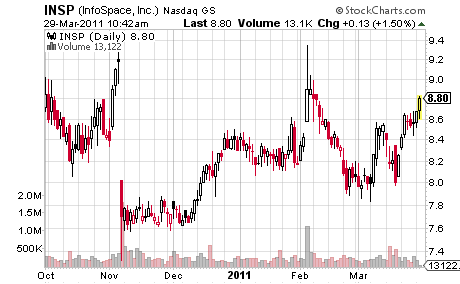 Infospace is another stock with high cash of $155 million and only 36 million shares outstanding. With a share price of $8.73, this company has a pile of cash.
When you compare share price to cash of other Internet search or related businesses, you can see how cash-rich INSP really is:
| | | |
| --- | --- | --- |
| Company | Ticker | Price/Cash |
| InfoSpace Inc. | INSP | 1.24 |
| Move, Inc. | | 2.37 |
| AOL, Inc. | | 2.62 |
| Google Inc. | | 5.29 |
| Sina Corp. | | 7.14 |
| Yahoo! Inc. | YHOO | 7.53 |
| Baidu, Inc. | | 37.44 |
Year over year, the sales have climbed since 2007. The three-year sales growth rate is 20%. EPS from continuing operations has grown 29% annually during the three years.
This stock has grown its money pile by almost 5x when compared to the three trailing quarters. Infospace likes to invest its cash in low-risk, low-yield returns such as bonds and certificates of deposit. It suggests that cash will be used to seek new growth opportunities that may or may not be related to online search in the future. It also hinted at possible share repurchase or a special one-time dividend.
I think it is high time they both paid regular dividends and aggressively seek new growth opportunities. They do have the cash for both. I get the feeling that they have all this money and are waffling as to how to spend it wisely.
Time to Crack Out The Dividends?
DSX is positioning itself well in a murky water market, and I expect it to resume dividends once the outlook improves overall. I like the prospects of DSX, but buying might be a bit premature. INSP should start to do something a little more agressive with its cash than low-risk investing. I think it is time it started paying regular dividends along with using existing funds and continuing cash flows to grow, if at all possible.
Disclosure: I have no positions in any stocks mentioned, and no plans to initiate any positions within the next 72 hours.