At BioSante Pharmaceuticals (NASDAQ:BPAX), they like to say that their LibiGel transdermal treatment for female sexual dysfunction (FSD) is the "Last Woman Standing".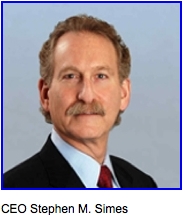 That's because Boehringer Ingelheim and Warner Chilcott (NASDAQ:WCRX) have each pulled the plug on their competing FSD treatments for menopausal and pre-menopausal women. "LibiGel is now the only compound in active late-stage clinical development for this indication," CEO Stephen M. Simes says in an exclusive interview with my blog, BioTuesdays.com.
Thirteen years after the arrival of Viagra, there is still no FDA-approved product for FSD—specifically, hypoactive sexual desire disorder (HSDD) in menopausal women. Characterized by a lack of sexual desire and low sexual activity, "FSD is a potential blockbuster indication for this unmet medical need in women," Mr. Simes says.
Last June, an FDA advisory committee to the division of Reproductive and Urologic Drug Products stated that HSDD is a significant medical condition for women. "This is relevant since the FDA never has approved a product for this condition, so it's good when the FDA or its advisers say that a product is needed here," he adds.
In a new report (.pdf) this month, JMP Securities analyst Jason Butler writes that LibiGel, a proprietary formulation of testosterone gel, offers "lower than average clinical risk and regulatory clarity that has emerged defining a path to market in a new therapeutic indication." He initiated coverage of BioSante with a "market outperform" rating and target price of $5. The stock closed at $1.85 last Friday.
In an earlier Phase 2 clinical trial, LibiGel significantly increased the number of satisfying sexual events by 238% in surgically menopausal women who had their ovaries removed. There were no serious adverse events and no discontinuations due to adverse events in women receiving LibiGel.
That compares with Warner Chilcott's Intrinsa testosterone patch, which achieved a 74% increase in the number of satisfying sexual events in menopausal women in Phase 3 testing. In December 2004, when Intrinsa was owned by Procter & Gamble (NYSE:PG), an FDA advisory committee voted that the data were statistically significant and clinically meaningful to women. However, the committee, at a meeting eight weeks after Vioxx was taken off the market, also voted 17-to-0 that it would like to see more long-term safety data.

Comparative Results of LibiGel and Intrinsa
BioSante currently is conducting two six-month Phase 3 efficacy trials with LibiGel under a special protocol assessment agreement with FDA, and one Phase 3 safety study. In February, the company said that enrollment in the first 500-subject efficacy trial had been completed, and Mr. Simes says that enrollment in the second 500-subject trial will be reached around the end of this month. Data from the efficacy studies should be released in October.
The primary endpoints of the trials are the increase in the number of satisfying sexual events and the change in mean desire; the secondary endpoint is the decrease in distress associated with low desire.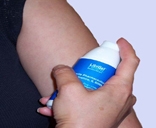 LibiGel
The LibiGel safety study is assessing the longer term risk of cardiovascular events and breast cancer in subjects treated with LibiGel compared with placebo. The study is designed to enroll up to 4,000 women, and BioSante will follow them for five years. Over 3,000 women have been enrolled to date. However, after an average of 12 months of exposure, BioSante can submit a LibiGel NDA to the FDA for review and potential approval. An independent Data Monitoring Committee has taken five unblinded reviews of the safety data and recommended that the study continue with no modifications. The next review is scheduled for May.
With the efficacy data set to arrive in the fourth quarter this year, the company plans to submit its NDA for marketing approval in mid-2012, Mr. Simes says. If the FDA opts to conduct a six-month priority review of the NDA, LibiGel could be cleared before the end of 2012 and launched in early 2013, he adds.
BioSante had $54 million of cash in early March 2011, "so we've taken the financial risk off the table" to complete the LibiGel program, he says. The company's burn rate of $3.5 million to $4 million a month will go down by about 50% towards the end of the year and into 2012 because the efficacy trials will be completed and the safety study will be fully enrolled.
According to IMS data and primary research (.pdf), there were over four million off-label testosterone prescriptions written in 2009 for FSD. BioSante's market research also has disclosed that an overwhelming number of physicians would switch from off-label use of testosterone to LibiGel, if approved by the FDA.
Moreover, the company's surveys have found that sexual dysfunction is one of the most common complaints that gynecologists hear, averaging 37 inquiries per month. "We can see that this is an unmet medical need and that women are asking for help," Mr. Simes says. "Unfortunately, there is nothing FDA-approved, and women deserve an FDA-approved option."
A study published in The Journal of the American Medical Association several years ago found that 43% of women in the 18-to-59 age group reported some degree of FSD. Of that number, 31% experienced low sexual desire. In the same study, 31% of men reported some sexual dysfunction. "So we get the first inklings that the market for women is at least as big as the market for men," Mr. Simes notes. More recently, a study published in The New England Journal of Medicine found that 43% of women in the 57-to-85 age group experienced low sexual desire.
Mr. Simes predicts:
Based on everything we see, and the fact that the male erectile dysfunction market is about $2 billion a year in the U.S. alone, we believe that the annual market for women is at least $2 billion and probably more.
Based on extensive market research, he says the company is leaning towards pricing LibiGel, if approved, around $8 to $10 a day, which is in the ballpark of male testosterone products of about $11 or $12 a day. "We've also done research on reimbursement, and we expect to get the same reimbursement as Viagra, with about 40% of third-party payors covering LibiGel," he adds.
BioSante plans to develop LibiGel as long as it can before partnering in order to maximize the value of any licensing deal. "We should have efficacy data in October this year, and that could be a good catalyst for increasing the value of such a deal," he adds.
While LibiGel is clearly the driver for the next year or so, BioSante's portfolio of products for female sexual health includes Elestrin for hot flashes and an oral contraceptive called The Pill Plus and Bio-T-Gel for male hypogonadism.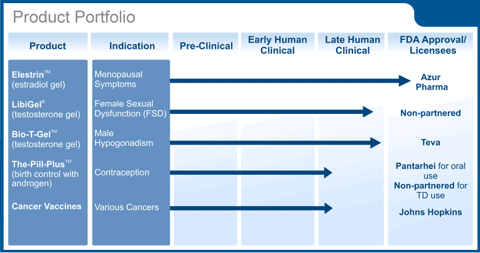 BioSante Product Pipeline
Elestrin, an ultra-low dose of estrogen, is FDA-approved and sold in the U.S. by Azur Pharma. In 2009, BioSante sold all of its royalty rights to Elestrin but retained rights to receive up to $140 million in sales-based milestone payments from Azur.
JMP's Mr. Butler says that the approval of Elestrin "supports management's ability to effectively work with the FDA's Reproductive Health Drugs Division (which also will review LibiGel) and execute on development and regulatory strategy."
Bio-T-Gel is being developed by Teva Pharmaceuticals USA (NYSE:TEVA), which is preparing to submit the male testosterone therapy to the FDA for marketing approval. Teva is responsible for all development, regulatory, manufacturing and marketing associated with the product. BioSante is eligible for certain milestone payments, along with royalties, if and when the product is commercialized.
Outside of women's health, BioSante inherited a portfolio of cancer vaccines in its merger with Cell Genesys in October 2009, which now represents "the widest portfolio of different cancers being studied with a vaccine at any company," Mr. Simes says. There are 15 Phase 1 and Phase 2 clinical studies going on at minimal cost to BioSante, primarily at the John Hopkins Sidney Kimmel Comprehensive Cancer Center.
FDA orphan drug designation has been received for vaccine candidates being developed to treat pancreatic cancer, acute myeloid leukemia, chronic myeloid leukemia and melanoma.
Earlier this month, researchers at Johns Hopkins published results of a Phase 2 clinical study that showed the pancreas cancer vaccine increased the median survival of resected pancreatic cancer patients to 24.8 months from 15 to 20 months, as reported in published data, representing an increase of more than 25%. The vaccine also demonstrated a 35% increase in one-year survival. A new multicenter clinical study is scheduled to begin this year.
Summarizing the opportunity, Mr. Simes says BioSante is developing a very valuable Phase 3 asset, LibiGel, for an unmet medical need in women, has the money to take it well into 2012, and has the people to implement successful clinical development and partnering activities.
Disclosure: I have no positions in any stocks mentioned, and no plans to initiate any positions within the next 72 hours.