Editor's note: This article was originally published on March 31, 2011 and updated on April 4, 2011.
In this article, we will provide you with financial fundamental analysis of the twelve largest solar-related companies on American stock exchanges. For each company, we have provided price targets, buy/sell/hold ratings, buy/sell ranges and theses. Additionally, using a multitude of financial analytical ratios and comparisons, we have given each company a score on growth, profitability, financial health, value, and management indices to compare each company and see where companies excel and where they have weaknesses.
The breakdown of the story is our solar sector heat map, indices, and company profiles.
images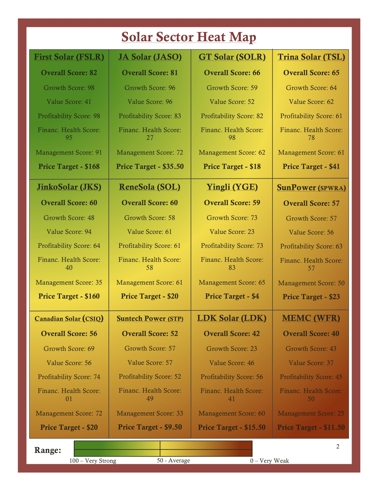 Indices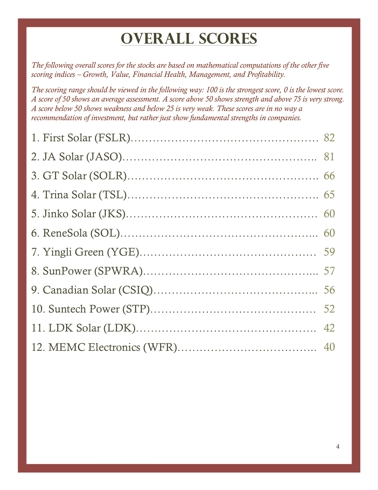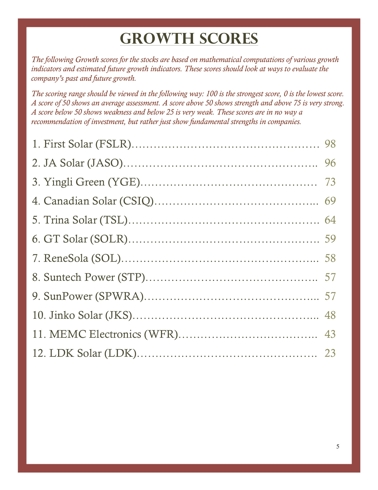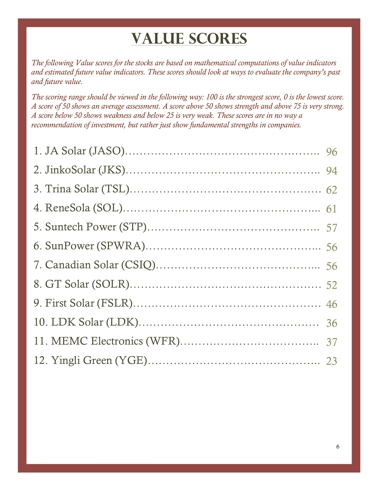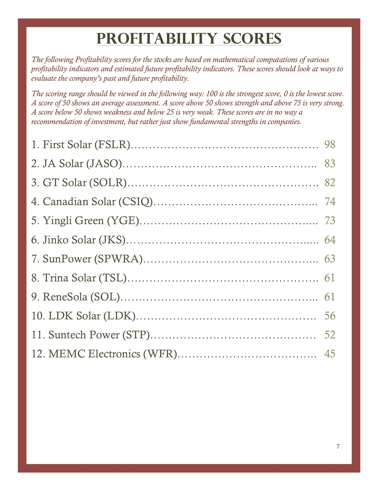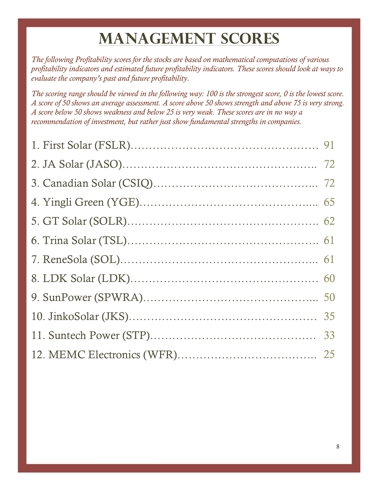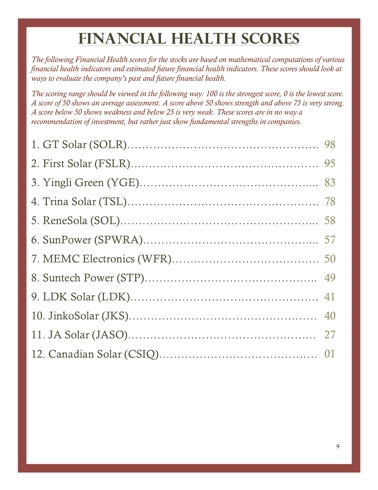 Company Profiles
First Solar (NASDAQ:FSLR) - Rating: Hold, Price Target: $168
Radar: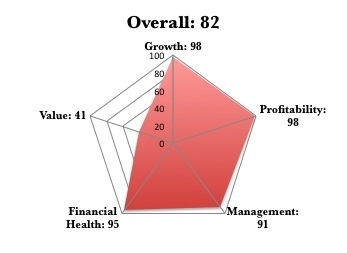 Thesis: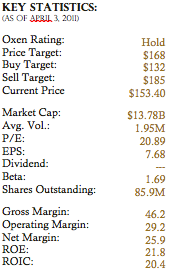 First Solar (FSLR) has been the definitive leader in solar power for quite some time due to its production efficiency and unique, secret manufacturing process that allows it to produce at $0.75 per watt. Further, the company's use of cadmium telluride in its cells allows it to produce thin film PV modules at a cheaper rate. The company leads the solar sector in growth, financial health, management and profitability.
In 2010, however, the company began to see its explosive growth slow as a number of the company's major markets declined; the company has now begun to search for new markets outside of Europe. The company still expects Germany to make up 30-35% of its revenue.
Further, the company's thin film cells are much less efficient than silicon cells. While silicon producers continue to produce at cheaper per watt rates and can offer cheaper cells, this does eat away at First Solar's market share (yet in a market that is growing tremendously). The company, additionally, is a leader in the sector in its P/E ratio and its upside seems limited compared to other companies due to its tapering growth.
Despite possible issues in value, the stock is a must for any solar investing exposure because the company is very well run and continues to churn out top-notch profits as well as high margins. It would be nice to see a dividend as the stock has moved into a growth stock.
JA Solar (NASDAQ:JASO) - Rating: Buy, Price Target: $35.50
Radar: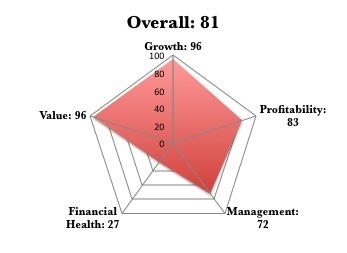 Thesis: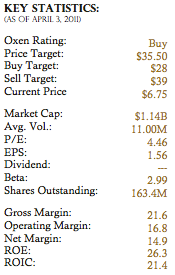 JA Solar (JASO) is one of the rising gems in the solar sector. With a market cap just above $1B, the company is now a legitimate solar company with great growth capabilities, tons of value, and great profitability. One of the only factors that is holding it back is its financial health due to large amounts of debt that have grown.
The company is ranked second in profitability due to increasing margins and the company's dedication to turning revenue into profits with a low cell production cost. The company has a large number of outstanding shares, but it also has a tremendous ROE at 26%, which means that the company is turning its equity into net income. The company's price target is at $35.50. The company has some definite potential to reach that goal as it is moving quickly into China and plans to expand in its home country.
JA Solar appears to be one of the best places to get solar exposure for value investing. The company operates at a P/E below 4.5 right now, which is well below the industry average. The company has strong margins, is growing free cash flow and has growing ROE and ROIC (a tremendous sign of future higher valuations).
JA Solar is the most undervalued solar company in the industry.
GT Solar (SOLR) - Rating: Buy, Price Target: $18
Radar: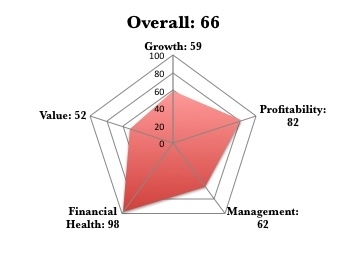 Thesis: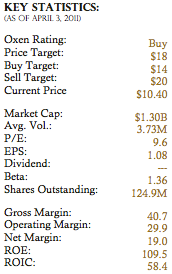 GT Solar (SOLR) is another emerging solar company in the industry which stands out as a company that will grow with the solar industry as it provides technology, ingots, and other services to solar companies. Further, the company has the strongest financial health in the sector. The company has grown revenue 1000% in the past five years and only took debt for the first time in 2010.
As the company continues to grow, it will see its equity value growing at tremendous rates as very little of it will be reduced by debt holdings. The company does have a high number of shares for its size, but its ROE is the highest in the industry. It also operates with an 82 profitability score, so those sales will be turned into profits at a high margin.
The company has a middle of the road P/E ratio and its value is not as strong as some others, but its financial health and profitability makes it a key investment for any solar play. It offers the type of safe and healthy growth that is not often seen in this industry, and it will eventually help the company drastically improve its share price.
The company's margins are probably not sustainable at these levels, and it will probably see them drop. This issue has been factored into our analysis.
Trina Solar (NYSE:TSL) - Rating: Buy, Price Target: $41
Radar: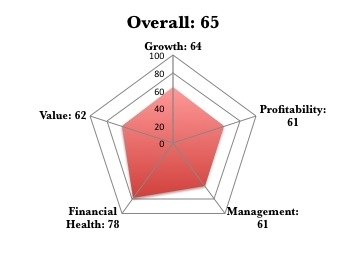 Thesis: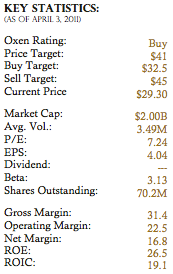 Trina Solar (TSL) has long been one of our favorites as the company is in the top six of every scoring index, and it is overall the most solid company in the industry. it has solid financial health, solid management, solid value, and good growth and profitability.
As First Solar has started to see some of its stronghold decline due to its lower efficiency in its cells, Trina has begun to emerge as the leader in the industry. The company has solid diversification among many geographical sectors including the USA, China, Europe, and new markets. Further, it is able to produce silicon PV cells at one of the lowest rates per cell.
One of the most exciting aspects of the company is that it has low outstanding shares and is improving ROE and ROIC each year, which means investors are seeing a larger return of net income for each dollar invested. That trend leads to higher valuations.
Trina continues to improve margins, profitability, and grows at consistent rates. It has a very strong financial health and is overall one of the most consistent and top names in this industry. However, its ability to continue to move into new markets and bring down its exposure to Europe is needed to continue to improve.
JinkoSolar (NYSE:JKS) - Rating: Buy, Price Target: $160
Radar: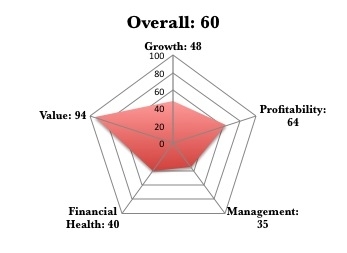 Thesis: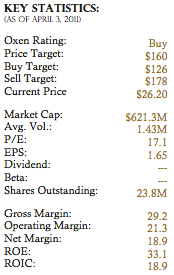 Jinko Solar (JKS) is one of the youngest companies on the stock exchange with only a year under its belt of being public. Thus, the company lags some of its competitors in growth, profitability, and other scores. Nevertheless, the company is a leader in value. The company has a hefty price target at $160, which is due to the fact that the company has both significant growth potential given its youth on a YoY basis as well as the fact that it only has 24M shares outstanding – by far the lowest amount in the industry.
The company already operates strong margins, but its recent debt additions in 2010 have reduced its ROIC, which is something to watch. The company's P/E ratio also is very high. Further, this company will most likely see more shares added to increase its total equity. Given the company's potential, Jinko has a lot of reward but also a lot of risk.
This company looks to be in the very initial phases of its heavy growth phase, which is typically a time when the market falls in love with a young stock, as it did in the past with other solar companies.
If the company can keep its debt from increasing further and continues to maintain growth prospects, JKS could be the best value play in the solar industry.
ReneSola (NYSE:SOL) - Rating: Buy, Price Target: $20
Radar: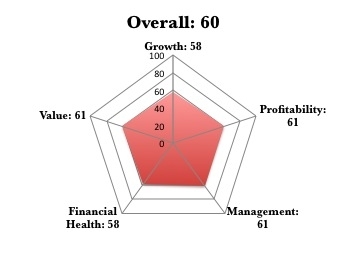 Thesis: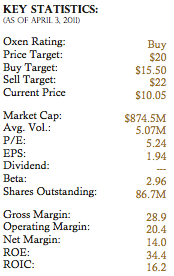 ReneSola (SOL) is much like a less impressive Trina Solar. The company does not shine in any particular score, but it has a very solid growth and profitability ratio. It is still relatively small, so it has some definite growth capability with about 100% growth from its current price to the target price.
The company looks poised to see significant growth in sales as it is about to release its Virtus Wafer. The wafer only has 17.5% efficiency, which does lag some of its competitors. The company has improved the cost of adding ingot and wafer production, which should continue to allow it to be more profitable.
The company has taken on a good amount of debt to expand, which needs to be watched. Additionally, it needs to continue to improve its margins as they have dropped on 5-year comparisons. The company still remains pretty solid overall in every indicator and is a nice investment for an investor looking for diversification in this industry. The company has a low number of outstanding shares
The company has a lot of exposure in China, which is also a positive, and should not see pricing pressure as competitor GCL-Poly is still in expansion mode.
Yingli Green (NYSE:YGE) - Rating: Sell, Price Target: $4
Radar: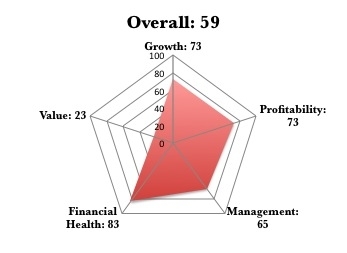 Thesis: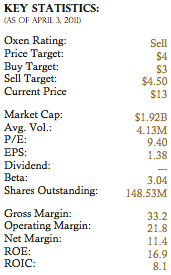 Yingli Green (YGE) is one of our two sell candidates. We believe this company has a rocky path ahead, led by its lack of value. The company has seen pretty solid growth over the past five years, but as new emerging companies are coming to the forefront, YGE has not improved at the same rate as companies of similar size – FSLR and TSL.
The company holds a modestly higher P/E ratio for the sector and yet is slowing down in its growth. This is a forecast for disaster. We see this company having one of the slowest growth potentials in the next five years as it is heavily invested in Europe and has not seen great improvement in the USA and Asia.
While the company remains solid in most of its other indicators, the company has significant outstanding shares at 156M, which is way too many for a $2B market cap company. It kills its equity value.
Additionally, what is very disconcerting about Yingli is that the company has no free cash flow in five plus years. This company continues to take on debt to cover its capital expenditures and sell equity…diluting its share price and reducing equity value. Until the company can prove it can maintain FCF, it will not be a buy or hold.
SunPower Corp. (SPWRA) - Rating: Buy, Price Target: $23
Radar: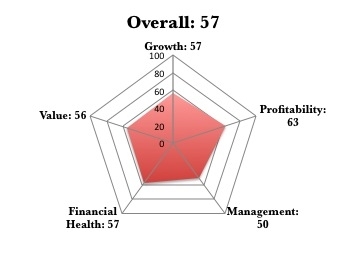 Thesis: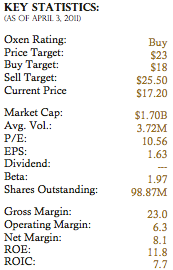 SunPower (SPWRA) is one of the two major solar companies in the USA. The company operates as one of the most efficient solar cell producers. It sells high quality products that operate at 22-23% efficiency, which is well above the less than 15% for First Solar.
What is great about SunPower is that it is doing a lot of business in the USA. It has lower margins due to higher inputs, but as the market grows in the USA, the company is poised to prosper with the solar industry.
The efficiency at which the company operates is definitely going to be one of its added bonuses moving forward. The company is still smaller, and its P/E ratio sits a bit above industry average. However, the company has a lot of growth potential and a lot of room to improve margins.
The company does need to drastically improve margins and expand in the US market in order to be a top player, but it has a lot of business coming into its lineup and is continually expanding.
The company's management is also concerning as it has grown SG&A more than sales and has not improved its cash conversion cycle and efficiency ratios at the same rate as competition.
Canadian Solar (NASDAQ:CSIQ) - Rating: Hold, Price Target: $20
Radar: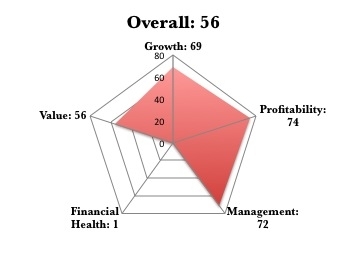 Thesis: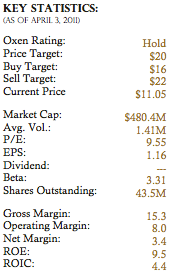 Canadian Solar (CSIQ) has potential, but at this time, the stock is not a buy due to its financial health problems. The company has been under several SEC investigations, and it has increased net debt by 20,000% over the past five years. It has seen net sales to net debt decrease by 90% in the same time period. Further, the company has very thin margins that have improved but are still quite low compared to competitors.
With margins as low as they are and so much debt, the company is not a buy. It is going to see growth, and provided that it will continue to reduce debt, the company will improve its share price.
Yet, it is a tough stock to want to buy when the company has been under investigation and has so much debt on hand that needs to be worked off.
If the company can unload its debt and start to improve its margins, this stock may be a buy candidate, but until then, CSIQ is something to not add to your exposure.
The company does have very little shares outstanding, which help its cause with share price as well as overemphasize its equity to debt ratio. Nevertheless, this company is still very risky.
Suntech Power (NYSE:STP) - Rating: Hold, Price Target: $9.50
Radar: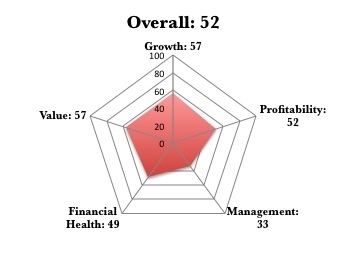 Thesis: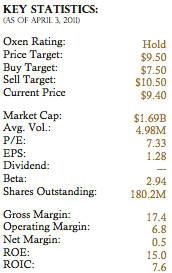 Suntech Power (STP) is one of the weakest solar stocks on the market. The company has a combination of a poor management rating, below average financial health, and weaker profitability. The company has low margins and is not turning equity and debt into income at the same levels as competitors. The company actually saw dropping revenue from 2008 to 2009 when most other companies continued to grow.
One of the other main problems for STP is that it has too much total equity. The company has the second most shares in the industry, yet it is not one of the largest companies in the industry. The company has too many shares for its equity value to grow at a significant rate even with future improvements.
Management is a major issue as the company has seen 5-year net income to employee growth drop significantly. The company has also seen a number of efficiency ratios turn negative in growth over the past five years.
The company needs to improve in nearly every scoring factor moving forward in order to start to move in the right direction.
Stay away from STP!
LDK Solar (NYSE:LDK) - Rating: Hold, Price Target: $15.50
Radar: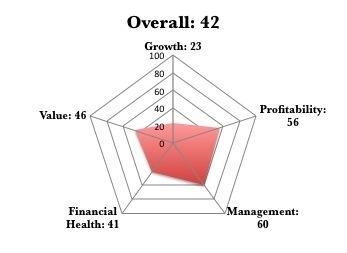 Thesis: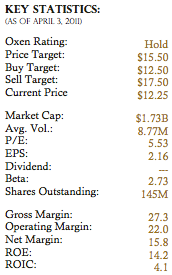 LDK Solar (LDK) is one of our hold-rated companies. The company's weakness is signified by its significant debt amount, as seen by a ROIC ratio at 4.1%. The company also has significant shares outstanding. The company does have a low P/E ratio and should see its margins continue to increase as it did in 2010 from 2009.
One problem that the company has had is that its competitor GCL-Poly has had much lower-priced solar wafers than LDK and is competing with LDK for market share. The company's upside is limited by GCL.
Further, with significant debt and shares outstanding, the company's equity value is hurt and has limited upside. Even if the company can raise its operating income by over 100%, we do not see the stock having significant upside to share price. If it can work off debt, then LDK's value will increase significantly.
Another problem lies in the fact that the company has not been able to produce any free cash flow since 2005. This problem is another reason why we cannot recommend a buy of LDK.
At this time, LDK is definitely not a buy, but it is a stock worth keeping on the radar. Until we see LDK consistently keep margins where they are and reduce debt, the stock is not a buy at this level.
MEMC Electronics (WFR) - Rating: Sell, Price Target: $11.50
Radar: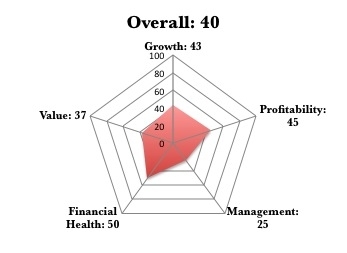 Thesis: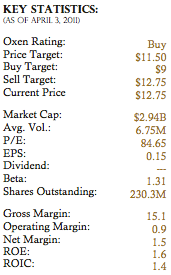 Look at the radar. Do we need to say anything else?
This is one of the worst stocks out there right now. With tons of debt, lack of profits, and low growth levels, MEMC looks like it will have some struggles to continue to keep its share price at strong levels.
Additionally, the company operates at the highest P/E ratio in the sector at 87, yet it is probably the weakest stock in the sector, which means that it is definitely going to continue to see its price slip as earnings continue to struggle and the P/E ratio comes more inline with competitors.
Stay away from WFR.
Disclosure: I am long SPWRA, TSL, FSLR.
Disclaimer: The Oxen Group are not licensed financial analysts or advisors. Our EquityAnalytics' reports are based on formulas created by The Oxen Group. These reports are investment ideas and are not recommendations of what one should buy, sell, or hold. The Oxen Group receives no compensation from the companies they investigate. Price targets are based on a discounted cash flow analysis from information that is thought to be reliable. Price targets are subject to change as well as ratings. Please consult an investment advisor about any possible investments you would make from EquityAnalytics.