March was a shaky month for the markets, with the equity markets dipping and then rebounding just as quickly to end the month nearly even. The Nasdaq Composite was at one point more than 6% off its February end close, before bouncing strongly to close the month down only 0.63%. The S&P500 and Dow Jones Industrial were able to recover enough to end slightly up for the month.
The active ETF space saw some interesting developments during the month as well. March saw the launch of one more new actively-managed ETF from WisdomTree, the Asia Local Debt Fund (NYSEARCA:ALD), which became the 12th active ETF from WisdomTree to hit the market. PIMCO also made the headlines as its premier active ETF, the Enhanced Short Maturity Fund (NYSEARCA:MINT), got some spotlight by crossing an important landmark to join the billion-dollar club.
Another important development during the month was BlackRock iShares receiving SEC approval to launch actively-managed ETFs in the U.S. iShares had a pending filing with the SEC requesting exemptive relief to launch two active ETFs, one an equity focused fund and another a fixed-income fund. If iShares takes advantage of the approval and moves ahead to bring its own active ETFs to market, it could give the entire active ETF space a big push forward thanks to the marketing prowess of the world's largest ETF issuer.
Despite the strong percentage growth in active ETF assets month-on-month, the absolute amount of investors assets held by active ETFs is still paltry compared to the broader trillion-dollar ETF industry. We explore three big hurdles that continue to hold back actively-managed ETFs.
[Click all to enlarge]
Fund Flows: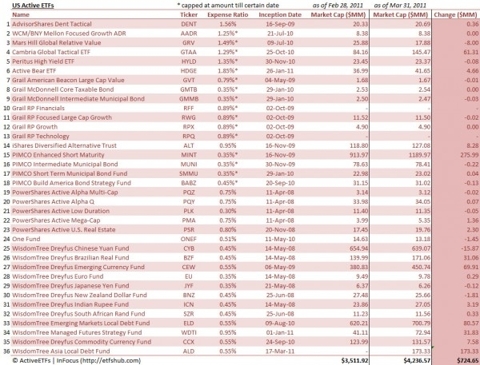 Active ETF assets in the U.S. jumped by 20% in March to cross the $4 billion mark, ending the month strong at $4.2bn in assets. Unlike other months, the gains were quite well spread out and came from many different funds and issuers.
AdvisorShares appears to have found a "blockbuster" fund in its Cambria Global Tactical ETF (NYSEARCA:GTAA), which has rocketed to $145mn in assets since its launch in Oct. 2010. This puts GTAA a fair distance ahead of any other fund from AdvisorShares, in terms of assets. GTAA is managed by Mebane Faber and Eric Richardson, both authors of popular book The Ivy Portfolio. AdvisorShares' earlier launches, though, appear to have stagnated and some actually appear to be losing assets.
Assets managed by the Mars Hill Global Relative Value Fund (GRV) have dropped drastically from $43mn in Nov 2010 to under $18mn at the end of this month. Cumulatively though, AdvisorShares now manages in excess of $250mn in assets as it continues its success as a platform for managers to launch active ETFs.
As mentioned above, PIMCO's MINT also crossed the $1bn mark during March and closed the month close to $1.2bn in assets. Investors have clearly warmed up to well to this money-market alternative, thanks to its relative outperformance versus other money market funds and also thanks to the strong brand name of PIMCO behind the fund.
WisdomTree also saw encouraging investor response for its recent new launches. The Emerging Local Debt Fund (NYSEARCA:ELD) has continued to gather investor assets relentlessly, crossing the $700mn mark to become the second largest active ETF in the U.S.
At this rate, ELD should become the second to join the billion dollar club in a few months. Its recently launched funds – the Managed Futures Strategy Fund (NYSEARCA:WDTI) and the Dreyfus Commodity Currency Fund (NYSEARCA:CCX) – also continued to impress, with WDTI gaining another $30mn in assets and CCX ending the month at $131mn. Its latest launch, ALD, hit the market on March 17 and has been quick to attract interest, with the fund having gathered $173mn in assets in no time.

In Canada, Horizons AlphaPro launched another new fund called the Enhanced Income Equity ETF (HEX), which designs a portfolio of equally-weighted Canadian large caps, combined with a covered call writing program to generate income. AlphaPro's assets have now gone beyond the $500mn mark, however, assets continue to be concentrated in its Corporate Bond Fund (HAB), which has in excess of $300mn in assets.
New Entrants, Filings and Closures:
1. AdvisorShares details Meidell Tactical Advantage ETF (NYSEARCA:MATH) – see here.

2. Russell withdraws active ETF application, terminates trust – see here.
Disclosure: No positions in above-mentioned names.
Disclaimer: Views and opinions expressed on EtfsHub are those of the author alone and do not in any way represent the official views, positions or opinions of the employers – both past or present – of the author in question, or any other institutions and corporations associated with the author. Etfshub is not an investment advisor, neither the information nor any opinions contained or expressed above and elsewhere on EtfsHub constitutes or should be construed as a solicitation or offer by EtfsHub to buy or sell any securities or other financial instruments or to provide any investment advice or recommendations. None of the material above and elsewhere on EtfsHub is intended to endorse or promote any company or its products. EtfsHub shall not be liable for any claims or losses of any nature, arising indirectly or directly from use of the information on or accessed through the site. Please see full disclaimers here.