In addition to my own scans and watch lists, I use two main sources to follow options-related news: Daily Seeking Alpha columns by Frederic Ruffy and Andrew Wilkinson. While I get great use out of these sources and have even made money thanks to them, you have to be careful not to chase the stocks or options they mention. Often, by the time you receive an alert or summary, contracts have already had too much volatility and upside priced into the premium. Nevertheless, occasionally, you can find examples to capitalize on. Below I detail options brought to my attention by these sources and how investors might consider playing them - or the underlying security - if at all, during the trading week.

General Motors (NYSE:GM). In his options brief early Friday, Wilkinson highlighted GM. Despite reporting lower-than-expected sales for March, traders and investors still bid up GM shares. This triggered speculative call buying in GM options, particularly those with April, May, and July expiration dates. Wilkinson notes that one investor snagged 5,000 out-of-the-money GM July $35 calls at $0.88 apiece, banking on the shares to cross the breakeven point of $35.88 by summer.

It was a mixed day for the major automakers, generally across the board. Ford (NYSE:F) bested GM in sales for only the second time since 1998, reporting a 19.2 percent increase in March. Ford shares ticked up nicely on Friday. Despite reporting strong U.S. sales for March, Honda (NYSE:HMC) and Nissan (OTCPK:NSANY) both struggled to match the gains F and GM put up on Friday. Toyota's (NYSE:TM) U.S. sales fell and the shares did not respond considerably in either direction, particularly in relation to F and GM.

Three major factors come into play regarding investing in the near-term futures of the automakers. First, the aftermath of the Japan earthquake and tsunami undoubtedly casts a shadow over the Japanese producers in particular. The other two factors work opposite one another.

While there's reason for optimism, the latest U.S. jobs report doesn't make me jump for joy. First, I know how the government uses smoke and mirrors to calculate the unemployment rate. And, despite how we like to predict the health of an entire nation on the basis of one number, employment and consumer confidence varies wildly by region and even by household. That said, some consumers appear to be getting "healthier" and seeing the unemployment rate tick down for two consecutive months could provide a psychological boost for some teetering on the brink of buying a new car. That said, rising gas prices could sink that ship quickly.

Amid this uncertainty, I would not chase call options in any of the big automakers upon reading Wilkinson's roundup or assessing the monthly sales numbers. In two other articles, I discuss the prospects of making an investment in Tesla Motors (NASDAQ:TSLA), a producer of electric vehicles. One focuses on Tesla's business, while the other offers options ideas. Tesla, if you have the ability to use a 2- to 5-year time horizon, will benefit from two trends -- rising gas prices and the strength of upper-end consumer, as partially evidenced by the BMW (BAMXY.PK) and Mercedes (OTCPK:DDAIF) impressive March U.S. sales figures. These well-heeled buyers can afford the luxury of paying for the perceived environmental benefits of going green as well as the "cool" factor associated with owning a Tesla. The March auto sales numbers show that models that get good gas mileage paced sales, which could not only help Tesla on the higher-end, but boost GM's efforts to sell the Chevy Volt and Nissan's push of its all-electric Leaf.

While I don't see F and GM as likely to benefit from rising gas prices and higher-end buyers, I am generally bullish on F and GM as well as TSLA as plays with a long-term investments. Ultimately, if you believe that the economy will mend itself over the long haul, almost any U.S. automaker presents a sound play. Unless you sell puts to collect income along with the chance of grabbing one of these stocks at a discount, or you find some other way to hedge your bet, I would proceed with caution when dabbling in near-term options.

Citigroup (NYSE:C). It's tough to find a week when C does not populate Wilkinson and Ruffy's options articles multiple times. Ruffy highlighted Citi today, noting heavier-than-normal action in call options of the bank relative to puts, particularly early on in Friday's session. Ruffy notes meaningful interest in C April $4.50, May $5, and September $5 and $5.50 calls. Having been burnt by Citigroup prior to its most recent earnings disappointment, I prefer not to fall for the same action twice. (I presently hold a few C April $5.50 calls, which sit worthless in my account). Plus, I am hardly impressed by its token dividend and recent split announcement.

As it was last time around, playing C into its April 18th earnings call is akin to playing the lottery. I wouldn't trust CEO Vikram Pandit as far as I could throw him. Generally, C does not provide wild enough price swings to make a good strangle or straddle candidate. Personally, I would stay away, but if you have a strong opinion in one direction or the other, it might make sense to hedge your bets by initiating a bearish or bullish spread. However, when you take a closer look at the ITM and OTM plays you would need to make each end of such a play, you realize the premiums you would generate by selling OTM C options hardly provides enough cash to offset the cost of long options in the bank.

Yahoo! (YHOO). It's tough to find a company who inspires less confidence and sets off more simultaneous yawns than Yahoo! For weeks, in all seriousness, I have been wondering what a horrific place it must be to work at these days. With a popularity rating almost as bad as Congress's, CEO Carol Bartz could go down as one of the biggest executive busts in 2011. She's got 2010 covered. Bartz has failed, as of this writing, to do anything meaningful in Asia, and her company's domestic performance has been nothing short of a failure.

That said, like C, YHOO pops up with frequency on option scanners. Ruffy spotlighted a call spread in YHOO, with an investor buying YHOO July $18 calls and selling January 2012 $20 calls. This investor expects Yahoo! shares to pop by July, but then settle into a new and slightly higher range through the end of the year, without passing $20.

Yahoo! represents another play I just would not be all that comfortable entering. While I tend toward the bearish side, I think YHOO could pop -- in a potentially big way -- for several reasons. First, I would not be shocked for it to get taken out. Despite management's incompetent performance, there's value to Yahoo! as a second fiddle to Google (NASDAQ:GOOG). I could also see Yahoo! further cutting costs. While it's based on weakness, the street often responds well when a company moves aggressively to lower expenses. And, of course, when expectations are low, any good news could give the shares a lift. YHOO is the opposite of priced to perfection right now.

If you want an options play in the space, look to Google. GOOG appears nicely into its rebound to retest its 52-week high of $642.96.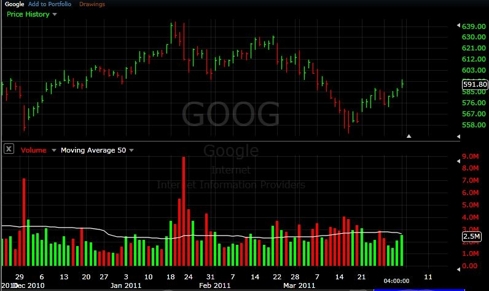 Options work for Google, as it helps ease the brunt of its hefty share price. As of Friday's close, you would need a bankroll of nearly $60,000 to buy 100 shares of GOOG. With options, you could participate in GOOG's anticipated upward price action by purchasing calls at a fraction of the price. For instance, the GOOG May $590 calls currently fetch $23.20, meaning you would have to put up $2,320 for one contract. Under this scenario, your breakeven is a realistic $613.20, however, you could start realizing profits by selling your contracts to close the position prior to hitting breakeven or the May options expiration date.


Disclosure: I am long C.