"We are positioned extremely well for personalized medicine in the sense that as new immunoassays are recommended by the various professional societies, we are able to move them into the market very quickly because of our broad range of technology and licensure," David Goldberg, VP of corporate development, says in an exclusive interview with BioTuesdays.com.
Enzo (NYSE:ENZ) president Barry Weiner adds that health care payors see personalized medicine as a fundamental development that will drive down costs. "It's interesting to see their willingness to adopt and accept novel approaches for testing," he says. "They're willing to give us reimbursement codes that are fairly lucrative today. So payors are realizing the potential value of this approach and they're driving it. There's no question about it."
Enzo is a vertically integrated clinical lab, life sciences and therapeutic biotechnology company. Among other things, it operates one of the largest independent clinical labs in New York State, which Mr. Goldberg calls the "most desirable laboratory market in the U.S., if not the world."
Click images to enlarge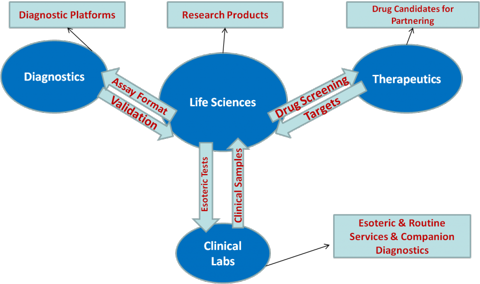 Enzo traces its roots in personalized medicine to developing the first commercial human papillomavirus [HPV] testing product for the research market (pdf), where until that time the only way to screen for cervical cancer was via a Pap smear, with its inherent errors. HPV testing is now used as a primary screening tool for cervical cancer. And, along with further advances in HPV testing and screening, the incidence of women dying from cervical cancer has declined.
"All of those things play into the early story of personalized medicine," he adds. "And I think you're going to see more of that as things move forward. We believe strongly that development of next generation diagnostics will fuel growth of personalized medicine."
While personalized medicine is often associated with a targeted therapeutic, Mr. Goldberg says the ColonSentry test licensed from GeneNews represents another example of personalized medicine in the sense that it is looking at an individual's gene expression from a first-in-class blood sample to determine if there may be an elevated chance of developing colon cancer.
What ColonSentry does, Mr. Weiner adds, is drive people to a more enhanced procedure, specifically a colonoscopy. "In a sense, it's personalized in that it tells you that you may have a higher risk profile, thus, you should move to a more deliberate surveillance than you may have been willing to in the past. And a colonoscopy is a much underutilized test, considering its outcomes. Only about 40% of those that probably should get a colonoscopy do it."
Enzo submitted ColonSentry to New York State regulators last November, with analysts predicting a mid-2011 launch and a potential national roll out to follow.
Rodman & Renshaw analyst Reni Benjamin says that a long-standing challenge for the medical community has been achieving compliance with colorectal cancer screening because no convenient alternatives exist. "The potential for a simple blood-based assay to assess one's present risk for developing colon cancer has obvious advantages over the fecal occult blood test or an outright colonoscopy."
He cites a study published in the Canadian Medical Association Journal in September, 2007, indicating that compliance with the fecal occult blood test was about 18%, while compliance with ColonSentry could potentially be as high as 55%, on par with compliance rates for PSA screening in men over the age of 50.
A lucrative market opportunity awaits ColonSentry, with an expected list price of $1,200 to $1,500 per test, and "promising reimbursement scenarios," according to Enzo. It estimates the test would be applicable in at least 15% to 20% of the U.S. colonoscopy population, or 400,000 tests nationally a year. That equates to roughly 20,000 to 25,000 patients a year in the New York metro area.
Enzo has also signed exclusive partnerships for two other novel diagnostics tests that have the potential to be incorporated into its menu of high-margin molecular diagnostics. They are an oncoFISH screening test, which is based on chromosomal changes that have been linked to the onset of cervical cancer, and a multiplex sequencing panel for ante-natal diagnostics.
Both tests dovetail with Enzo's initiatives in women's health, which Mr. Goldberg calls a core focus. The oncoFISH test, which was developed by Enzo's partner Ikonisys, would allow physicians to better manage patients with inconclusive Pap smears and give patients peace-of-mind with equivocal screening results, he adds. The MultiGEN ante-natal panel, which has the potential to be launched in mid-2011, would allow physicians to obtain multiple clinical results from a single specimen, resulting in a higher marginal profit per assay.
Renshaw's Mr. Benjamin contends that the GeneNews, Ikonisys and MultiGEN arrangements offer long-term benefits to Enzo by increasingly positioning Enzo Clinical Labs as the "go-to" entity in the premier New York esoteric testing market.
"We believe that additional agreements along the lines of the GeneNews, Ikonisys and MultiGEN deals have the potential to emerge in the coming quarters, possibly in the arenas of internal medicine and anatomic pathology," he writes.
Enzo's potential to develop in-house or acquire cutting-edge molecular diagnostics tests also creates a synergy between its life sciences division and clinical lab.
"We have a full compendium of capabilities," Mr. Weiner says. "We can take a biomarker, we can platform it, we can then move it over to our clinical lab, we can validate it, we can get reimbursement coding because of our relationships with the payors and we have relationships with key opinion leaders that are capable of exploiting and testing our products. I think that distinguishes us from just those that might do biomarker discovery or labs that may try to develop products or utilize clinical services solely."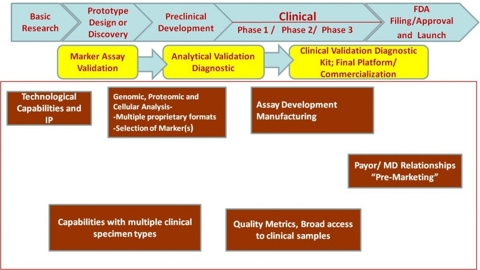 Mr. Weiner contends that the life sciences sector is emerging as a driver in the three critical areas of healthcare delivery: diagnostics, laboratory services and therapeutics, all areas that Enzo participates in. "In the past, laboratory services may have been viewed as a low-margin, unexciting field but I think that has changed," he claims. "The life sciences world as we see it is central to the dissemination, digestion and execution of where healthcare is moving today because we believe that diagnostics is emerging as the portal through which one must travel for healthcare delivery. And if you can effectively employ screening and treatment processes, you can change the economics as well as the outcome of the healthcare paradigm."
As part of its three-prong healthcare approach, Enzo's life sciences group has developed an immune system regulation platform, with preclinical and clinical compounds for the treatment of gastrointestinal and bone disorders, infectious diseases and ophthalmology. "This is something that gives us an edge in differentiating ourselves because there are not very many diagnostic developers that have this therapeutics skill," Mr. Weiner points out.
The company's lead therapeutic, Optiquel, is in a Phase 1/2 clinical trial for the treatment of autoimmune uveitis, the third leading cause of blindness in the U.S. The study is being conducted under a Cooperative Research and Development NIH's National Eye Institute Agreement which is covering the majority of the costs, while Enzo retains commercial rights. Results are expected in May, 2012.
In its life sciences arm, Enzo sells a catalog of about 10,000 branded products manufactured in-house, like reagents and kits, and another 25,000 products under other manufacturers' names to scientific researchers in academic and government institutions, and clinical research and pharmaceutical companies around the world.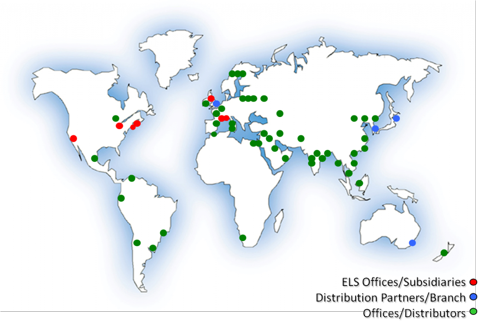 Last year, Enzo began a program to improve efficiencies at its life sciences business in order to drive margin improvement following four recent acquisitions. "We have shed some low-margin products and seen our overall margins improve," Mr. Weiner confirms. "The business is tightening up but emerging as a much more profitable and stronger entity."
Enzo is reducing annual operating expenses by more than $4 million and has a goal to be cash flow positive by the end of calendar 2011. For the first quarter ended Oct. 31, 2010, the company reduced its net loss by 70% and had positive earnings before interest, taxes, depreciation and amortization.

Disclosure: I have no positions in any stocks mentioned, and no plans to initiate any positions within the next 72 hours.