Trading breakouts is nothing new for Wall Street veterans. The approach was established by renowned traders such as William O'Neal, Stan Weinstein and Nicolas Darvas.
Properly identified breakout stocks may offer a worthwhile return on investment quickly, possibly in one to seven trading sessions. It's an optimum strategy for trading. The following is my formula for identifying highly rewarding breakout candidates for optimal short term trades.
There can be several reasons for stocks to breakout. To properly identify breakout candidate stocks, it is prudent to identify an upcoming upward breakout catalyst such as surprise quarterly results, the company declaring upside revisions for earnings expectations, new company developments, management, new products, media coverage of unusual stock performance, industry pressures, and merger & acquisition interest.
These eleven breakout candidate stocks all met the following criteria of greater than or equal to 5 consecutive quarters of non-negative earnings, exponential moving averages of greater than or equal to 0 above or below 50 day EMA, and currently experiencing a Bollinger band bandwidth squeeze. A squeeze candidate is recognized when the bandwidth is at a six-month low-low value. When Bollinger bands are far apart, volatility is high, and when they are close together, it is low. A squeeze is elicited when volatility reaches a six-month low and is recognized when Bollinger Bands reach a six-month minimum distance apart. The key is to identify the direction of the breakout.
Nonetheless, this is only the first step in finding breakout candidates for a lucrative short-term trade. Now that we have cut the wheat from the chaff, let's take a closer look to determine if these stocks are preparing to breakout or breakdown.
Below are four tables (click on each to enlarge), with detailed statistics regarding company summaries, price performance, fundamentals and earnings and dividends followed by a brief analysis of each company's current events. Please use this as a starting point for your own due diligence.
Summary Statistics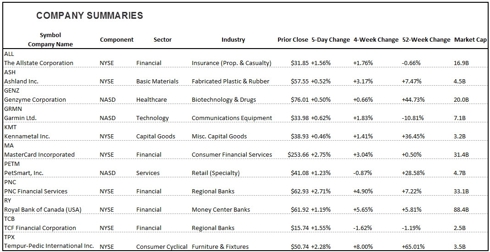 Price Performance Statistics
Fundamental Statistics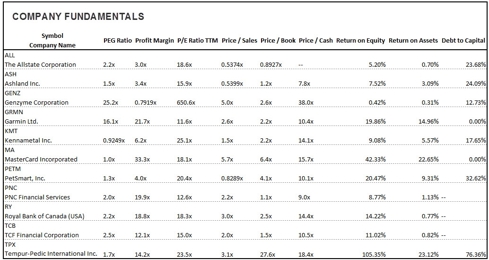 Earnings and Dividend Statistics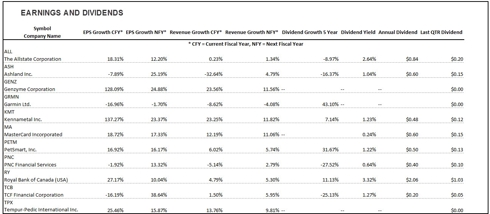 Detailed Analysis
The Allstate Corporation (NYSE:ALL) - Through its subsidiaries, ALL engages in the personal property and casualty insurance business, as well as in the life insurance, retirement, and investment products business in the United States and Canada.
Shares of Allstate have been in a tight range for more than three months. There does not appear to be a noteworthy catalyst in the near future to initiate a breakout, although the company is trading significantly below analyst's estimates. ALL has a median price target of $37 by 18 brokers and a high target of 45. On March 22, 2011 JMP Securities initiated coverage on ALL at Mkt Perform.

Ashland Inc. (NYSE:ASH) - ASH operates as a specialty chemicals company in the United States and internationally. Its Ashland Aqualon Functional Ingredients segment produces cellulose ethers; and specialty additives and functional ingredients.
The Wall Street Transcript has just published its Chemicals, Rubber and Plastics Report, offering a timely review of the sector to serious investors and industry executives. This special report contains expert industry commentary through in-depth interviews with public company CEOs, equity analysts and money managers. The key points of the report were companies were able to preserve margins despite rising materials costs and positive trends in end-market demands were detected. These developments bode well for ASH. The company is trading significantly below analyst's estimates. ASH has a median price target of $68 by 7 brokers and a high target of 77. On December 23, 2010 Longbow downgraded ASH from Buy to Neutral.

Genzyme Corporation (GENZ) - GENZ operates as a biotechnology company worldwide. It focuses on rare genetic disease disorders, renal diseases, orthopedics, cancers, transplant and immune diseases, and diagnostic and predictive testing areas.
Sanofi-Aventis SA (NYSE:SAN) of Paris is buying Cambridge, Massachusetts-based Genzyme. This is the reason the stock is exhibiting breakout like characteristics.
This is not a breakout candidate.

Garmin Ltd. (NASDAQ:GRMN) - GRMN operates as a holding company and through its subsidiaries, designs, develops, manufactures, and markets global positioning system GPS enabled products and other navigation, communication, and information products worldwide.
On Tuesday March 29, 2011, Garmin International Inc., a unit of Garmin Ltd. announced the Garmin G2000, a premium touchscreen-controlled integrated flight deck designed for high performance piston aircraft. With this advanced system, pilots will have many of the same advantages found on systems like the Garmin G3000™, which is designed for Part 23 turbine aircraft, or the Garmin G5000™ that is being designed for the crew-flown business jet market. This is a possible catalyst for an upward breakout in the stock price. GRMN has a median price target of $32 by 15 brokers and a high target of 40. On February 4, 2011 Stifel Nicolaus upgraded GRMN from Sell to Hold.

Kennametal Inc. (NYSE:KMT) - KMT provides tooling, engineered components, and advanced materials consumed in production processes worldwide. The company operates through two segments, Metalworking Solutions and Services Group (MSSG); and Advanced Materials Solutions Group (AMSG). The MSSG segment provides consumable metal cutting tools and tooling systems to manufacturing companies in various industries.
With the recovery and rebuilding of Japan's infrastructure eminent, KMT seems positioned well to benefit from increased demand of is core products. The company is trading significantly below analyst's estimates. KMT has a median price target of $47.50 by 10 brokers and a high target of 50. On January 3, 2011 KeyBanc Capital Markets upgraded KMT from Hold to Buy.

MasterCard Incorporated (NYSE:MA) - MA, together with its subsidiaries, provides transaction processing and related services to customers principally in support of their credit, deposit access, electronic cash and automated teller machine payment card programs, and travelers? cheque programs. Its payment solutions include payment programs, marketing, product development, technology, processing, and consulting and information services.
MasterCard investors are keeping an eye on the outcome of the Durbin Amendment debates and the TCF Financial (TCB) lawsuit challenging the amendment. Federal Reserve Chairman Ben Bernanke recently stated new rules clamping down on interchange fees will not be in place by an April 21 deadline, which provides some hope to MA that an inevitable revenue decline due to debit interchange fees dropping by 75 percent won't occur. Credit card providers may be impacted by decrease revenue depending on how regulators rule on alternatives for how merchants process signature volumes. I'd stay away from this one.

PetSmart, Inc. (NASDAQ:PETM) - PETM, together with its subsidiaries, operates as a specialty retailer of products, services, and solutions for pets in North America.
PetSmart, Inc. said last Thursday that it will pay a quarterly dividend of 12.5 cents per share on May 13. The dividend will be paid to shareholders of record as of April 29. PetSmart increased its quarterly dividend amount from 10 cents to 12.5 cents last June. The company's fourth-quarter net income rose 20 percent to $90.3 million, due to a strong holiday season. Shares rose 1 percent, or 46 cents, to close at $41.04 recently. These developments could be a catalyst for a break out in the stock. The company is trading significantly below analyst's estimates. PETM has a median price target of $45 by 15 brokers and a high target of 52. On November 11, 2010, Barclays Capital upgraded the company from Equal Weight to Overweight.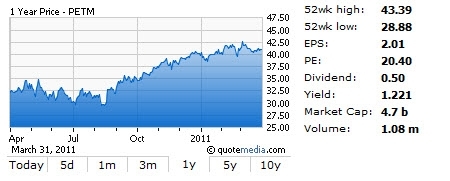 PNC Financial Services (NYSE:PNC) - PNC operates as a diversified financial services company. It offers retail banking, corporate and institutional banking, asset management, and residential mortgage banking services.
PNC Equity Partners II L.P stated Thursday it acquired a controlling stake in an environmental testing equipment maker in South Carolina. Based in Mount Pleasant, S.C., Environmental Express Inc. makes environmental laboratory equipment and related products for commercial labs, water treatment plants and industrial manufacturers. Applications include the analysis of water, soil, waste water, metals and hazardous waste, the company's web site states. Additionally, cautious optimism is replacing the fear of falling sales for business owners, according to a twice-annual survey conducted by PNC released Thursday. These developments could be a catalyst for a break out in the stock. The company is trading significantly below analyst's estimates. PNC has a median price target of $73 by 30 brokers and a high target of 85. The tenth straight positive analyst comment regarding PNC was on November 11, 2010 by Jefferies who initiated coverage with a Buy rating.

Royal Bank of Canada USA (NYSE:RY) - RY provides personal and commercial banking, wealth management services, insurance, corporate and investment banking, and transaction processing services worldwide.
The positive catalyst for RY are as follows. The Canadian economy is formed around natural resources which are in robust demand due to China and other emerging markets. Canadian banks are renowned for stability and enjoy solid profits due to minimal competition and the Canadian dollar, which dividends are paid with, is exhibiting strength. The company is trading significantly below analyst's estimates. PNC has a price target of $68 by 1 broker. On September 17, 2010 BMO Capital Markets downgraded RY from Outperform to Market Perform.
TCF Financial Corporation (TCB) - TCB operates as the bank holding company for TCF National Bank that provides various retail and commercial banking services in the United States and Canada.
A foundation of TCB's business is fee-free checking, funded in part from debit card fees. With the Fed imposing a new cap TCB faces challenges with a core portion of the business. Just as with MA this stock is exhibiting breakout traits due to a stalemate in trading until the outcome of the April trial is determined. I'd stay away from this one.

Tempur-Pedic International In (NYSE:TPX) - TPX manufactures, markets, and sells bedding products worldwide. Its products include pillows, mattresses, and adjustable beds, as well as various cushions and other comfort products.
Tempur-Pedic recently posted its 11th consecutive earnings surprise. On January 20 the company saw a 20% jump in sales, to $293 million. They managed to lower debt and more than triple cash on hand. Earnings for the period increased 59%, to over $46 million, which is approximately $0.66 per share, up from $0.38 a year ago. The stock has reached current analysts' estimates. I expect another round of upgrades and raised estimates along with the improving economic conditions to provide the stimulus for a new thrust to fresh heights.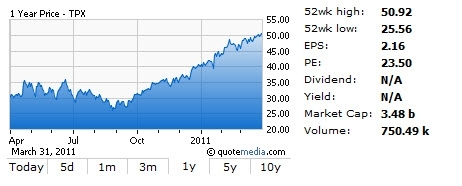 These stocks are all exhibiting the characteristics of breakout candidates, but as you can see, it takes an in depth review to separate the pretenders from the contenders. After panning the candidates like a grizzled gold prospector looking for nuggets, we come up with 7 out of our original 11 as bona fide upside breakout trading prospects. I will continue monitoring these stocks further to determine the correct timing for this trade. Scaling in to the position over a period of time will reduce risk.
Information was gathered from CNBC, Yahoo Finance, and respective company websites.
Disclosure: I have no positions in any stocks mentioned, but may initiate a long position in ALL, ASH, GENZ, GRMN, KMT, MA, PETM, PNC, RY, TCB, TPX over the next 72 hours.