This article is a cumulative response to a large number of comments on my recent articles on NVIDIA (NVDA). The point of my articles are simple – making money. My articles are neither a commentary on a company's products nor about my likes or dislikes.
The most often repeated comment is that NVIDIA's stock is cheap on a price/earnings ratio basis. Our earnings estimate for this year is at $1.00, not far from the consensus of $1.04. The high estimate on the street is $1.23 and the low estimate is at 0.89. Based on our estimate, the stock trades at a PE of 18. This is hardly cheap when compared to the PE of about 10 for the world's largest semiconductor company, Intel (INTC). By this measure NVIDIA is hardly cheap.

The other contention bulls make is that in the quarter just ending, NVIDIA shipped 1,000,000 Tegra chips. Tegra is an application processor unit that has scored several wins in smart phones and tablet computers. The customers for smart phones and tablet computers include Motorola (MMI) and Samsung (SSNLF.PK). I have not been able to verify this shipment number, but ironically our estimate is higher.

Unfortunately, the bulls own shipment number does not make a bullish case. At $20 a piece, this amounts to only $20,000,000. Tegra is a low margin product. The net from these sales is not material.

The real question is not how many units are shipped by NVIDIA, but rather what is the sell through. Sell through simply means the number of units containing Tegra sold to the end users. Over a period of time, sell through and shipments from NVIDIA have to be in balance. Otherwise, the channel gets stuffed, leading to an inventory correction.

The bulls have not focused on the major bull case for NVIDIA. The major bull case for NVIDIA arises from the follies of Apple (AAPL). Apple's follies present several great investing opportunities, but that is not the subject of this article. Suffice it to say at this time that Apple is a very smart company and it is likely to take corrective action sooner than later.
NVIDIA is technically an oversold, washed-out stock- down from $26 to under $19 in a very short time. Friday, NVIDIA received a big upgrade from Roth Capital. The analyst pounded the table on NVIDIA. The firm put out a statement that NVIDIA is experiencing GPU share gain and strong Tegra shipments this quarter. It is rare that an oversold stock receiving a big upgrade goes down on a bullish market day.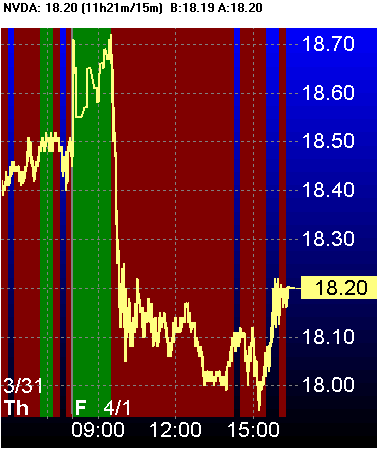 As the chart shows, the stock opened higher as it should have, but then fell precipitously. The question is what accounts for such unusual behavior? As I wrote in my last article titled Post Stock Drop Play on NVIDIA, the ZYX Change Method showed that the stock was in weak hands over $18 and that bounces should be sold short.
Smart institutional players recognize that when a stock is in weak hands, the weak hands panic easily and sell. Institutions consistently take advantage of this 'weak hands' behavior, not only on this stock but on all stocks.
In a series of articles on this stock, I have been batting 100% and the record can be easily verified from the articles on Seeking Alpha and my own writing. It may help the readers to understand that the consistent good track record is not the result of any special powers or gifts but produced by a rigorous proven method that combines technical, quantitative and fundamental analysis.
NVIDIA is showing very weak relative strength and very negative money flows. Unless the negative money flows reverse, the stock has the potential to go even lower. This stock is a short on any bounces or breakdowns unless the money flows reverse or there is a new development.

Disclosure: I am short on Motorola (NYSE:MMI) from $36. I have partially bought to cover at $24.12, $24.61 and $24.76 as the stock is now at the upper end of my target zone. I may go long on Samsung (OTC:SSNLF). I am long on Apple (NASDAQ:AAPL) from $131. I sold partial at $360. I may go long or short on NVDA in the next 72 hours The expection will be a very short-term trade.