XenoPort Inc. (NASDAQ:XNPT) is set to receive notification from the FDA on April 6 whether or not its restless leg syndrome drug Horizant is approved. I am trading this event using both a bullish and a bearish approach – this article discusses the bearish approach. The bullish side of the trade is discussed in a prior Seeking Alpha article.
Here is the trade:
Please note that trade-in amounts occurred over several days thus they may be different from current market prices
Bearish side:
Buy 25 APR 5.0 strike Puts @ 1.008 = $2,519
Sell 50 APR 4.0 strike Puts @ 0.509 = ($2,543)
Initial Position P&L = ($24)
Chart 1: Risk Diagram, Bearish Structure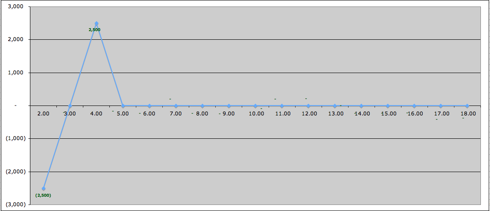 This structure is a 1x2 Put ratio spread and generates a credit to initiate – that is, I am being paid a small amount to initiate this trade. I make money as long as XNPT trades above $3 a share by expiration. Maximum profit of $2,500 is achieved if XNPT trades at $4 by expiration.
The key (and potentially quite substantial) risk in the trade is on the downside. If XNPT trades to $2, for example, my loss is around $2,500 – below this, it is much greater. Based on cash value and the most recent option implied price movement (which may or may not be accurate), XNPT may trade to $2.50 / $3.50 in a bearish scenario – it could trade higher or it could trade lower. If I get uncomfortable with this structure (due to uncertainty on the downside) I retain the option to convert the ratio into a butterfly by buying the APR 3.0 strike Put before the April 6 PDUFA date, thereby capping the downside losses. An alternative in a bearish scenario is to be assigned the naked portion of the Puts and immediately sell Calls against the position.
Combined position:
As mentioned, and given the uncertainty, I am trading this event using both a bullish and a bearish approach – this is somewhat of a complex structure. On a combined basis, the risk in the structure changes substantially and can be viewed in Chart 2.
Chart 2: Risk Diagram, Combined Position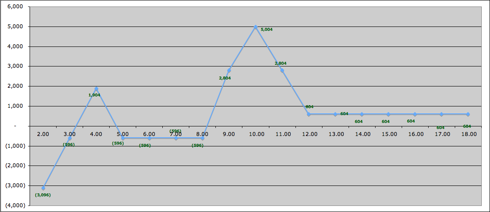 Disclosure: I am long XNPT and Short XNPT, as detailed in article.