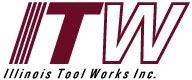 Illinois Tool Works Inc. (NYSE:ITW) is a multinational manufacturer of a diversified range of industrial products and equipment with operations in 57 countries. The company has eight segments: Transportation; Industrial Packaging; Power Systems & Electronics; Food Equipment; Construction Products; Polymers & Fluids; Decorative Surfaces, and Other.
Sales, Earnings, and Free Cash Flow
| Years | Revenue (in thousands) |
| --- | --- |
| 2006 | 13,798,995 |
| 2007 | 16,110,267 |
| 2008 | 17,100,341 |
| 2009 | 13,877,068 |
| 2010 | 15,870,376 |
Revenue growth at ITW has averaged 6% over the past decade, even though there were significant dips in 2008 and 2009. The global recession hurt ITW, both from an organic business growth and acquisition standpoint. The 14.3% increase in sales in 2010 is attributable to 1) moderate economic recovery with increased demand for products, and 2) the acquisition of 24 companies, which added $530 million to revenues.
[Click all to enlarge]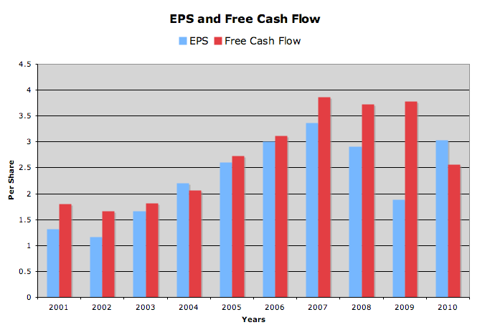 Earnings growth has averaged 9.6% over the past decade, and 2010 saw a massive growth of 60.3%. A combination of higher sales, share repurchases, and increased margins accounts for this large growth, and going forward, I expect a growth rate similar to the 10-year average. Analysts expect ITW to earn $3.79 in Fy 2011 and $4.42 in Fy 2012, representing increases of 25% and 16.6%, respectively.
Cash flow has stayed more stable than earnings, even during the recession, where fcf did not decrease as much as earnings and stayed in the high $3 range. Though cash flow has grown by an average of 3.9% in the past decade, both the 5-year and 1-year periods have had negative growth. In 2010, free cash flow decreased by 32%, from $3.78 in 2009 to $2.56 in 2010. From looking at the cash flow statement, it seems this decrease is more the result of a $20 million loss from investments and a $73 million dollar loss from income taxes than an inability for ITW to generate cash.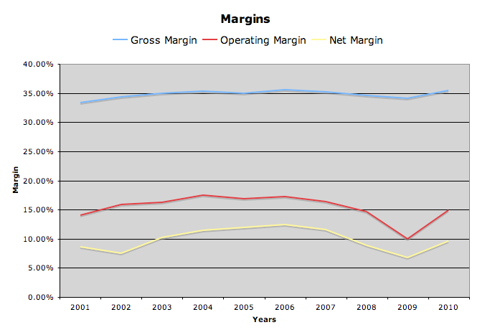 Gross margin has remained stable, though both operating and net margins nose-dived during the recession. ITW looks to be recovering, though: 2010's operating margin increased to 14.9% from 10%, and net margin increased to 9.6% from 6.8%.
Dividends
ITW is a dividend champion and has increased its payout for the past 47 years. The latest quarterly increase was in August of 2010, when it increased the dividend from $0.31 to $0.34, or $1.36 annually.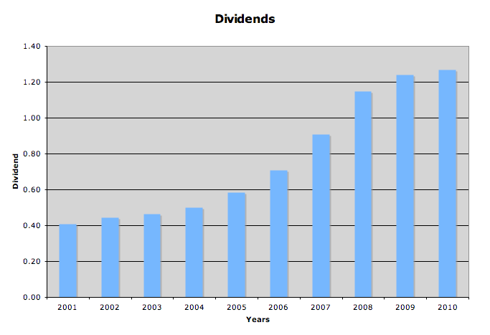 Growth has averaged 13.2% over the past 10 years, though this was slowed considerably by the past year's increase of only 2.4%, from $1.24 in 2009 to $1.27 in 2010. I expect a dividend increase in the third quarter of 2011, so hopefully that $1.36 will actually be a bit higher. If the dividend growth is on par with the 10-year average, it should be somewhere around $1.39 for the year.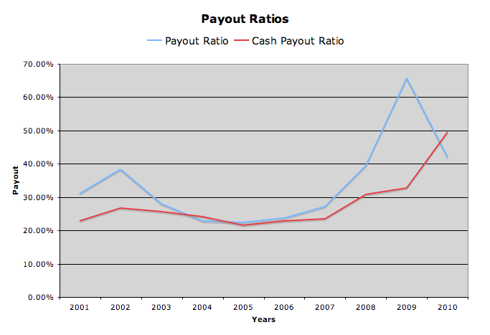 Both payout ratios, earnings- and cash-based, are at acceptable levels, leaving room for growth as well as a buffer for any short-term distress in earnings.
Balance Sheet
The balance sheet at Illinois Tool Works is very clean. Debt comprises 23.7% of total capital, and the current ratio is a healthy 1.9. Interest expense is well covered with a ratio of 13.4, and the $1.1 billion ITW has in cash should be enough to cover any short-term issues.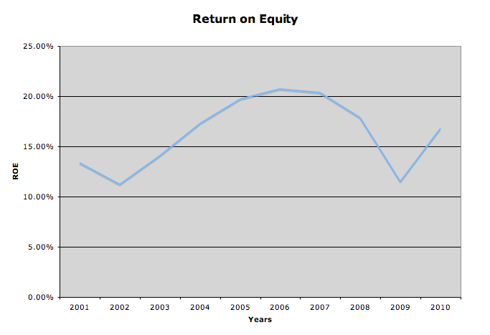 Return on equity has fluctuated slightly over the years, hitting highs during the mid-2000s and sinking under 15% both early and late in the decade. Last year's return on equity of 16.8% is right on par with the 10-year average of 16.3%.
Stock Price Valuations
Current Price - 54.15
5 year low p/e - 13.9
P/e (ttm) - 17.9
P/e (forward) - 14.3
5 year high dividend yield - 3.15%
Dividend yield - 2.51%
Conclusion
Illinois Tool Works is a large, stable, diversified company that has managed to increase dividends and earnings consistently for a long time. Its portfolio of products is immense; one of my favorites is the plastic six-pack ring holder, which is a very common product with a huge moat around it. Buying into ITW will not make you rich overnight, but it's a good candidate for a safe, income-producing investment that will reward shareholders over the long term. I would look to start a position if the stock dips under $48.
Disclosure: I have no positions in any stocks mentioned, and no plans to initiate any positions within the next 72 hours.