As an author who has written previously on Dendreon (NASDAQ:DNDN) and also as a shareholder with a significant stake in Dendreon, I feel that it is incumbent upon me to address an article that appeared on Xconomy.com and also on the Motley Fool website, and has unfortunately made the Yahoo Finance headline wire. The article speaks of a "shareholder uprising" at Dendreon and intimates that there are serious prospects of some sort of Board of Directors shake up at the company.
Nothing could be further from the truth.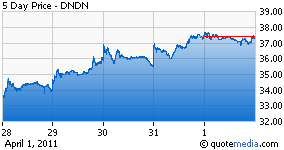 It is true, as reported by Luke Timmerman of Xconomy--usually a first-rate journalist--that Brad Loncar, the self-revealed owner of one share of Dendreon stock, made an internet and message board splash over the weekend by making public a letter and memorandum that he had forwarded to Dendreon management calling for the creation of an independent retail investor seat, or seats, on the Dendreon Board of Directors. Loncar tweeted about his memo and also made an appearance on a popular Dendreon message board at Investorvillage.com asking for Dendreon investor support. He stirred debate for sure--because as with almost every publicly traded company there are Dendreon shareholders questioning management moves, transparency, stock sales--and indeed it is almost always true that publicly traded companies would be better off with more independent representation on corporate boards. And in fact a number of the Investorvillage regulars, your truly included, did contact Dendreon investor relations and express support for the idea of a shareholder representative on the Board.
Still, it's not fair to describe this one man effort as a "Shareholder Uprising".
For what it's worth, in my opinion Dendreon management has performed superbly and accomplished things that had been deemed unimaginable--particularly for a small biotech that stubbornly and resolutely refused to partner with a Big Pharma and thus give up 100% control of its destiny.
All alone Dendreon first achieved the Holy Grail of cancer research: figuring out how to induce the cancer patient's own immune system to recognize cancerous cells as foreign and to kill them.
All alone Dendreon performed the three separate Phase 3 clinical trials the FDA ultimately required as proof of the Active Cellular Immunotherapy's efficacy. And all alone moved the breakthrough treatment, Provenge, for advanced prostate cancer, through the FDA and attained approval.
Provenge is now FDA approved and is massively in demand. Over 100,000 men have the type of disease treated by Provenge and a new 30,000 are diagnosed every year. It has demonstrated the greatest survival benefit EVER for advanced prostate cancer, improving the three year survival rate by a tremendous 40%, and researchers are even hopeful and expectant that it will prove even more effective in earlier stage disease in men with healthier immune systems to start.
Dendreon has weathered a controversial Medicare review and obtained a draft ruling that Medicare will cover the treatment fully.
Dendreon has also raised almost a billion dollars to support the manufacture and marketing of Provenge--building out three separate factories, one in New Jersey, one in Atlanta, and one in Los Angeles, to supply Provenge to the nation.
The New Jersey factory is FDA approved already. The Atlanta and LA factories are complete and soon to receive FDA approval.
All alone Dendreon has met with European authorities and heard that their earlier trials will likely suffice for EMA approval of Provenge--and yet another Provenge factory has already been planned and sited for Germany--the EU application for Provenge expected to be filed early in 2012.
This "Little Company That Could" has so far done it all, and is guiding for 2011 revenues from Provenge totaling between $350 and 400 Million dollars. 2012 will likely see a run rate of over a Billion dollars a year, in just the second full year Provenge has been on the market.
JP Morgan (NYSE:JPM) just reiterated Dendreon as its top biotech pick for 2011 with a target price of $66.
Does this sound like a company with bad management? Does this sound like a company ripe for a "shareholder's uprising"? Don't think so. Almost every company has shareholders who are eager to point out how things could have been done better--usually hindsight judgments that were not expressed prior to management action. No shareholder loves it when it looks like management is selling too many personal shares (and I agree this can come under the heading of bad leadership--even if it is justified personally by a desire to diversify a portfolio and to reap the rewards of decades of work). But the bottom line is that Dendreon management has performed magnificently, by almost any measure.
The company is, in my opinion and in the opinion of many respected analysts, poised to become the Next Big Biotech. One key to that happening is in fact the great management team.
Would it be nice if there were a better conduit for retail investor input and sentiment? Sure. That is true at almost every company in America. A board seat would be nice--and might even get Dendreon some positive PR as a progressive rule breaker.
Does Brad Loncar's one share campaign for a retail investor board seat at Dendreon constitute a "shareholder uprising" that is likely to lead to a "board shake up" involving Board control? With all due respect to Xconomy and Motley Fool, that's just not responsible journalism.



Disclosure: I am long DNDN.