Dan Loeb, hedge fund manager at Third Point Partners L.P., continues to outperform the major averages in 2011 after handily outperforming them all in 2010. Hedge funds typically promise absolute returns (alpha) to their investors. Dan Loeb is among the select few who consistently deliver upon the promise. He uses the Event Driven Value Oriented investment style where he seeks undervalued stocks either ready for take off due to the impending good news or have been oversold as a result of recent bad news.
Research has shown that the stocks which perform best in a given three month period typically continue to outperform … particularly in a bull market. Since we believe large caps will lead the markets higher in 2011, we focused on large cap stocks among Loeb's top holdings and screened our database of 5000 stocks looking for stocks within his portfolio with a bullish Chaikin Power Gauge rating, positive earnings performance, strong price momentum and upward analyst revisions.
The Chaikin Power Gauge rating is based on a 20-factor model incorporating Financial Metrics, Earnings Performance, Price/Volume activity and Expert Opinions to determine a stock's potential over the next 3-6 months.
Below are six large cap stocks that meet our criteria. We believe they will continue to lead in the coming quarter and would recommend using any short-term price pullbacks to initiate or add to positions.
| | | | | | |
| --- | --- | --- | --- | --- | --- |
| Company (Ticker) | Industry | Market Cap | Current Price | 52 Week Range | YTD % Gain |
| Comcast Corporation (NASDAQ:CMCSA) | CATV Systems | 70B | $25.21 | 16.30-25.91 | 13% |
| CVR Energy Inc (NYSE:CVI) | Oil & Gas Refining | 2B | $23.69 | 6.71-24.03 | 53% |
| LyondellBasell Industries (NYSE:LYB) | Specialty Chemicals | 23B | $40.27 | 14.86-41.12 | 17% |
| Madison Square Garden Inc (NASDAQ:MSG) | Entertainment | 2B | $27.10 | 18.39-29.97 | 6% |
| Sunoco Inc (NYSE:SUN) | Oil & Gas Refining | 6B | $46.11 | 26.93-46.62 | 12% |
| Williams Companies Inc (NYSE:WMB) | Oil & Gas Pipelines | 18B | $31.28 | 17.53-31.89 | 27% |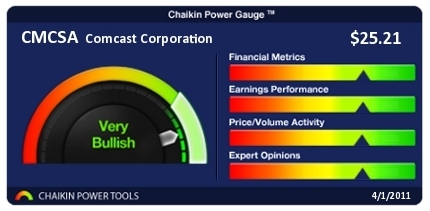 Comcast Corporation (CMCSA): $25.21
Driven by subscribers' move to buy bigger cable packages showing signs of improvement in the economy, Comcast exceeded analyst expectations and posted a 7% YOY revenue increase in the 4th quarter of 2010. This revenue and earnings growth contributes to a bullish Earnings Performance metric and has led to increased analyst confidence and upward earnings revisions.
The NBCUniversal acquisition at the end of January further helps Comcast to expand its push into content while benefiting from NBC's very profitable cable channels such as USA and Bravo. This is a very important strategic step forward for Comcast as it combats stiff competition in its traditional business from the likes of DIRECTV and Verizon. Confident about the company's current cash position and future prospects, management announced a 19% increase in dividend payout this year along with plans to buy back more than $2 billion in stock by year end.
The company continues to benefit from the "triple play" packages adding broadband as well as voice customers. The recent launch of its Xfinity Signature Support service further strengthens this package by offering customers a single source for troubleshooting and support and delivering an end-to-end exceptional customer experience backed by the Comcast Customer Guarantee. Positive Chaikin Money Flow activity and a strong Chaikin Price Trend roundup the metrics leading to a bullish Chaikin Power Gauge rating. If the company continues to focus on its newly introduced customer satisfaction initiative, we believe stock price will continue its upward trend making higher highs in 2011.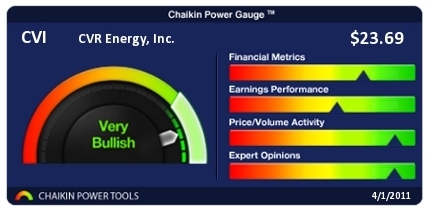 CVR Energy Inc (CVI): $23.69 CVR
Energy continues to climb to multi-year record highs driven by a 25% year-over-year revenue increase in the most recent quarter which helped the company handily beat analyst estimates and strengthen its cash position. A 15% earnings surprise following another quarter of consistent earnings leads to a bullish Earnings Performance metric. Impressed with this strong result, analysts raised the bar even higher leading to a very bullish Expert Opinions metric.
The stock is up more than 50% in the first quarter of 2011 alone. Near-perfect Price/Volume activity driven by a strong Chaikin Money Flow activity, a bullish Chaikin Price Trend and a bullish Volume trend bolster an already bullish Chaikin Power Gauge rating. The company has an interesting business model. It refines and markets transportation fuel, and it also markets nitrogen fertilizer products. So the company makes money when oil goes up, and it makes money when people look to alternative ways of deriving energy.
This diversification will continue to help strengthen the company's margins. We believe any broad market or industry related pull-backs should provide an excellent opportunity to add this stock to your portfolio.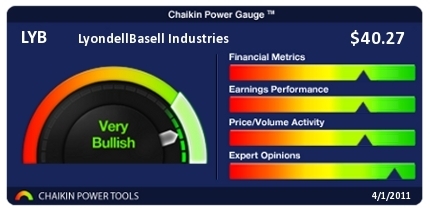 LyondellBasell Industries (LYB): $40.27
A healthy balance sheet with plenty of free cash flow, profit margins of 25% and a very strong ROE cap an amazing turnaround story for a company that had gone through a merger in 2007 and then a bankruptcy in 2008. Even though the company had a great business model, it was strapped with too much debt. Since it emerged from bankruptcy however, LYB has done very well gaining over 150% since June 2010.
Analysts are bullish about the company's 2011 prospects and have raised earnings estimates leading to a bullish Expert Opinions metric. Strong Price strength vs. its industry and the broader market bolsters an already bullish Chaikin Power Gauge rating. Shares have gained 17% YTD and we believe this rally will continue in 2011 taking the stock price to further highs. Watch for any market driven pull-backs to buy LYB.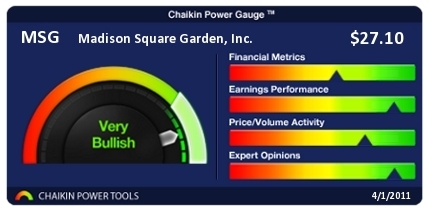 Madison Square Garden (MSG): $27.10
The New York Knicks haven't played basketball this well for almost a decade. Now that they are heading back to the playoffs, rejuvenated fans are heading back to MSG to support their team. Even the 49% ticket price hike in the 2011-12 season does not seem to deter fans from heading back to the garden. This, coupled with the $2 per month per subscriber fee MSG receives from the cable networks, continues to fuel growth.
The company has a solid balance sheet with little debt. Consistent earnings growth with excellent profit margins leads to a bullish Earnings Performance metric. Following a successful spin-off from Cablevision early last year, MSG has gained 27% despite a 10% drop following the 2010 earnings report early this month. Although the company had a record quarter, it failed to meet analyst expectations resulting in a sell-off. We believe with its diversified portfolio and an excellent brand identity, MSG is a worthy addition to your portfolio at current levels. We have company, Dan Loeb and Mario Gabelli believe so too.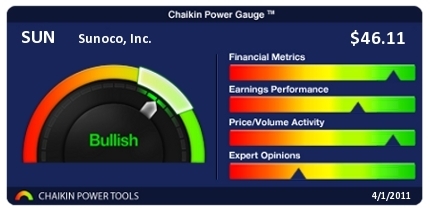 Sunoco Inc (SUN): $46.11
In the 4th quarter of 2010, Sunoco posted a threefold profit increase blowing past analyst estimates. This increase was driven by a major operations overhaul, improved sales, a large tax benefit and narrower losses in its core oil-refining business. The company recently completed the sale of its Toledo refinery and currently sits on approximately $1.5B cash leading to a bullish Financial Metric rating. Additionally, Sunoco filed last week for a spin-off IPO of its SunCoke Energy unit which it expects to close this year and management announced that the company plans to expand its retail network, thus making it clear that it plans to focus on its core business.
The current momentum has taken shares back to the levels last seen in January 2009, gaining 47% YOY. Strong Chaikin Money Flow activity, Chaikin Price Trend and Volume Trend lead to a very bullish Price/Activity rating. Positive Price Strength vs. the broader markets bolsters an already bullish Chaikin Power Gauge rating. Despite all the momentum in its favor, shares are way off their all-time highs. We believe the current rally has legs and the stock will continue its steady climb to higher highs and will reward patient investors very handsomely.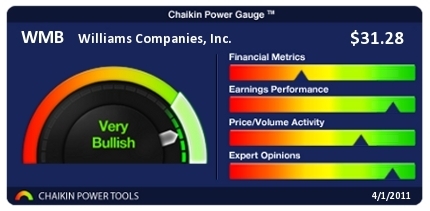 Williams Companies Inc (WMB): $31.28
A strong Chaikin Money Flow activity, bullish Chaikin Price Trend and a bullish Volume Trend suggest that the current 2-year rally shareholders are enjoying has strong legs and will continue to take the stock higher towards its 5-year highs of approximately $40. Although shares are up 27% YTD, it seems that there is still another 30% potential appreciation left for the stock to reach the levels last seen in June 2008 before the broader markets collapsed.
Driven by consistent Earnings Performance, analysts have become increasingly bullish and have raised their 2011 estimates leading to a very bullish Expert Opinions metric. Positive Price Strength vs. the broader markets and vs. its industry further strengthens the bullish Chaikin Power Gauge rating. Management recently announced that the company plans to separate its exploration and production business from the rest of the company through an IPO planned for late this year. This will allow management to focus on the core business, which will help increase shareholder value.
WMB also announced a 60% dividend increase in the 1st quarter of 2011, and plans another 10-15% increase in the middle of 2012, thus showing management's commitment to increase shareholders' value. Join the likes of Dan Loeb, Michael Karsch and Phillip Gross by adding the Williams Companies to your portfolio.
For more in-depth analysis on these stocks, please click here.
Disclosure: I have no positions in any stocks mentioned, and no plans to initiate any positions within the next 72 hours.