Premium Trade No. 1: Apple Inc. (NASDAQ:AAPL)

Analysis: Apple looks poised to make a push here as the stock has set up nicely at a bottom moving into earnings. The company should report earnings in mid-April, and expectations are high. The company is slated to, according to consensus estimates, beat revenue by over 70% YoY for Q1 and improve EPS from 3.33 to 5.32. The company has not moved positively since the launch of the iPad 2, with problems in Japan and a lot of price action coming into Apple prior to and at the release. Yet, the stock has a number of attractive factors that should give it a boost moving into the end of this week.

For one, the stock has not moved at all on news of a Canaccord Adams PT upgrade to $480. The company believes the iPad 2 will be a great boost to sales and earnings. Further, the company's P/E ratio will be moving down significantly with its next EPS on the TTM. The current P/E at 19 will actually drop to close to 17 with its next consensus earnings estimate and current price. That drop seems quite steep and puts the stock well below Google (NASDAQ:GOOG), Verizon (NYSE:VZ) and Adobe (NASDAQ:ADBE). Overall, this company should be a leader in the computer software/hardware industry.
Further, the stock is hitting a technical bottom and has formed a solid two-to-three week pattern back-to-back with higher lows and a growing upward trend. See below:
Click to enlarge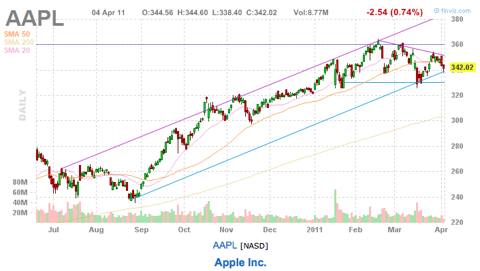 As we move into earnings season, there is not a company that we would rather be safely invested into as this company continually outperforms and grows earnings at great rates. The buyers will be there soon enough.
Entry: We are looking to get involved at 340.00 - 341.50.

Exit: We are looking to exit for a 2% gain for the first half. Second half is for more.

Stop Loss: 2% on bottom.

Timeline: Mid-Term Trade.

Oxen Entry: 341.15.

Premium Trade No. 2: Changyou.com (NASDAQ:CYOU)

Analysis: Changyou is a growing Chinese Internet company that has a very solid future ahead of it. It is currently rated as a Buy by The Oxen Group's Longterm Ratings with a PT of $48. The company looks poised to be a nice mid-term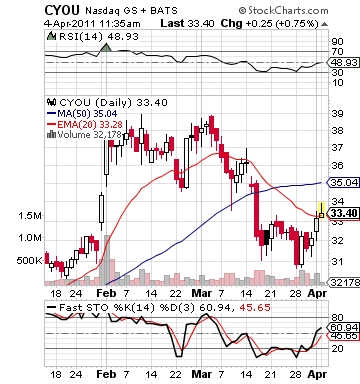 trade with the company's recent momentum, volume increases, and upgrade this morning from The Street. The company, additionally, continues to be led higher by the booming Chinese Internet rallies of Baidu (NASDAQ:BIDU) and Sina (NASDAQ:SINA).

The company, which designs online games that are played on the growing Chinese Internet and globally, on Friday saw a very nice volume increase come into the stock as the stock broke out higher. Today, the stock is still up, and it now has a lot of buyers behind it. Yet, there is still a lot of room for more growth. Fast stochastics are showing that the stock is not overbought and more buying should still occur. Further, the stock's RSI still shows undervaluation. The best part is that CYOU broke its 20-day MA at 33.28, and so it has a nice support line there.
An upgrade from The Street is not a market changer, but it does mean that analysts are starting to recognize the value of this growing company that is slated to increase sales by 25% this year.
Look for CYOU to bounce off support at 33.30 and look to close a gap to 35 that it had after its last earnings report.
Get CYOU!
Entry: We are looking to get involved at 33.40 - 33.60.

Exit: We are looking to exit for a 2% gain for the first half. Second half will be for moew.

Stop Loss: 2% on bottom.

Timeline: Mid-Term Trade.

Oxen Entry: 33.50.

Disclosure: I am long AAPL, CYOU.
Additional disclosure: Disclaimer: The Oxen Group, first off, are not licensed investment advisors. We publish trading ideas that are reflected in a simulated portfolio. We offer ideas but are not advsiors. We do not make recommendations concerning which positions are the best for you, but rather, we are giving ideas for you to consider with an investment advistor or on your own. If you choose to follow our ideas, you are making an investment decision that is your own. Our staff may hold positions we recommend. All positions we recommend are reflected in our mock portfolios.