The Accounting Tricks of Spain's Banks
It seems certain that not only the Bank of Spain is relying on fictitious collateral values when assessing the state of Spain's banking industry – the banks themselves are doing it as well. The opaque reporting standards of Spain's banks have led to a continuous stream of exploding estimates by rating agencies on the capital requirements of the sector. For instance, Moody's has increased its estimate on the recapitalization needs of the cajas from € 17 billion to €40 to 50 billion. Such an extremely large discrepancy can most likely be explained by the unreliability of the data provided by the banks. For the entire banking system, Moody's says the cost will exceed the Bank of Spain's estimates at least by 100%, and will rise to €100 billion under the most rigorous stress test assumptions (note here that a number of Spanish banks, including the Spanish subsidiaries of Deutsche Bank and Barclays, failed even the stress tests ordered by the Bank of Spain in spite of the presumably fairly generous assumptions underlying them).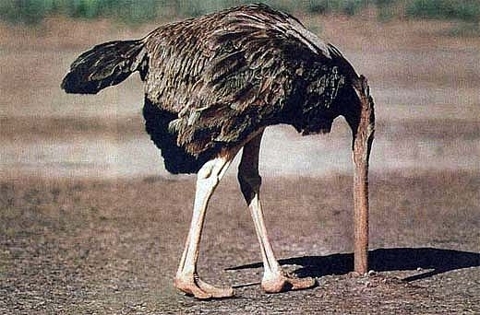 (Click to enlarge) Meet the heraldic animal of the Bank of Spain. (Photo credit: ostrichheadinsand.com)

We recall reading almost a year ago already that the dubious assets on the books of Spain's banks were held to amount to some € 300 billion. Given that the real estate market has deteriorated further since then, the recent enormous shrinkage of these estimates, even considering intervening write-offs and capital raising activities, strikes us as slightly miraculous.
Consider the status of lending to Spain's real estate developers as of September 2009 (we don't have more recent estimates available, but these slightly dated numbers will still serve to illustrate the potential size of the problem). The following is from a report published by John Mauldin in 2009, based on data provided by Variant Perceptions. Thus, the value of outstanding loans to Spanish developers had risen from just €33.5 billion in 2000 to €318 billion in 2008, an increase of 850% in 8 years. Adding in construction sector debts, the overall value of outstanding loans to developers and construction companies amounted to €470 billion, or nearly 50% of Spanish GDP. As the same report noted with regards to the methods employed by Spanish banks to hide the extent of their losses, there are several ways in which this is accomplished: the Bank of Spain has changed the rules on provisioning for delinquent mortgage loans, a ruling that has effects that are analogous to the suspension of mark-to-market accounting in the U.S. The details of these accounting shenanigans have been published in the Economist magazine in "Tricks and Mortar." The fact that the Bank of Spain has altered accounting rules with the specific aim of helping the banks to hide the extent of their losses tells us much about the BoS and what to think about its utterances. It's probably best not to believe a word it says. Speaking of mark-to-market rules, rest assured that Spain's banks are not marking their loans to market. One of the reasons why the official data on the decline in house prices are at such stark variance to reality and the data of independent appraisers lies with the fact that Spain's banks control nearly half of the companies performing real estate appraisals in Spain. All the mortgage guarantees and REO (real estate owned) on the banks books and the collateral backing mortgages are evaluated based on such fantasy, or made-to-order appraisals. Another trick the banks are using is to buy entire RE developments for the amount of the loans extended to their developers. That converts a delinquent loan of dubious value into a 'property asset' the value of which is no less dubious, but which for now stands in the books at cost (see this report from 2008).
Moreover, Spain's banks are keeping zombie developers and builders on artificial life support – a practice they have adopted from the Japanese post bubble playbook. Instead of forcing insolvent builders into bankruptcy, the banks extend fresh loans to them that the builders then use to pay interest on their old loans, in what seems to be a classic ponzi scheme. The reason for this is that the bankruptcies and associated loan losses would be quite big. However, as is well known from property busts elsewhere, such kicking the can down the road practices only serve to increase the size of the eventual losses. Lastly, in cases were the banks have engaged in 'debt for equity swaps' as described above, they try peddling the properties they have acquired by offering 40 year no-money-down (i.e. 100% LTV) mortgages, including repurchase guarantees – this is to say there is now a 100% LTV repo market in houses in Spain.
We would submit that in light of all these accounting tricks and the continuing collapse in prices, there is no way anyone can come up with a realistic 'worst case scenario' at this point in time. Even if the banking system can continue to extend and pretend, it will be a zombified system, not unlike what happened with the banks in Japan's long bust. In short, the banks will continue o rely heavily on the ECB to fund themselves and will be very reluctant to extend credit, even to worthy borrowers. This in turn will paralyze Spain's economy for some time to come (by contrast, if the unsound credit were written off, many banks would fail, but there would be a chance for the economy to genuinely recover).
Spain has a vibrant export sector that similar to its counterpart in Germany is competing successfully on quality rather than price. This sector has recovered nicely and is doing well, but contrary to Germany's export sector, it is too mall a part of Spain's economy to make a big difference. It is certainly a big positive that Spain's government has been forced to rein in government spending considerably to meet its deficit reduction goals – this has removed a large burden from the economy. However, such spending cuts must be put into perspective as well. They may seem large in the context of what the modern-day welfare nations are normally used to in terms of the perpetual growth of wasteful government spending, but they are still quite modest in absolute terms. At best one can speak of a timid beginning of the project of shrinking the State.
Lastly, while Spain's economy shows tentative signs of recovering from its slump, one should not lose sight of the fact that this happens with the ECB's target interest rate resting at a record low level. This extremely low interest rate coexists with an overshoot of the ECB's 'target price level' for the euro-zone over the past several months, which means that real interest rates are negative. In light of this, Germany's economic boom and any signs of recovery elsewhere in the EU in its wake must be taken with a big grain of salt. We would be reluctant to bet on the sustainability of these upswings.
A look at Spain's main stock market index, the IBEX, reveals what appears to be a corrective advance with overlapping waves (i.e. an advance that represents a counter-trend move to the primary trend):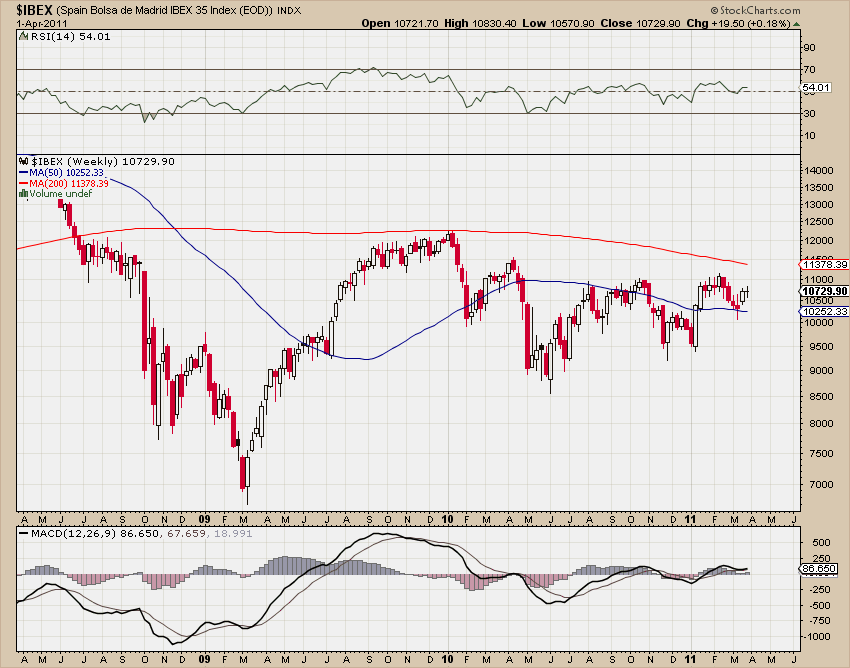 (Click to enlarge)
Madrid's IBEX – in a corrective advance since the early 2009 low. For now the market remains below its 200 week moving average, which means it remains mired in a secular bear market until proven otherwise. Portugal's stock index looks very similar.
The Charts
Below is our usual collection of charts of euro area CDS, euro basis swaps and a few other markets. As can be seen, the markets are still unconcerned about a possible return of contagion, in spite of Portugal's well documented and growing problems and in spite of the fact that funding for the ESM (European Stability Mechanism) that is replacing the EFSF currently consists largely of promises of funding rather than actual funding. With regards to the ESM we expect politicians to be prodded back into action as soon as the markets go haywire again, which they are eventually liable to do, as the 'rolling crisis' continues to undulate like a sine wave.
1. CDS (prices in basis points, color coded)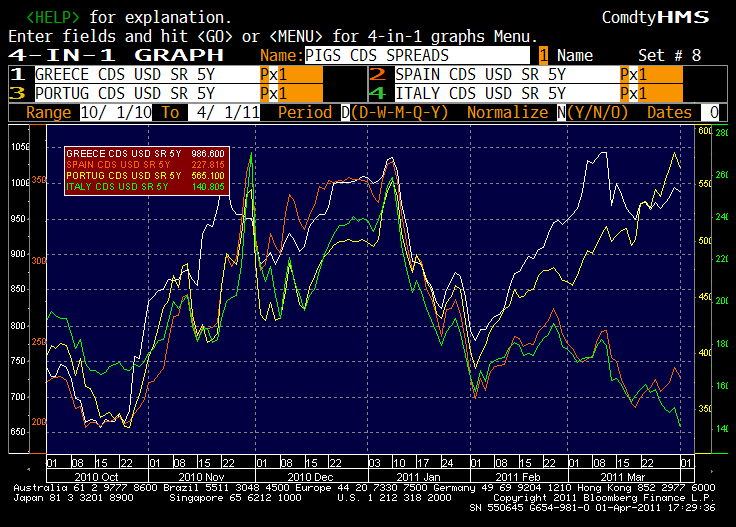 (Click to enlarge)
Five-year CDS spreads on Portugal, Italy, Greece and Spain. The markets continue to adopt the view that only the smaller economies are in danger of default. Spain enjoys an increasingly benign market assessment of its creditworthiness (although we hasten to add that its CDS at 227 bps. remain historically very high, it is merely a good recovery in terms of very recent history). Worries about Italy are also receding quite fast, in spite of a recent negative surprise regarding the capital requirements of Italian banks. By contrast, worries about Portugal continue to be on the boil, and everybody is of course aware that Greece is and will remain bankrupt.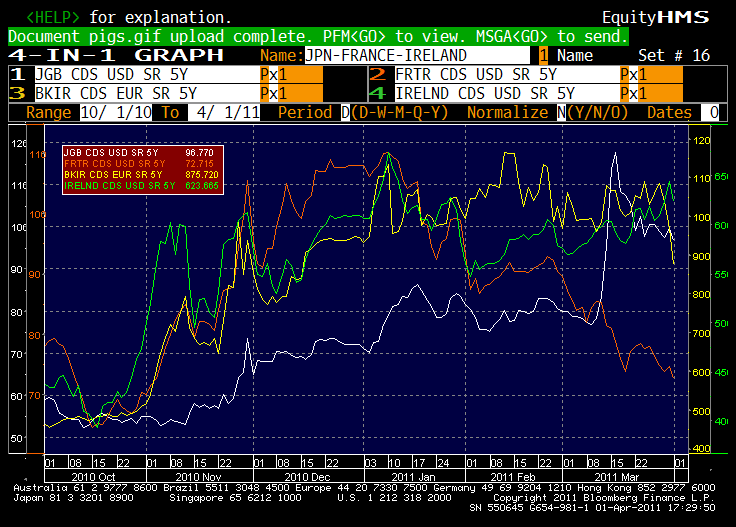 (Click to enlarge)
Five-year CDS spreads on Ireland, Bank of Ireland's senior debt, France and Japan. CDS on Bank of Ireland have come back in considerably following the stress tests, as all indications so far are that Ireland remains prepared to bail out bank bondholders. Consequently CDS on the debt of the sovereign remain close to their recent highs. CDS on JGBs continue to move sideways in a triangle, roughly fluctuating along with the radiation levels measured in the vicinity of the Fukushima Daiichi nuclear plant.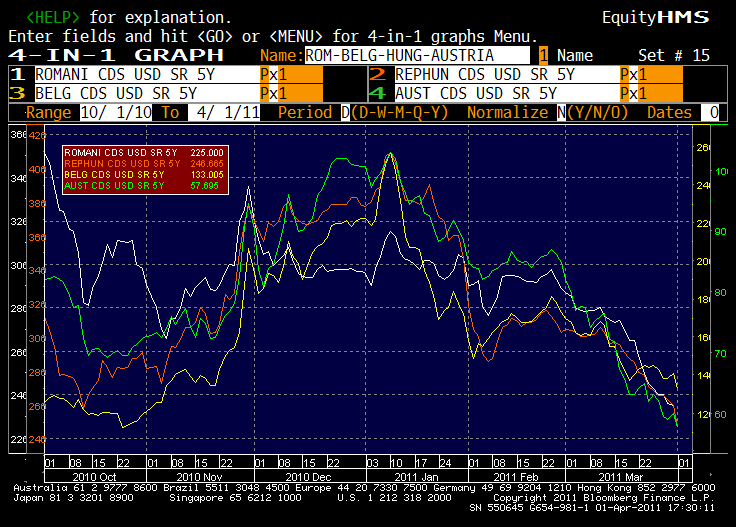 (Click to enlarge)
Five-year CDS on Austria, Hungary, Romania and Belgium – these continue to decline in concert with Spain's and Italy's, as the markets increasingly view Portugal as an isolated issue – for now, anyway.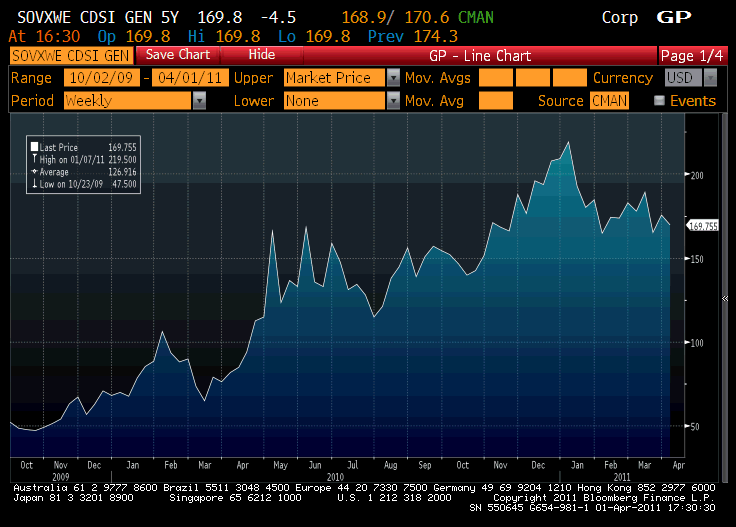 (Click to enlarge)
The Markit SovX index of CDS on 19 Western European sovereigns – still bumping along above lateral support.
2. Euro Basis Swaps (prices in basis points).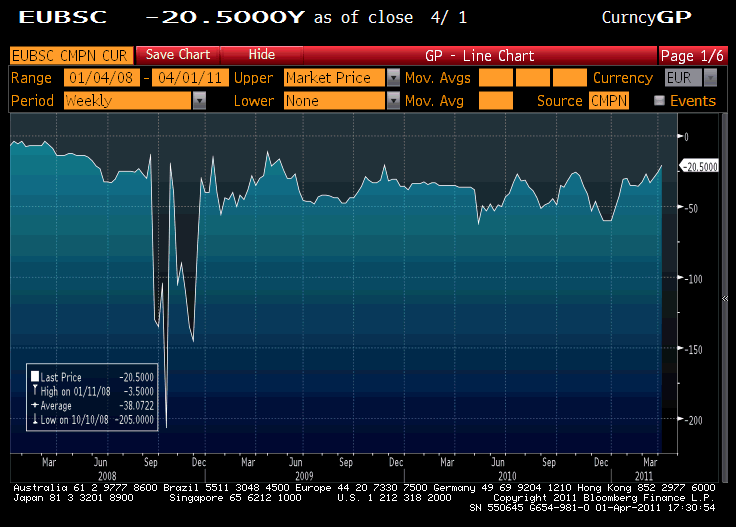 (Click to enlarge)
Three-month euro basis swap – at the best level of the year.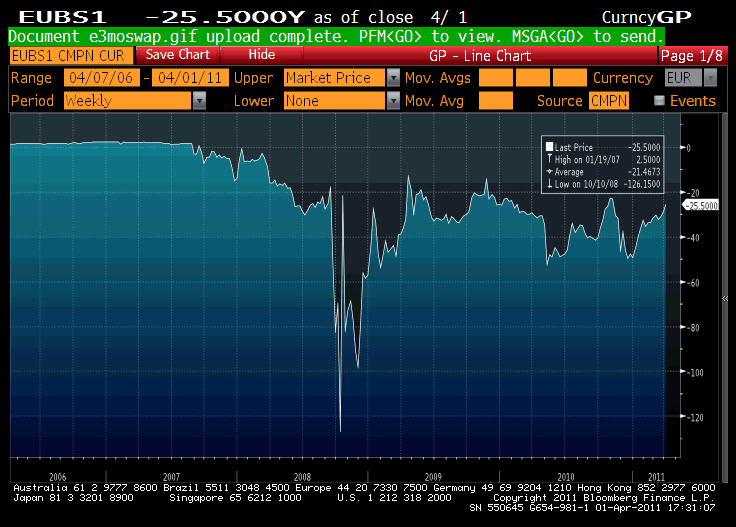 (Click to enlarge)
One year euro basis swap – also recovered to the best level year-to-date.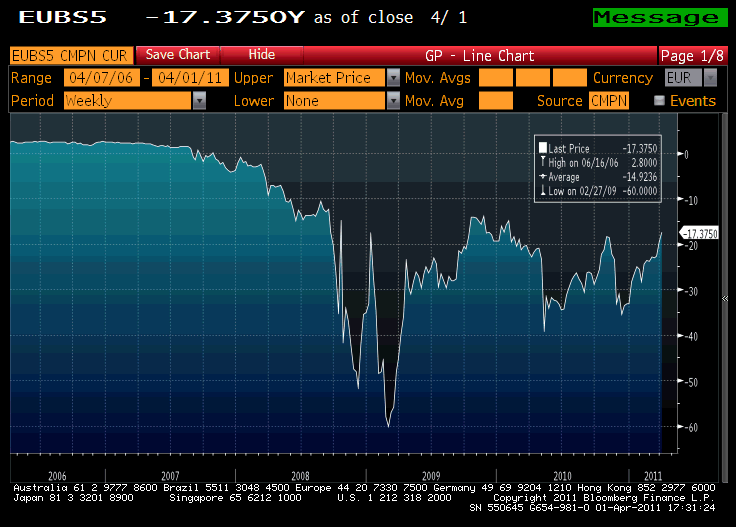 (Click to enlarge)
Five-year euro basis swap – this one is actually at the best level in 18 months
3. Other Charts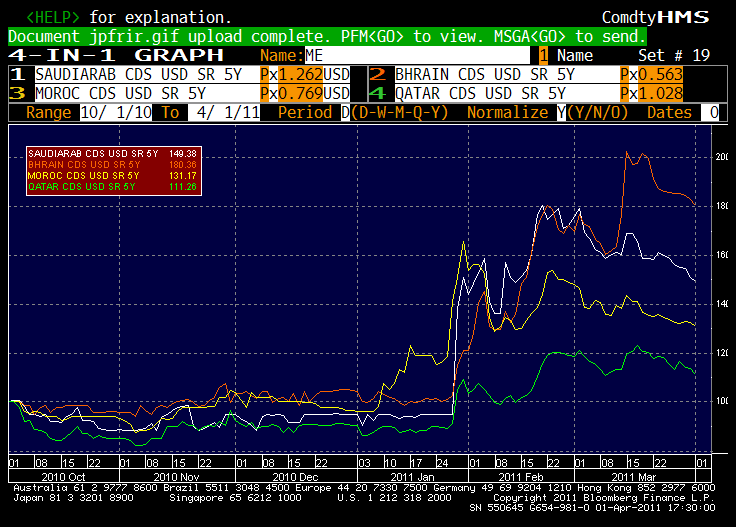 (Click to enlarge)
Five-year CDS spreads on four Middle Eastern countries – Saudi Arabia, Bahrain, Morocco and Qatar. All are still slowly declining in triangular consolidations. In the meantime unrest has become rather pronounced in Syria as well, but Syria is of course only a minor producer of oil.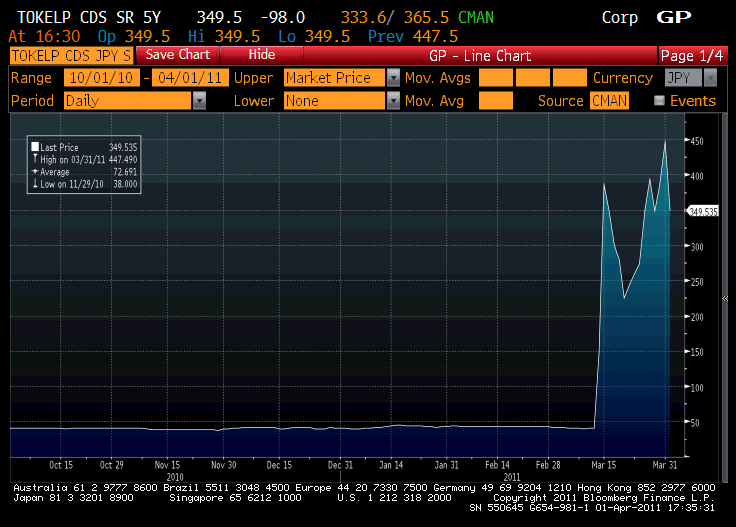 (Click to enlarge)
Five-year CDS spreads on the debt of TEPCO, the owner of Japan's Fukushima Daiichi nuclear accident. Talk of nationalization, or failing that, debt guarantees and/or other government subsidies, have caused a pullback. The markets still consider Ireland's, Portugal's and Greece's sovereign debt as a lot more risky than TEPCO's $92 billion debtberg.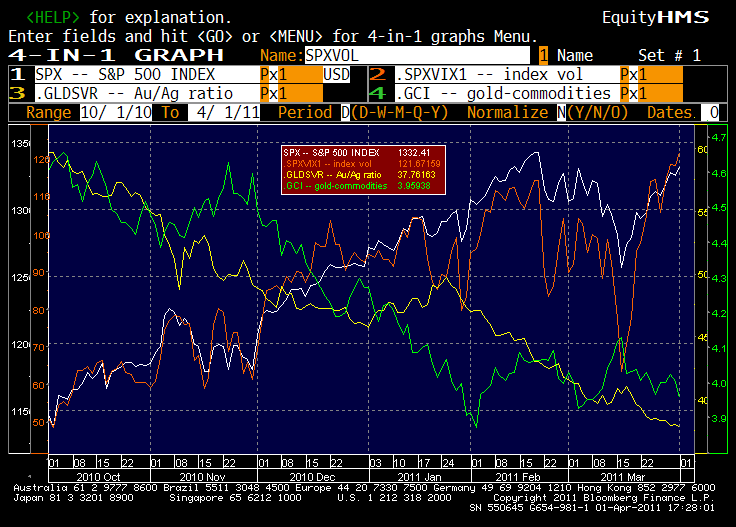 (Click to enlarge)
The SPX, T.R.'s proprietary VIX-based volatility indicator and the gold-silver and gold-commodities ratios. The party continues for now, but a divergence with gold-commodities remains in place. It is too early to tell whether it will prove to be meaningful (so far, it hasn't), but it is something to keep an eye on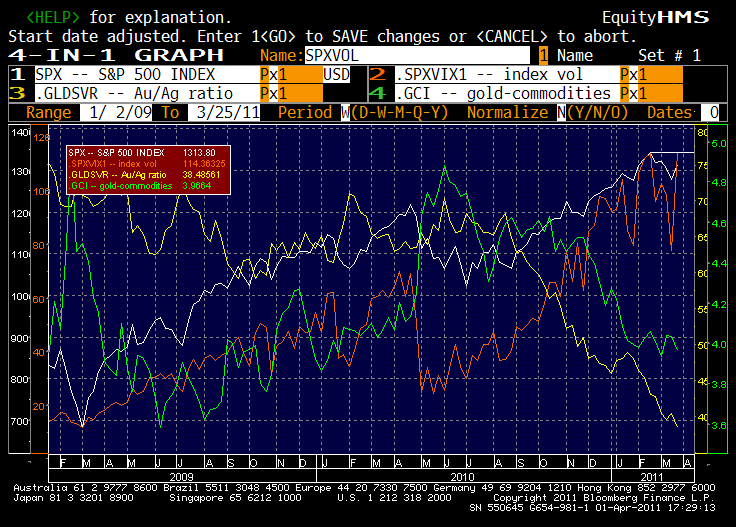 (Click to enlarge)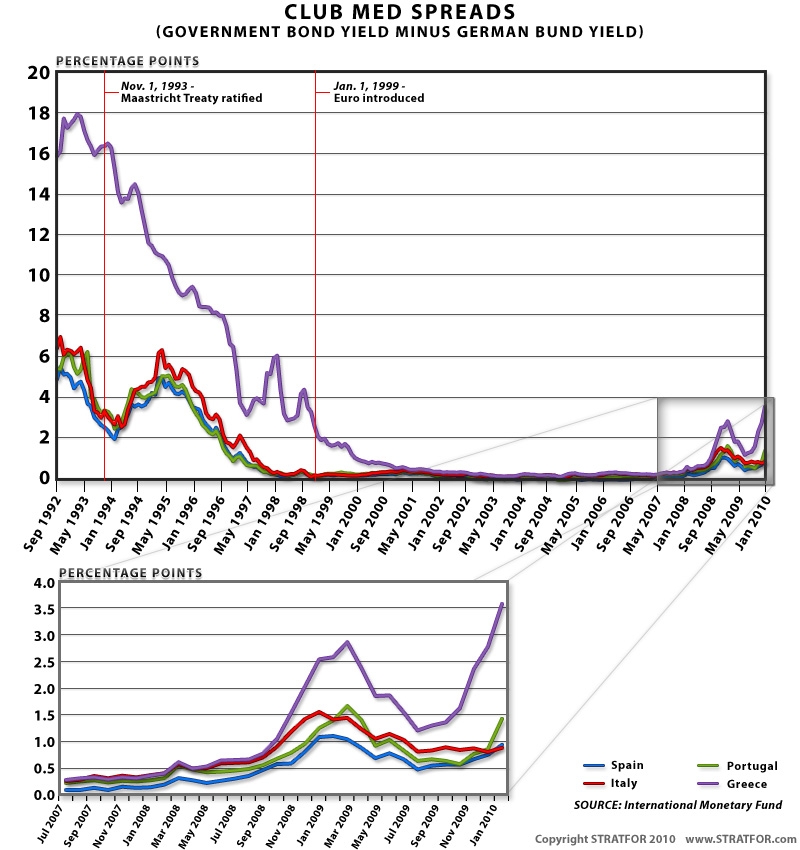 (Click to enlarge)
Addendum: Gold and Gold Mining Stocks – an Update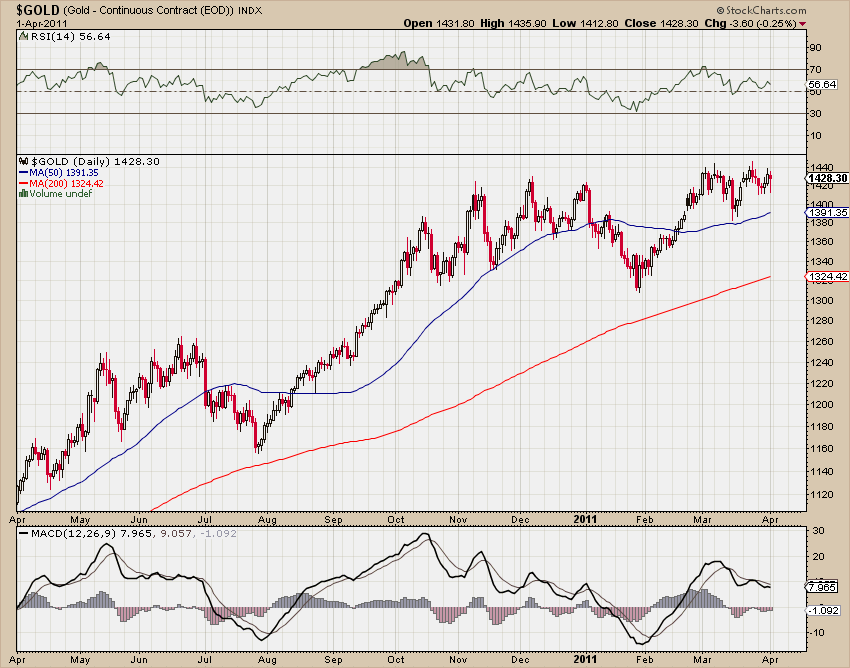 (Click to enlarge)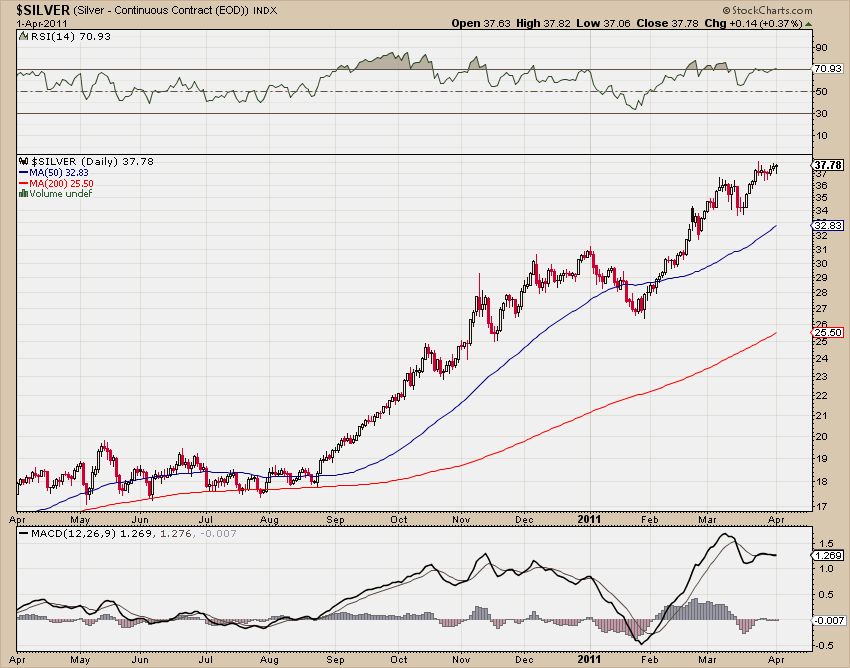 (Click to enlarge)

August of 2010, and again in September, we discussed a number of gold stocks that had caught our eye. As mentioned previously, one of those [Fronteer Gold, symbol (FRG)] has in the meantime received a takeover offer from Newmont Mining, which has certainly helped to achieve a substantial re-rating of the stock (FRG currently trades at $ 15.14 vs. $6.54 when we first mentioned it here). The other exploration stock we discussed, Keegan Resources (KGN), was trading at $5.77 at the time and has in the meantime traded as high as $9.20 (most recent quote, $8.76) and has therefore also fulfilled our expectations regarding its potential.
Only one of the four stocks we considered at the time has so far proved to be a disappointment, namely Canadian senior producer Kinross Gold (NYSE:KGC). The market tends to mercilessly punish gold producers for missing estimates or providing tepid guidance, the latter of which KGC has been guilty of. As a result KGC has however become one of the most conservatively valued major producer stocks and we believe there is still a very good chance that the market will eventually reassess its prospects. The company has an excellent growth pipeline, not least due to its takeover of Redback Mining, which prompted our original post on the topic. For instance, the Tasiast mine in Mauritania that was part of the Redback portfolio is eventually going to produce 1.5 million oz. annually at a cost of $480-$520/oz. and boasts of an estimated total resource base (P&P reserves, plus measured, indicated and inferred resources) exceeding 21 million ounces. This is the kind of project that can really make a difference. Recently KGC has finished its planned expansion of the 18m. oz. Paracatu mine in Brazil, which has transformed this mine into Brazil's biggest gold producer (last year it produced about 480,000 oz. at $530/oz.).
It is always difficult to tell when and why the market will decide to re-rate a stock (as the next example will illustrate), but in spite of the fact that KGC continues to look technically weak and has to date continued to underperform both gold and the gold stock indexes (after a brief interlude that turned out to be a false dawn), its fundamental attractions remain in our opinion undiminished.
One of the stocks we highlighted back in August was Harmony Gold (NYSE:HMY). Here is what we wrote at the time:
"Up until now HMY has been accorded an extremely low valuation on both a valuation per production and valuation per resource ounce basis by the market, as its South African deep level mines are regarded as very risky and marginal – an assessment that should perhaps be subject to a shift over time as well, as HMY has begun to close down unprofitable mine shafts while investing in higher quality production with markedly better margins in South Africa. Still, its PNG discoveries are beginning to represent an ever larger portion of its overall value , and given that a sizable part of the PNG prospects remains to be explored, this is bound to grow considerably. It seems even thinkable to us that HMY's JV partner Newcrest, which is already massively engaged in PNG after the acquisition of Lihir Gold, could consider to either offer a buy-out of HMY's stake (which would produce a large windfall profit for HMY), or it may even consider an outright takeover offer and perhaps subsequently spin off the South African interests in an independent vehicle. Even if HMY remains independent , the PNG projects could become a major cash cow for the company. So almost regardless of how this story develops, the market should begin to reduce HMY's large valuation discount to its peers in the senior producer segment in view of the evolving PNG/Wafi-Golpu story."
What happened thereafter was – nothing. The stock continued to essentially drift sideways for many months – in spite of reporting a 100% quarter-on-quarter jump in headline earnings in February (an event the market studiously avoided to discount in advance).
In March Harmony released what has to date been its best drill hole at Wafi/Golpu (883m @ 2.15% Cu and 2.23g/t Au [5.33g/t Au equivalents] from 913m including 628m @ 2.82% Cu and 3.06g/t Au [7.13g/t Au equivalents] from 1043m), confirming that the project is in fact the highest grade large scale gold-copper porphyry system ever found in South East Asia. In October 2010 one author at Mineweb already called it "the gold strike of the century."
It is now estimated by the joint venture partners that the project could grow to 80 million ounces of gold equivalents or more (currently it's at 39 m. oz). Indeed, gold strike of the century is no longer an exaggeration. This prompted analysts at RBC to essentially repeat what we wrote back in August, while adding a bit of color and fresh speculations regarding the possibilities of how exactly value for shareholders may be crystallized. To wit, here is an excerpt from a recent article at Mining Weekly:
"South African gold-miner Harmony Gold may become a takeover target on the back of the outstanding exploration results seen at the Wafi-Golpu deposit in Papua New Guinea (PNG), RBC Capital Markets said in a report on Thursday.

Analysts Leon Esterhuizen and Arnold van Graan said the PNG assets could add up to $2-billion to the value of Harmony, which was some 40% of the current market cap of the company.

Shares in the JSE-listed gold miner surged nearly 12% to R98,40 a share after the RBC takeover comment.

Harmony corporate and investor relations executive Marian van der Walt told Mining Weekly Online the company does not comment on speculation, but added that there was no corporate action that it was aware of.

Esterhuizen and Van Graan stated that another gold major could be looking at a strategy of making a bid for Harmony with the aim of stripping out the PNG assets and relisting the rump as a separate vehicle. [duh, ed.]

Gold Fields, AngloGold Ashanti and Newcrest were cited as possible buyers.

"In a couple of months, Harmony is poised to start delivering on a significant promise. We believe this is its most vulnerable moment and potential bidders know this. As a result, we recommend buying the story now – delivery also appears to have much better potential to succeed now," the report stated.

The analysts increased their target price to R130 a share from R90 a share and raised their recommendation to outperform, from sector perform, while maintaining an above average risk rating.
The fact that RBC analysts have now made this belated discovery of HMY's potential has greatly helped the cause of rewarding the patience of shareholders who probably were already wondering why the market had so assiduously ignored its PNG exploration results up until now (see our earlier remark regarding the inscrutability of the market with regards to when it decides to re-rate a stock, regardless of how deserving such a re-rating appears to be).
Here is what HMY's chart looks like as of now: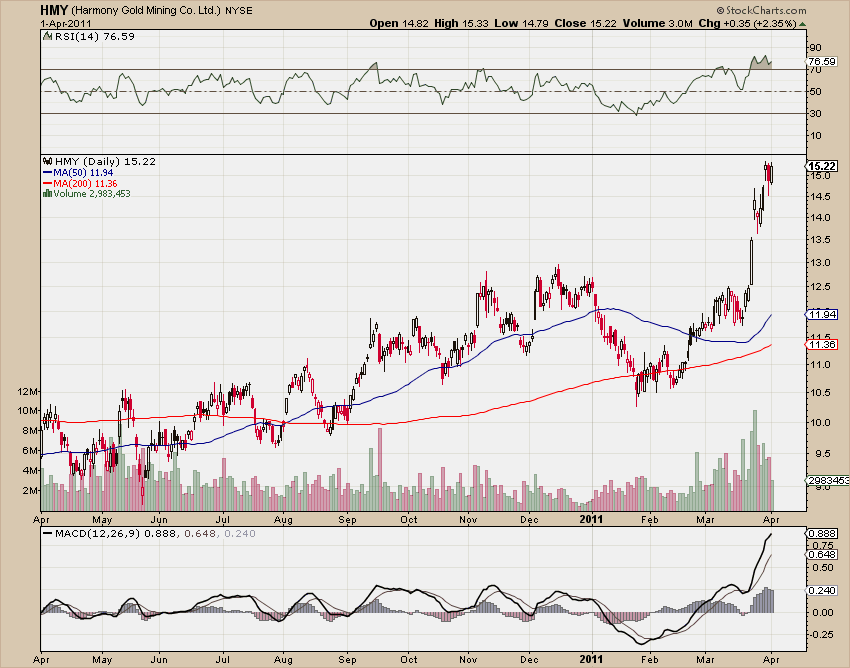 (Click to enlarge)
Following a belated awakening of analysts to the 'gold strike of the century', HMY catches a bid – click for higher resolution.
The question is whether the stock can go higher and by how much. HMY's current market capitalization is $6.54 billion, which is still not a whole lot for what is after all still the world's fifth largest producer of gold. To this it must of course be said that its deep level South African hard rock mines are subject to a substantial discount. It is widely held that this represents a so-called 'political discount', but we believe that this is not the case. If South African assets were to attract a 'political discount', the Rand wouldn't be one of the strongest currencies in the world and South Africa's stock market wouldn't have been one of the best performing markets in the world over the past decade.
We believe the discount is applied for purely commercial reasons. Most of South Africa's gold mines are very old, and mines don't exactly improve with age. However, the fact that production costs at these mines are very high means of course that their earnings are highly leveraged to the Rand gold price – and the Rand gold price doesn't look so bad at present. Some of that earnings leverage is in fact being realized lately (see HMY's 100% quarter-on-quarter headline earnings improvement). Besides, the tough environment forces SA's gold miners to constantly rationalize their mining assets and squeeze costs wherever they can. HMY specifically has closed all its loss making and marginal mine shafts and has invested in new projects, several of which involve pillar mining. SA's mine pillars are well worth mining – there is a lot of gold there, and it comes in far higher grades than is usually the case. The the low hanging fruit were mostly exploited 50 years and longer ago, but the mine pillars represent at least a faint echo of those halcyon days in terms of grades.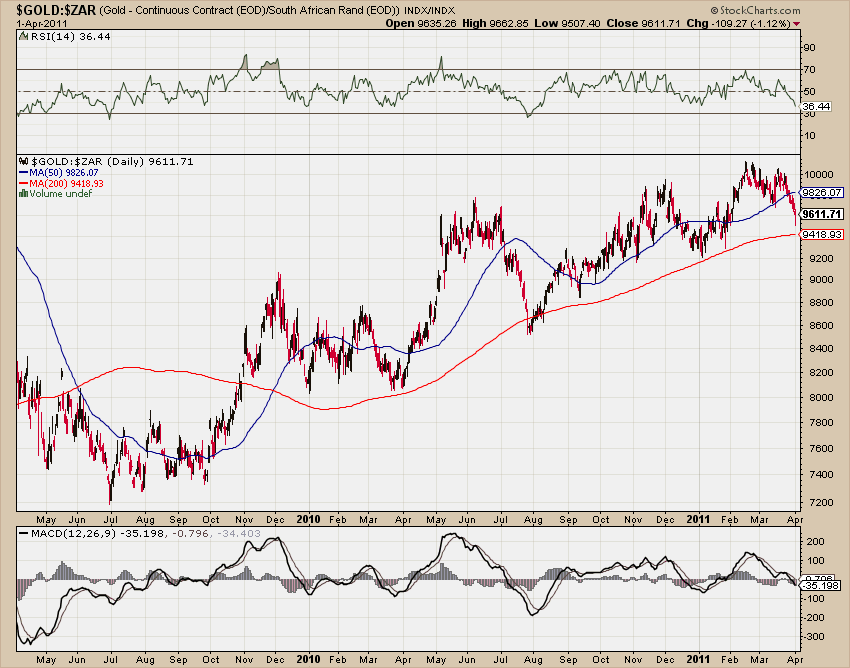 (Click to enlarge) Gold priced in South African Rand – it could be worse.
Frankly, it is hard to really put a value yet on Wafi/Golpu and the other PNG assets under HMY's control (here is a recent presentation, pdf), since the ultimate size of the resource is not yet certain. All that is certain is that it is already huge and has extraordinary grades. It is highly likely to grow further and it is definitely the kind of deposit that is attractive to the major mining houses. In addition, HMY also has sole control over several other PNG prospects in the vicinity that have yet to be properly drill tested. It is difficult to put a target price on all that, but it seems very likely that a takeover or even just a spin-off and separate listing of the PNG and SA assets would lead to a more substantial re-rating of the stock, ceteris paribus (the ceteris paribus condition is that the prices of gold and copper must remain reasonably strong).
As always, the comments on specific stocks represent our personal opinion and should not be taken as a recommendation one way or the other or be interpreted as investment advice. Everybody should do his own due diligence, or failing that, flip a coin.