China A-shares are those listed in the Shanghai and Shenzhen mainland stock exchanges. These have generally been off-limits to foreign investors except for institutional investors who have been given a Qualified Foreign Institutional Investor (QFII) license quota allocation of allowed investment in these A-shares. Most leading global financial institutions have a QFII quota and can therefore launch A-shares funds.
However, given the restricted quota, the A-shares ETFs don't directly hold the underlying stocks. Instead, they use derivative instruments like swaps to provide exposure to the price appreciation of an index composed of these shares. In other words, these are "synthetic ETFs" that track an A-shares index through derivative instruments. A popular index is the CSI 300 index, which is a free-float market-cap weighted index, comprised of the biggest (measured by market-cap and liquidity) 300 mainland listed A-shares covering both Shanghai and Shenzhen exchanges. Because of the QFII quota limitation, A-shares ETFs trade at a premium to their Net Asset Value (NYSE:NAV); the extent of this premium is one of the major factors in the choice of an ETF.
Market Vectors China A-Shares ETF (NYSEARCA:PEK) is currently the only ETF offering, listed in the U.S., for A-share exposure through the CSI 300 index fund. Many U.S. investors have been led to believe that this is their only choice if they want a low-cost index ETF to track the A-shares. That is true if you don't want to consider ETFs that trade in the Hong Kong stock exchange, that are nevertheless accessible to U.S. (and other global) investors. The purpose of this article is to make the case that at least two other ETFs, that trade in Hong Kong, deserve consideration.
First, let me address the issue of trading in a foreign exchange like Hong Kong. There is a misperception that trading in foreign exchanges is expensive, difficult, or both. This is not true. Today, many discount brokers offer easy and inexpensive access to foreign exchanges like Hong Kong. I believe Interactive Brokers is the least expensive broker for trading Hong Kong listed shares; their Hong Kong commissions are comparable, if not cheaper, to those charged by many other brokers for trading U.S. listed ETFs and stocks. So, there is no real excuse for not considering Hong Kong listed ETFs. Any serious China play investor should trade Hong Kong listed ETFs and stocks. Many leading Chinese companies, that are listed in Hong Kong, are only accessible through the Pink Sheets in the U.S., if at all. The liquidity is much greater in Hong Kong. It is instructive that, in 2003 and 2004, Warren Buffett bought PetroChina shares in Hong Kong, not the ADRs that trade in the U.S., even though PTR is a liquid stock.
Assuming that I have persuaded you to consider Hong Kong listed ETFs, here are two China A-shares ETF alternatives to PEK. These are: db x-trackers CSI 300 Index ETF (3049.HK) and iShares CSI 300 A-Share Index ETF (2846.HK). There are a couple of other A-shares ETFs that trade in Hong Kong, but they are either more expensive or less liquid, so I will just discuss these two, and compare them to PEK. Let us start with a table that summarizes the basics of these three ETFs:
| | | | | | |
| --- | --- | --- | --- | --- | --- |
| ETF | Expense Ratio | Premium to NAV | Liquidity (recent volume, number of shares) | Assets under management (AUM) US$ | Swaps counterparty exposure |
| PEK | 0.72% | 10.21% | 3,480 | $20.4MM | Credit Suisse Securities, 100% |
| 3049.HK | 0.5% | 12.2% | 17,989,800 | $514.4MM | Deutsche Bank, 100% |
| 2846.HK | 0.99% | 1.21% | 135,300 | $210.2MM | 10% exposure each to 10 counterparties |
The DB X-trackers ETF (3049.HK) is the least expensive one at 0.5%. This low expense ratio makes it one of the least expensive international ETFs out there, in general. It was listed about a year ago (March 2010) and has gathered an impressive $500MM+ AUM. It also has the highest liquidity among these three ETFs with about 17MM shares changing hands every day. The two negatives are its high premium to NAV of 12% and its 100% counterparty exposure to Deutsche Bank.
The iShares ETF (2846.HK) is the oldest of the three, having listed in November 2009. It has gathered a decent AUM of $210MM, and has moderate liquidity at 135k shares daily trading volume. Its expense ratio of 0.99% is the highest of the three. Its strengths are its low premium to NAV of about 1% and the diversification of its swaps counterparty exposure among 10 different dealers (including Blackrock, the sponsor) which are all leading global institutions like Goldman Sachs.
The Market Vectors ETF (PEK) is the most recent of the three having debuted in October 2010. Its expense ratio is capped at 0.72% till May 2012. Its premium to NAV of 10% is lofty though less than that of DB X-trackers. It has very light volume at about 3000 shares per day, and therefore is somewhat illiquid. Its sole swaps counterparty is Credit Suisse and that poses a risk. It has gathered a decent but somewhat unimpressive AUM of $20MM. For these new ETFs, we need to watch the AUM carefully, because the ETF sponsors tend to dissolve / liquidate ETFs that don't attract "sufficient" AUM within a given timeframe (say a year or two). If Van Eck, the sponsor of this ETF, decides to abandon it because of insufficient interest, you may lose money if they liquidate during a market downturn; this happened to a lot of ETFs during the 2008-2009 market meltdown. This is a risk with PEK that is often not sufficiently emphasized.
The following chart shows the relative tracking errors of the 3 ETFs over the past month. While all three track the CSI300 index rather poorly, PEK is the worst and the DB X-trackers seems to be the best. This shows that, if you are a buy-and-hold investor, the DB X-tracker ETF's large premium to NAV is not necessarily a problem in terms of tracking the CSI300 index. Its small expense ratio should offset this premium over the years. Plus, the premium should shrink gradually. In fact, it is somewhat surprising that the premium hasn't shrunk already given the volume and AUM over the past year.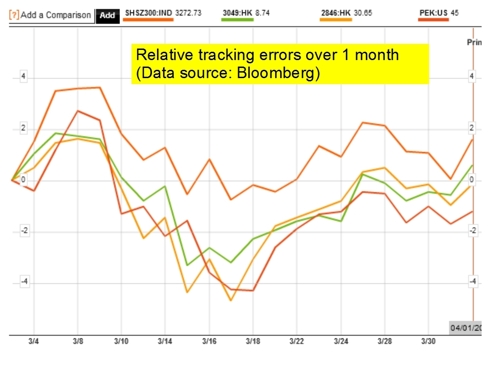 Bottom Line: If you want exposure to China A-shares through an ETF, consider Hong Kong listed ETFs like 3049.HK and 2846.HK in addition to the U.S. listed PEK.
Disclosure: I am long all three ETFs: PEK, 3049.HK and 2846.HK.