This is the third of a three part series of articles about top down portfolio construction using relative momentum. Part one compares foreign ETF momentum and part two compares sector momentum. The analysis is presented in a unique time series heat map visualization.
Like countries and sectors, size and style also exhibit cycles of outperformance. Since 1995, the average annual yield difference between large cap and small cap stocks has averaged 8% per year. The average annual difference between value and growth stocks has averaged 12% per year. While these differences are not as profound as the differences between countries and sectors, it still makes sense to have the tailwinds of size and style momentum behind you.
What is the best way to see which size and style is most likely to outperform? We have created a visualization table time series using four ETFs, IVE (large cap value), IVW (large cap growth), IJS (small cap value) and IJT (small cap growth), to easily see how each size and style is cycling in and out of favor.
Each ETF's monthly returns are compared to the monthly return of the SPY and classified into one of five stages of momentum. We used three moving averages to make the momentum determination; 1 month, 3 months and 10 months. Note that we are looking at monthly returns relative to the index - not absolute returns. Momentum is classified on scale of 1 to 5 as follows:
Momentum of 1.0 – most bearish / negative momentum (dark red). The 1 month average is below the 3 month average, and the 3 month average is below the 10 month average.
Momentum of 5.0 – most bullish / positive momentum (dark green). The 1 month average is above the 3 month average, and the 3 month average is above the 10 month average.
The column on the right shows the momentum of the index itself. Overlaid above the date, in red, is the official start and end of each recession as classified by the National Bureau of Economic Research (NBER).
Notice how momentum, both positive and negative, generally moves in cycles lasting multiple months, giving you an opportunity to benefit from the momentum.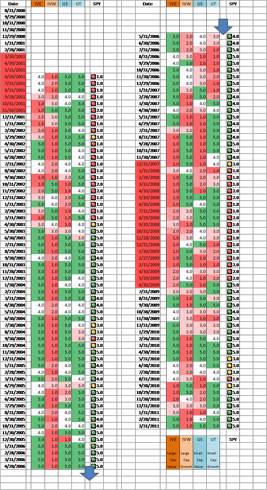 Observations:
Small cap growth has been the best performer for the past 12 months.

Both small cap value and large cap value have recently started to outperform, after a six month period of underperformance, and look like the best place to be at the moment.

Large cap growth has been a laggard for almost two years, except for a few months in between, and I would stay away from it until it cycles back into favor.
The top ten holdings of each ETF as of March 2011 are shown below:
| | | | |
| --- | --- | --- | --- |
| Large Cap Value (NYSEARCA:IVE) | Large Cap Growth (NYSEARCA:IVW) | Small Cap Value (NYSEARCA:IJS) | Small Cap Growth (NYSEARCA:IJT) |
| Exxon Mobil | Apple | World Fuel Svcs | Oil States Intl |
| General Electric | IBM | Holly Corp | Cooper Companies |
| Chevron | Microsoft | Esterline Tech | Regeneron Pharmceutical |
| JP Morgan Chase | Google | Emcor Group | Stifel Financial |
| Pfizer | Coca Cola | Moog Inc | Carbo Ceramica |
| Berkshire Hathaway B | Schlumberger | Anixter Intl | Triquint Semiconductor |
| Bank of America | Oracle | Proassurance Corp | Tanger factory Outlets |
| Citigroup | Philip Morris | Actuant Corp | Healthspring Inc |
| Conoco Phillips | Johnson & Johnson | Teledyne | Signature Bank |
| Wal-Mart Stores | Pepsi Co | Brady Corp | HMS Holdings |
Keep an eye on how the chart develops each month and use this chart in combination with the sector momentum chart to identify sector, size and style themes which will give you the best tailwinds. Good luck.
Disclosure: I have no positions in any stocks mentioned, and no plans to initiate any positions within the next 72 hours.