Vanguard created the Vanguard Financials ETF (NYSEARCA:VFH) 10 years ago to track U.S. financial companies. Let's see how well it has done over its first ten years, and whether it would be a good investment for the future.
The Yahoo graph below shows that VFH hasn't done too well. VFH's total stock return was a negative 12.68%. The quarterly dividend helped push the annual return to a positive 6.65%. The graph also shows the largest financial ETF, the Financial Select Sector SPDR ETF (NYSEARCA:XLF). It has $15 billion more assets than VFH, but has done much worse. XLF lost a total of 27%, and had a negative annual return of 1.17%. I also graphed the iShares U.S. Financials ETF (NYSEARCA:IYF). IFY is about the same size as VFH, with the same holdings, and IYF didn't do well either. It had a total negative return of 15%. The annual return was only .02%. None of these ETFs were great investments, and saying VFH was the best isn't saying much. In comparison, the S&P increased about 75% during the same period.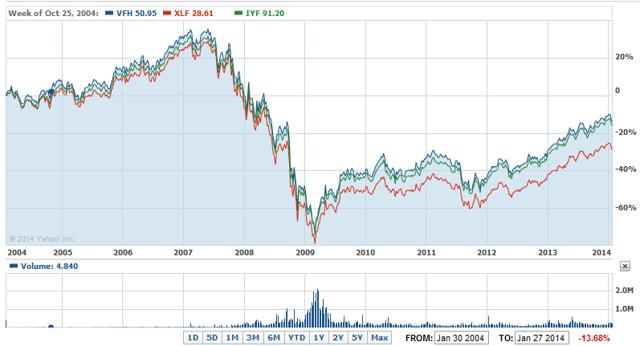 Benchmark
VFH has done well at tracking its benchmarks. The table below is from Vanguard's website. VFH tracked its first benchmark (2005-2010) better, with an average tracking error of -.07%. The average tracking error for its second benchmark was -.14%. The expense ratio (.19%) looked to be the major cause of the differences between the returns from VFH and the benchmarks.
| | | | |
| --- | --- | --- | --- |
| Year | VFH | Benchmark | Error |
| 2013 | 32.84% | 33.14% | -0.30% |
| 2012 | 26.37% | 26.38% | -0.01% |
| 2011 | -14.35% | -14.24% | -0.11% |
| 2010 | 14.77% | 14.87% | -0.10% |
| 2009 | 14.57% | 14.38% | 0.19% |
| 2008 | -48.88% | -49.11% | 0.23% |
| 2007 | -17.75% | -17.34% | -0.41% |
| 2006 | 19.38% | 19.50% | -0.12% |
| 2005 | 6.07% | 6.28% | -0.21% |
Correlations
A good ETF would not be highly correlated to any one of its holdings. This should be the case for VFH, as it has 514 holdings. It would be hard to think one stock could drive its price. Its largest holding is Wells Fargo & Co. (NYSE:WFC), whose weight is 7%. The price of WFC was 64% correlated with the price of VFH. JPMorgan Chase & Co. (NYSE:JPM) has the second-largest weight in VFH, at 6%. The prices of JPM and VFH were only 45% correlated. This is a good start, but the percentage price change tells a different story. The daily price change between WFC and VFH was 82% correlated. The daily price change correlation between JPM and VFH was 78%. Even though the percentage price changes were highly correlated, that doesn't mean the returns are. In this case I wish they were, as WFC and JPM way outperformed VFH, as shown in the Yahoo graph below.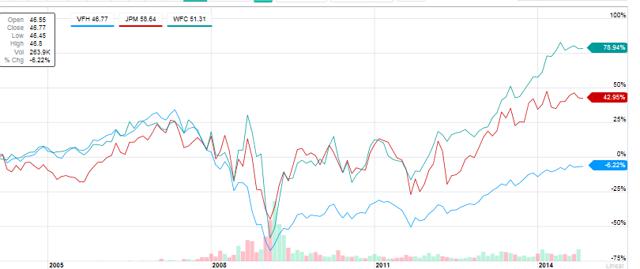 Since banks are in the business of borrowing and loaning money, interest rates are going to affect their profits. We should find out how much interest rates affect the price of VFH. I calculated its correlation against all government rates. VFH's correlation to short-term rates was higher than its correlation to long-term rates. For the government rates that were 5 years and less, VFH was 80% correlated. VFH was about 75% correlated to the 10-year, 20-year, and 30-year rates.
Alternative Bank ETFs
I previously wrote a paper that compared U.S. bank stocks to Canadian bank stocks. In that paper, I mentioned how some Canadian bank stocks were better investments. I still believe that. Doing some research, I came across some Canadian ETFs that I believe would be good investments. One of these is the iShares Equal Weight Banc & Lifeco Comm (CEW.TO). This ETF has plenty of weight in the largest Canadian banks. From the Yahoo graph below, one can see that it has performed much better than VFH. Since its inception, CEW.TO's stock has performed over 35 percentage points better than VFH. The annual return for CEW.TO is 6.69%, compared to -2.16% for VFH.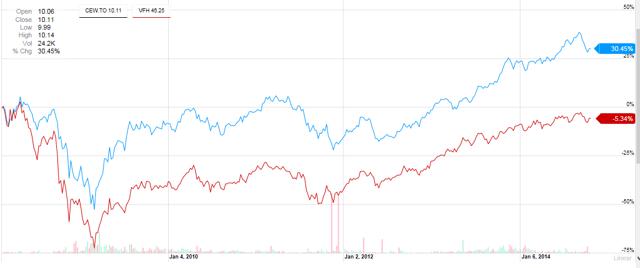 Action
If an investor wanted to choose a U.S. financial ETF that covered larger cap stocks, then VFH would be the best choice. VFH hasn't been spectacular, but it performed the best. I wouldn't recommend any U.S. financial ETF myself. The U.S. financial industry is safer and more profitable than that of most other countries, but there are still risks and better alternatives. There are also many low-performing banks in these ETFs that drag down their returns. The U.S. has had many financial crises over its history, and U.S. banks can even be taken down because of other factors. In early October, for example, the stock market went down because of news about Ebola, a slowdown in China, and lower oil prices. WFC reported earnings during this downturn, on October 14th. Its third-quarter net income and revenue increased from last year's third quarter. Even though it did better, WFC still dropped three percent. I don't believe any of that bad news will actually have an effect on the profits of Wells Fargo. Instead of a U.S. financial ETF, I would just invest in one or two U.S. banks stocks, like WFC or JPM. These are the best-of-breed financial stocks. I would even go further and say the better thing to invest in would be any of the large cap Canadian bank stocks or ETFs.
Disclosure: The author is long VFH.
The author wrote this article themselves, and it expresses their own opinions. The author is not receiving compensation for it (other than from Seeking Alpha). The author has no business relationship with any company whose stock is mentioned in this article.