Pfizer announced the first divestiture of one of its business units. Capsugel is a world leader in gelatin capsule manufacturing, and is being sold to private equity firm Kohlberg Kravis Roberts & Co. (NYSE:KKR) for $2.38 billion in cash. That is a price/sales ratio of 3.16 using 2010 sales numbers, roughly in the midpoint of what I predicted in Part 1 and Part 2 of this series. Pfizer has not disclosed earnings of this segment, but when Pfizer updated its 2011 and 2012 financial projections to reflect this deal, it did not change its earnings estimates.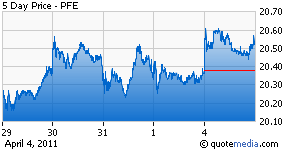 I think it likely that KKR is buying the business with the intent to re-sell to another company when valuations are higher. At that point, I think the companies I mentioned in my previous article are still the most likely to acquire the unit. In particular, I view Johnson & Johnson (NYSE:JNJ), GlaxoSmithKline (NYSE:GSK), and Teva Pharmaceuticals (NYSE:TEVA) as the most likely acquirers.
The purchase by KKR makes a spinoff and initial public offering of Capsugel far more likely than I had suggested in my earlier analysis. Pfizer's change in financial forecasts suggests they expect Capsugel to have $800 million in revenue in 2011, up from $752 million in 2010 and $740 million in 2009. This is a low growth, (apparently) relatively low-margin company, but there is positive growth and reliable business not affected by the patent issues facing much of the industry. It is also significantly less likely to be affected by health care reform or European state health care spending reductions.
What does this sale mean for Pfizer? On the whole, I view it as a positive. Pfizer sells a relatively small part of its business – 1.2% of sales – for about 1.45% of its market capitalization. And its earnings projections for 2011 and 2012 appear unchanged. Pfizer plans to use at least a portion of this money for additional share buybacks, a strategy that I believe will be beneficial to shareholders. This will also allow Pfizer to increase its dividend at a faster rate both because of the additional cash and with the reduction in the number of shares.
Whether this is the only divestiture by Pfizer this year or simply one in a long series of divestitures remains to be seen. The consumer health division is the next most likely to be divested, because Pfizer sold its previous iteration to Johnson & Johnson in 2006. The current consumer health division principally came from the Wyeth acquisition last year. The nutrition, animal health, and generic biopharmaceuticals divisions are also likely to find many suitors, and none of these segments are Pfizer's core business.