Highlights:
Health Care leads earnings and revenue growth for Q3, growing 13.8% and 11.9%, respectively. Again this season, growth is mostly within Biotech, due to Gilead Sciences (NASDAQ:GILD) and the strength of their Hep C drug, Sovaldi. With new Hep C drug Harvoni just receiving approval, Q4 should also be good for the biotech company which increased FY 2014 product sales guidance for the third time this year.
Consumer Discretionary is expected to be the second biggest leader in terms of EPS growth, with expectations of 13.3% YoY. Strength is currently being driven by Internet Retailers, anticipated to post growth of 20.5%. More retail results to come in November.
Information Technology is currently anticipated to post the second highest sales growth number of 7.3%. Leading growth is Software (15.7%) and Internet Software and Services (15.5%). Standouts in each industry this season have been Microsoft (NASDAQ:MSFT) and Facebook (NASDAQ:FB).
Lagging on EPS this quarter are the defensive sectors, Telecom and Utilities, expecting low growth of 0.9% and 4.0%, respectively. On the revenue front, Energy (0.1%) and Materials (2.6%) are expecting the lowest growth.
Beat/Miss/Match: 322 companies have reported. Compared to the Estimize consensus, 55% beat on EPS, 34% missed and 11% met, while on revenues 52% beat and 48% missed. For the Wall Street consensus, 72% beat on EPS, 20% missed and 8% met, while on revenues 58% beat and 42% missed.
Yes, we are technically past the halfway mark for S&P 500 earnings season, with 322 companies reporting at this point, but here is a look at what the results have told us thus far.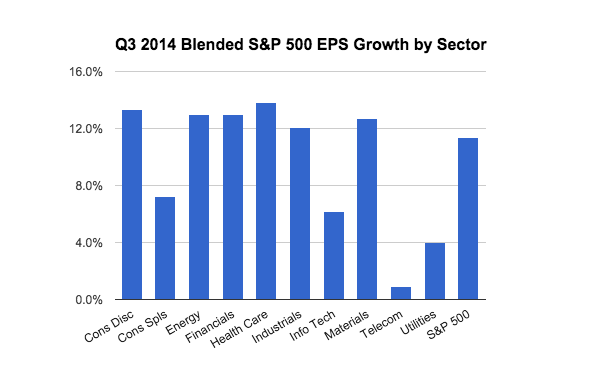 With all 10 sectors expected to show YoY profit improvements for the third quarter, overall growth for the S&P 500 has risen to 11.4%. Double digit growth for the index has been lead by strength in Health Care and Consumer Discretionary, up 13.8% and 13.3%, respectively. It is no surprise to see Health Care on a tear again this season, with Biotechnology companies driving growth for the sector. Biotech alone has increased a whopping 45.1% from Q3 2013. There are only seven companies within the sector, but once again Gilead Sciences is leading the industry higher, with Q3 profit growth of 258% YoY. When the company reported on Tuesday, EPS came in at $1.84, beating the Street by $0.04, but missing the Estimize consensus by $0.26, suggesting the true market expectation for the company was much higher. This was reflected in after hours trading when the stock price fell 3.2%. Revenues came in at $6.04B, also beating the street by $157M but missing the Estimize consensus by $196M. During the quarter the company saw continued success of it's Hepatitis C drug, Sovaldi, with sales growing to $2.8B, and with the recent approval to sell a new Hep C drug, Harvoni, Gilead's dominance will likely continue. Regarding their Hep C drug offerings, CEO John C. Martin, PhD said:
To date approximately 117,000 patients have been treated with Sovaldi and with the introduction of Harvoni - a single tablet regimen for the treatment of HCV-infected individuals which does not require either interferon or ribavirin - many more patients will have the potential to be cured of HCV infection.
Roughly 2% of the world's population has the Hepatitis C virus. The company also raised full-year 2014 guidance for the third time this year, now expecting net product sales in the range of $22B - $23B.
While Consumer Discretionary is poised to be the second biggest winner this season, we have gotten mixed signals on the health of the U.S. consumer in the last few months. For September, retail sales disappointed by falling 0.3%, while the mid-month October reading for consumer sentiment recovered to its highest level since July 2007. Earnings have also come in mixed,with a dichotomy forming between which retailers have done well and which haven't. Leading growth again this quarter is the Internet Retailers up 20.4% YoY. Even within the industry there has been a divergence amongst the two companies that have reported thus far, with Amazon (NASDAQ:AMZN) results turning out to be a complete disaster, and Netflix (NASDAQ:NFLX) surprising to the upside. Amazon's problems are well known, a company that continues to grow revenues, but has a spending problem. They reported EPS of negative $0.95 for the third quarter, mostly due to a bad investment in the Amazon Fire Phone whose sales were essentially non-existent. This seems to be mostly an Amazon problem, and not indicative of the broader industry. Netflix on the other hand shared some better news, reporting EPS of $0.96, beating the Street by $0.03 yet missing the Estimize consensus by $0.02. Despite decent results, the company completely sandbagged guidance for Q4 for no apparent reason, expecting EPS of $0.44 due to "significant sequential increases in content and marketing expenses." Before issuing such low guidance, expectations from the Estimize community had been much higher at $1.00, the consensus has since dropped to $0.70. As HBO, CBS (NYSE:CBS) and others begin to offer standalone streaming services, we'll be looking to see what the impact is on Neftlix in the coming quarters, although the company seems confident all of these options can co-exist. After today's closing bell we will get results from another internet retailer, Expedia (NASDAQ:EXPE), with TripAdvisor (NASDAQ:TRIP) and Priceline (PCLN) reporting next week. A large chunk of retailers will begin to report the second and third week of November, and are expected to do well from the back-to-school shopping season which tends to make Q3 the second strongest quarter of the year for the sector, after of course the holiday shopping season that takes place in Q4.
The laggards this quarter are the defensive sectors, Telecommunication Services and Utilities, expecting low growth of 0.9% and 4.0%, respectively. For Telecom, it is important to note that there are only five companies in the sector, with a total market capitalization of 2.0%, lower than that of Apple (NASDAQ:AAPL) and Exxon Mobil (NYSE:XOM). Because of it's small size, any swing in the sector has a very little impact on the index. With that said, Verizon Wireless (NYSE:VZ) has been the only company to report a YoY increase in profits for the third quarter, growing 15.6% on strong customer additions. AT&T (NYSE:T), the only other company from the sector to report at this point, saw profits decline 4.5% for Q3 due to record-low postpaid churn. Others from Telecom, including CenturyLink (NYSE:CTL), Frontier Communications (NYSE:FTR) and Windstream Holding (NASDAQ:WIN) will be reporting next week and all are anticipated to post declining YoY earnings.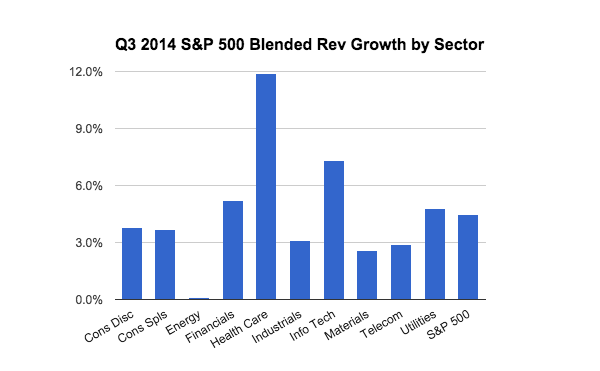 On the revenue front, growth has ticked up to 4.5% due to great results in Health Care and Information Technology, up 11.9% and 7.3%, respectively. For IT, the Software industry is leading growth with 15.7%, with Internet Software & Services not far behind with 15.5%. Within Software, of the seven (out of 11) companies that have reported, four missed and three beat revenue expectations from Estimize. Microsoft reported the largest YoY sales increase of 25%, and Salesforce.com (NYSE:CRM) which reports on Nov 19 is expected to see even higher revenue growth of 28%. Within Internet Software and Services, we saw a lot of big names report this week, mainly Facebook and Twitter (NYSE:TWTR), the latter is not an S&P 500 constituent. While both companies did well enough on the bottom-line (Facebook beat Wall Street's consensus while Twitter met), and both managed to beat the Street and Estimize on the top-line, both stocks fell in after hours trading because they missed the Estimize EPS consensus which reflects investors true expectations. Other big names that have reported this quarter, such as Google (NASDAQ:GOOG) and eBay (NASDAQ:EBAY), saw sales improve 10% and 12%, respectively.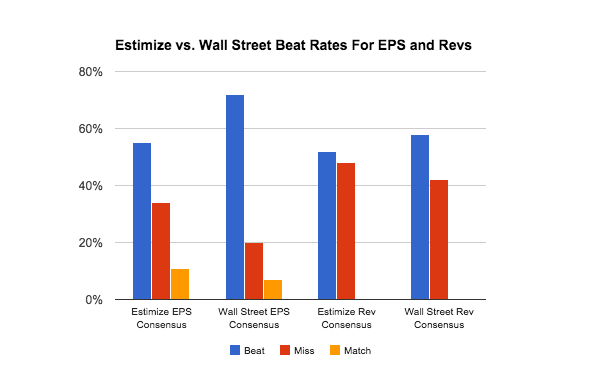 As far as the beat/miss/match rate goes, of the 322 companies have reported, 55% have beat the Estimize EPS consensus, 34% have missed and 11% have met. This is in comparison to the Wall Street consensus which 72% of companies have been able to beat, 20% have missed, and 8% have met. For revenues, 52% of companies have beat and 48% have missed the Estimize consensus, while 58% have beat and 42% have missed the Wall Street consensus.
Earnings season marches on this afternoon, with 16 companies reporting, including big names such as Starbucks (NASDAQ:SBUX) and Expedia.
Disclosure: None