Chinese Internet stocks ended March on a positive note: On average, the 42 Chinese Internet stocks (Table 1) rose 0.7% in the month. At the segment level, Online Travel, Online Video, Online Games, and Online Advertising stocks had positive average performance, while E-Commerce stocks continued to struggle. Below is my detailed analysis of each segment:
Online Travel Booking
stocks advanced 7.6% on average, the most among all industry segments, as investors welcomed better-than-expected airline traffic data. Chinese airlines' total passengers rose 12.3% year-over-year during the Spring Festival travel season, according to data released by the Civil Aviation Administration of China [CAAC].. This data point suggests China's total travel spending will likely outgrow GDP in 2011, indicating a favorable macro environment for online travel booking companies such as
Ctrip.com (NASDAQ:CTRP)
and
eLong (NASDAQ:LONG)
. As China's travel booking industry remains highly fragmented, I expect industry leader Ctrip to continue gaining market share against smaller peers and outgrow the industry. I forecast that Ctrip's net income will grow more than 25% year-over-year in 2011.
Online Video
stocks rose across the board in March, with a 6.9% average monthly performance, as the market continued to believe TV advertisers' interest in online video advertising was increasing.
Youku.com (NYSE:YOKU)
was once again the top monthly performer in the segment, gaining 14.2% in March, reflecting investors' continued belief that Youku is better positioned than its peers to benefit from online video advertising's rapid growth. I remain cautious on YOKU because my research shows its IPO has not enabled it to widen its lead against major competitiors. On the contrary, Youku's highly successful IPO has stimulated a new round of capital-raising (PPTV, Ku6) and investment ramp-up (Sina, Tencent) in the industry. My research also shows Sohu Video (NASDAQ:
SOHU
) and Baidu Qiyi (NASDAQ:
BIDU
) have recently surpassed
Ku6 (NASDAQ:KUTV)
, the prior third largest Chinese online video Website, in terms of daily visitors. These two companies will pose the strongest challenges to Youku in 2011.
Online Game stocks rose 2.5% on average in March, primarily driven by the 39.9% gain by KongZhong (NASDAQ:KONG), the top-performing Chinese Internet stock of the month. Digging further into the positive average performance, eight of the 14 stocks in the group actually declined for the month, indicating a mixed month for the online game industry. The mixed performance shows investors have taken some profits accumulated during the earnings-driven rally in February. New games' increasingly short life cycle in China has caused investors to be increasingly short-term oriented on Chinese online game stocks.
KongZhong shares' monthly surge was mainly due to the strong initial performance of newly licensed game World of Tanks (WoT). WoT is a shooting game that simulates tank battles from a third-person viewing angle. According to QQ.com, the game has reached nearly one million registered users and 100K Peak Concurrent Users [PCU]. WoT achieved its early success mainly because it has filled a void in the multiplayer third-person shooting game category in China. Its success under the operation of a second-tier game company has reaffirmed the industry's widely accepted motto of "content is king." I continue to expect the Chinese online game industry to grow total revenue by 10%-20% year-over-year in 2011, driven by improved game pipelines versus 2010.
Online Advertising
stocks advanced 1.1% on average in March, largely driven by strong performances of
Sina (NASDAQ:SINA)
,
Baidu (NASDAQ:BIDU)
, and
Sohu (NASDAQ:SOHU)
. SINA was the top performer in this segment, rising 31.1% for the month as investors assigned higher valuation to its Sina Weibo microblogging service after Twitter's valuation jumped from the previous $4.5 billion to $7.7 billion as a result of private trading on SharesPost.com. I believe
SINA has risen too fast in the past month
, and investors should
use this opportunity to take profits
.
Baidu has recently introduced a new feature allowing users to update multiple microblogs by searching on Baidu.com for keywords "microblog" or "send microblog" in Chinese. This feature is not a "killer app" because it does not enable users to read their microblog message streams. However, this move by Baidu shows the company has increasingly realized the value of being Internet users' default home page. Baidu's strategy is to make Baidu.com a place where users can not only search for information, but also accomplish a significant portion of their regular online activities. The ultimate goal is to insert Baidu.com as a layer between the users and their online activities, thus enhancing Baidu's control over the value chain.
SOHU rose 9.6% in March, largely due to its
similarity to the highly ancitipated IPO Qihoo 360 (NYSE:
QIHU
). In light of its track record, I believe SOHU
should be a key holding for investors
looking to benefit from future innovations and emerging opportunities in China's promising Internet market.
Qihoo 360 (NYSE:QIHU)
surged 134.5% on its first trading day, as investors recognized its unique localized business model of offering advertising and value-added services around highly popular desktop client software such as 360 Safe Guard, 360 Anti-virus, and 360 Safe Browser.
E-Commcerce
stocks continued to struggle in March, declining 1.8% on average, after dropping 1.3% in February. B2C company
E Commerce China Dangdang (NYSE:DANG)
was the worst performer in the group, plunging 18.9% in March. Dangdang shares' recent weakness reflected investors' disappointment about the company's slower-than-expected progress in its quest to dominate China's B2C market. Dangdang's shareholders will have to be patient, as China's B2C market is still in the early land-grabbing stage, where too much capital is chasing this emerging industry and major companies spend generously to grow revenue and customer count while sacrificing profitability. I remain cautious on Dangdang shares, as I expect China's B2C market to remain a "three-horse race" (Dangdang, 360buy.com, Amazon.cn) in the next 2-3 years, during which the industy will continue to be characterized by firece compeitition and low profitability. B2B bellwether
Alibaba.com (OTC:ALBCF)
declined 8.0% in March largely due to disappointing 4Q10 results. As a major product listing platform for Chinese exporters, Alibaba.com has been negatively impacted by the RMB's long-term appreciation proccess, as the Chinese economy experiences the ongoing transition to be less export-driven and more consumer-driven.
Table 1: China Internet Stocks' Performance in March 2011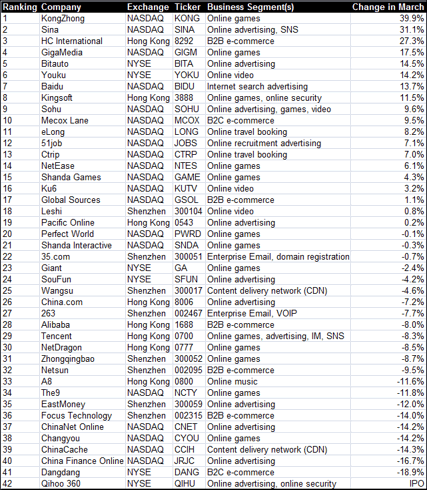 Additional disclosure: My virtual investment portfolio has a long position in GA, NCTY, and NTES, and a short position in DANG, MCOX, and YOKU. I have no positions in any stocks mentioned, and no plans to initiate any positions within the next 72 hours.