It's been like clockwork. Typically every Friday (excluding holiday weekends), the FDIC declares which banks have failed. It's been like that ever since IndyMac collapsed in July of 2008. Sometimes the FDIC closes one or two banks, sometimes as many as eight. Hardly a week goes by in which a financial institution isn't deemed insolvent. It's the FDIC version of "TGIF," "Take down Godawful Institutions Friday".
From 2008 through 2010, the FDIC liquidated 322 banks holding a total of $634 billion assets. Recently, there's been a distinct change in the pattern: For three of the past five weeks, no banks have been closed. In all of March, only three banks were cashed out. You would have to look back to September of 2008 to find a similar quiet period. The three banks closed this March had assets amounting to $444 million, a fraction of the $7 billion confiscated during March of last year when 19 banks were terminated. In fact, YTD only $10 billion in bank assets were appropriated, much smaller than the $23 billion taken during the first three months of 2010. Is this a new trend indicating that banks are healthier? Or, is the FDIC merely taking a breather?
At the end of 2010, the FDIC listed 884 "problem" banks whose finances were on shaky ground. The FDIC doesn't tell you which banks are on the list, leaving you to wonder if it's your bank. The FDIC is due to disclose at the end of May how many problem financial institutions remain. Hopefully, the slowdown in bank closures portends a healthier banking industry. It's another sign that the banking crisis is ending, and means better days for the Bank of America's (NYSE:BAC), Citigroup's (NYSE:C), and Wells Fargo's (NYSE:WFC). A rising tide in the banking sector should lift many boats -- from the giant BofA, Citigroup, and Wells Fargo to the regionals BB&T (NYSE:BBT), Home Bancshares (NASDAQ:HOMB), and NY Community Bancorp (NYB).
I for one won't miss the Friday announcements. For now, the rate at which moribund banks are closed has seized up.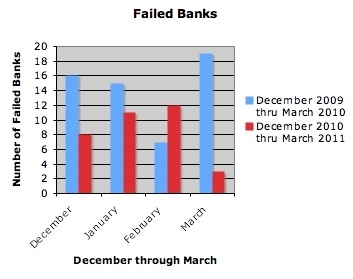 Disclosure: I am long NYB.