Portugal is known as Europe's oldest nation state. During the 15th century, the country established a global empire that spanned six centuries, the longest in history. But the country has seen tough times, too. The Bank of Portugal declared the country on the verge of bankruptcy in 1891. And two decades later, Portugal's king was murdered after the country went bankrupt under his rule.
And today: Sovereign debt. Multiple downgrades. A "likely" bailout. Portugal is experiencing a "slow-motion collapse," according to the New York Times.
And that slow-motion collapse is the culmination of problems that have been stirring for a while. Last year, the government missed its goal of reducing the deficit to 7.3% of growth (with an 8.6% gap).
And last week S&P downgraded the country to the lowest investment grade rating because the country "will likely" access the EU's rescue fund. Portugal's debt is not junk…yet. But the country's bond yields soared to their euro zone record (the two-year bond reached 8.78% last week, surpassing the ten-year yield, and higher than levels of Greek and Irish bonds when they were rescued). And according to CMA, Portugal's credit default swaps rose to a record 585.
But if Portugal wants to get its deficit to a sustainable level (it has a stated goal of 4.6% of GDP this year, and 3% in 2012), it will have to look beyond fiscal policy. Portugal needs to generate growth to reduce its deficit, and that means fixing one of its long-term problems.
Portugal is the poorest of the original European Union countries…and the least educated. The country has long struggled with school repetition, education inequality and functional illiteracy.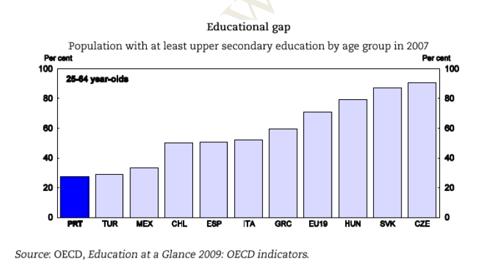 (Click chart to expand)

Given that reality, it's hardly a surprise that the quality of Portugal's math and science education ranked 108 out of 139 in the World Economic Forum's Global Competitiveness Report. And it's not a surprise that the country's labor market efficiency ranking stands at 117. And it's definitely not a surprise that, based on overall competitiveness, Portugal's rank has fallen from 22 in 2005, to 46 this year.
The irony here is that Portugal's return on education is the highest among the European OECD countries (according to the OECD Economic Survey of Portugal). To put a figure to that return: if Portugal had standardized test scores as high as Finland, long-term economic growth would be 1.5% higher, according to a study by professors at Stanford and University of Munich.
To its credit, the government is trying. In 2009, the compulsory education age was raised from 15 to 18. And teacher performance evaluation is being enforced.
Still, an unskilled labor force means that the economic growth the country needs to bring its deficit in line looks like an unachievable goal (it doesn't help that the rise in unemployment, now 11.1%, could become structural due to labor market inflexibility and generous jobless benefits).
And Portugal has other fundamental problems: its export sector is uncompetitive, and in turn, it is too reliant on consumption. As it stands, Portugal's GDP has averaged less than 1% per year for the past decade. And that has been accompanied by weak productivity gains in most sectors.
The Bank of Portugal expects the economy to contract 1.3% this year. And in the face of that, the country faces a $6.3 billion bond repayment in April, followed by $7 billion in June. But the Portuguese government will honor its debt (at least through April), and officials are working to avoid accepting a bailout from the European Union and the International Monetary Fund.
From a practical perspective, the European Union could bail out Portugal (the rescue fund has been increased to €440 billion). But there are implications to a rescue: stricter austerity measures would be required that would constrict, not encourage, growth. And maybe now is not the time for the Portuguese government to "chain themselves to a fiscal policy of higher taxes when what they need is more economic growth" (Forbes).
Disclosure: I have no positions in any stocks mentioned, and no plans to initiate any positions within the next 72 hours.