The small-cap Russell raced higher last month to end what was the best first quarter in years. During that time, several stocks have hit 52-week highs, particularly over the past few weeks. Here are the top three small cap stocks that benefitted from the rise.
[Click to enlarge]

Epicor Software Corp. (NASDAQ:EPIC)
Epicor hit another 52-week high on April 4. Shares of the application software designer/developer are $1.30, or 13.7% higher on the session. Volume is significantly higher at 9.1 million shares traded as of 1:00 p.m. EST. Average volume has been 273,800 share over the past 30 days.
The company stated that it would be acquired by private equity firm Apax Partners for $12.50 a share in an all-cash deal. The transaction values the company at $976 million. The acquisition is expected close by the end of the second calendar quarter of this year.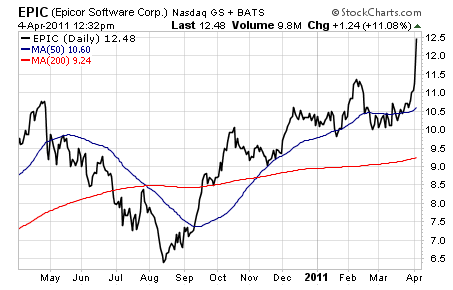 Westport Innovations (NASDAQ:WPRT)
Like Epicor, shares of Westport Innovations hit another 52-week high on April 4. Shares of WPRT jumped 11.1% to $26.57 on above average volume. Approximately, 2.5 million shares have traded hands on April 4, compared with an average 30-day volume of 904,000 shares.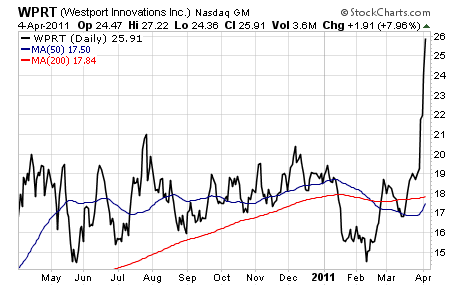 Westport develops high-performance internal combustion engines and fuel systems that run on natural gas, biomethane and hydrogen. This alternative energy stock surged on the heels of President Obama's energy policy speech last week, where he pledged to cut oil imports by a third over the next decade. One of the key ways he plans on doing this is through transitioning half the cars and trucks in the U.S. to natural gas. This was the key factor in the stock's latest rise.
I know Westport Innovation very well, having personally invested in the company back in September 2008. I've long been bullish on natural gas, and believe that this small company will continue to grow as a result of the growing use of natural gas.
VirnetX Holding (NYSEMKT:VHC)
Shares of security software developer Virnet were up 10.7 percent on above average volume on April 4.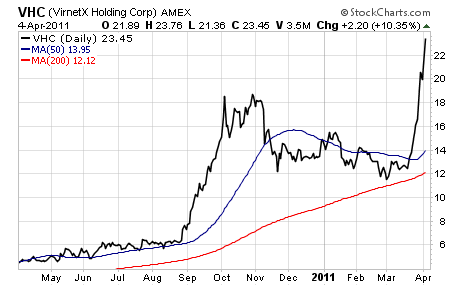 Telecommunications companies are ramping up for the shift from 3G technology to LTE, the global 4G standard and the future of communication.
Several years ago, VHC notified the Third Generation Partnership Project (3GPP), the leading collaborative group of telecommunication associations, that its patents are pertinent for some of the 4G security standards. Since then several major tech companies have infringed on VirnetX's technology.
Shares moved on April 4 in part on an infringement by Microsoft (NASDAQ:MSFT) that was settled outside of court for $200 million. According to VHC, Apple (NASDAQ:AAPL), Cisco (NASDAQ:CSCO) and several other companies have also infringed on VHC's patents; five, to be exact. For example, Apple sold $10.5 billion worth of iPhones along with $7 billion worth of iPads last quarter. The Apple and Cisco litigation should be at least three times as large as the one just settled with Microsoft.
I expect to see quite a bit of volatility over the coming months while VirnetX goes to battle with tech giants Cisco and Apple. This will indeed be an interesting story to follow over the next few months; if all goes in VHC's favor, the stock will soar.