Lyondell Basel (NYSE:LYB) has been a favorite lately of many prominent hedge fund buyers such Jon Paulson, Dan Loeb, and David Einhorn. However, it may not seem obvious why a relatively unknown chemical company with limited financial information has received so much institutional attention while also producing a 22% YTD return. The reason that Lyondell Basel has been a good investment and will continue to be a good buy is because of an improved financial standing, a sound business model, and most importantly, an effective recovery from bankruptcy that did not lose the company significant market share.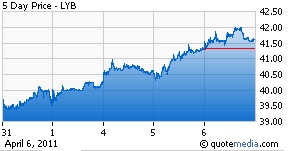 Lyondell Basel is Europe's leading specialty chemical company. It is a global corporation with significant presence in the US and Asia-Pacific markets as well. Similar to Dow Chemical (DOW) in the US, Lyondell produces specialty industrial polymers, fuel, and plastics that most people do not realize are part of everyday life. They are experiencing enormous China driven growth from polyolefin demand while also being a leading producer in biofuels.
However, it is Lyondell's recovery from bankruptcy that has created the value in the stock. Before the bankruptcy, Lyondell was still a leading company, but was burdened with an abnormally large debt load that stifled growth. Its 2009 restructuring allowed most of the debt to be cleared off, and as a result, the company's financial situation is much stronger. Unlike many other firms recovering from bankruptcy, no significant loss of market share was caused by the restructuring.
Fear generated from the bankruptcy, and investors forgetting about the company after the restructuring, has caused the stock to trade at a bargain. Lyondell currently has a P/E of 11.37, a PEG of 0.56, a price to cash flow ratio of 2.09, and 17.67 price to free cash flow ratio. All of these are less than 50% lower than the chemical industry average. Its 24% profit margin is over double the 10% industrial average as well.
Overall, Lyondell has an exceptionally strong financial position and has been flying under the radar since its April 2010 recovery from restructuring. With a 20% earnings growth rate, similar to the rest of the industry, I expect the price of Lyondell to reach approximately $80 per share, as the company is in a booming sector and Lyondell's price valuations are expected to catch up to industry averages. If Lyondell starts to add a dividend, expect the price to go even higher.
Disclosure: I am long LYB.