The Mortgage Bankers Association reported that its Purchase Index increased 6.7 percent last week, continuing to hold above the long-term low in 2010.

"Purchase application volume increased last week reaching the highest level of the year, but remains relatively low by historical standards, at levels last seen in 1997," said Michael Fratantoni, MBA's Vice President of Research and Economics. "The increase last week was due to a sharp increase in applications for government loans. Borrowers were likely motivated to apply before a scheduled increase in FHA insurance premiums that became effective last Friday." Fratantoni continued, "Rates were flat last week, but refinance activity fell, as the pool of borrowers who have both the incentive and the ability to qualify for a refinance continues to shrink."

The downtrend from 2005 has been exhibiting bottoming behavior during the past nine months, and a failure to move down to new lows during 2011 would suggest that we are nearing the next sustainable bottom in the residential real estate market. As Dow Theorists, we believe that market behavior itself provides the most reliable forecasting data, and the last long-term signal generated by the Purchase Index was a reliable one. The following graph from Calculated Risk displays the index since 1990, and the breakdown in early 2006 was a meaningful technical development that correctly forecast the housing market top later that year.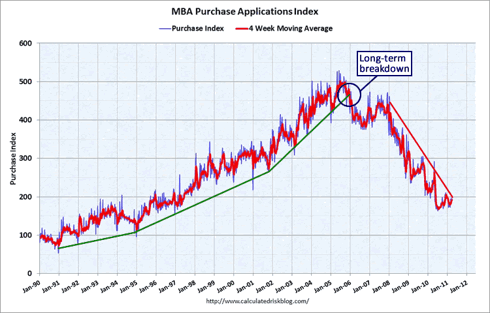 Granted, it is still too early to suggest that the long-term downtrend has bottomed, but additional sideways consolidation during the next six to nine months followed by a move above the recent short-term high in late 2010 would strongly suggest that a sustainable housing market bottom is in the process of forming.


Disclosure: I have no positions in any stocks mentioned, and no plans to initiate any positions within the next 72 hours.