The updated numbers Pandora provided this week in its latest SEC filing should impress even the Internet radio leader's most ardent naysayers. While Pandora's financial position will likely trigger even greater interest in its upcoming IPO, I wonder how sustainable this growth is, particularly in the face of formidable competition from satellite radio provider Sirius/XM (NASDAQ:SIRI), emerging streaming threat Clear Channel (CCMO.PK), the force of Apple (NASDAQ:AAPL), and other players.
Before getting into how I expect Pandora's main competitors to position themselves, I review key data from the latest S-1:
Revenue skyrocketed from $55,189,000 in FY2010 to $137,764,000 in FY2011.
Advertising revenue rose from $50,147,000 in FY2010 to $119,333,000 in FY2011.
Subscription and "other" revenue increased from $5,042,000 in FY2010 to $18,431,000 in FY2011.
Despite rising content acquisition costs (up from $32,946,000 to $69,357,000 between FY2010 and 2011), Pandora's loss narrowed from $15,549,000 in FY2010 to $321,000 in FY2011.
The following charts, from the SEC filing, illustrate Pandora's growth in two key areas -- total listener hours and total registered users.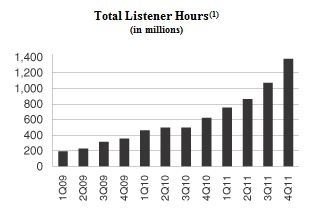 Pandora actually turned a profit in the quarters ended July 31, 2010, and October 31, 2010. In those quarters the company earned $2,484,000 and $1,145,000, respectively. Interestingly, Pandora incurred relatively large costs associated with content acquisition in those two quarters. Advertising revenue went through the roof, however, during both periods. While ad revenue continued its upward trend into the next quarter, increased sales and marketing expenses ate away at profits resulting in a loss of $1,140,000 for the quarter ended January 31, 2011.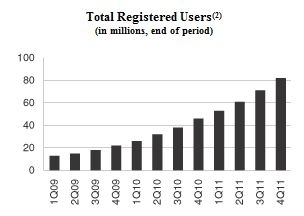 Pandora's astonishing growth in total listener hours reinforces the constant uptrend it has seen in subscriber growth and may help alleviate concerns about how it calculates its massive registered user growth. Pandora determines its number of registered users by counting the number of accounts created to use the service. In its filing, Pandora admits this method "does not permit us to identify when a listener may have created multiple accounts," nor does it exclude those who signed up, but never (or seldom) use Pandora.
Clearly, one of the biggest threats Pandora faces is competition. At the end of the day, one or more radio/media companies will break through, turn consistent profits, and ultimately become household names. Along with Pandora, I think three companies serve as the remaining major players. In other words, while each service may overlap or compliment one another to some extent, for all intents and purposes, they're not friends. One party's success chips away at all of the other's aspirations.
Sirius/XM. Mel Karmazin is no idiot. He fully realizes that Pandora now has the momentum his company had when it signed Howard Stern for the first time more than five years ago. I know this as fact -- Karmazin is not caught up in the euphoria that clouds the vision of many Sirius/XM shills and longs. He understands that Pandora represents a real threat. I think Karmazin has the company well-positioned to combat it.
Though it travels a tad under the radar, Sirius/XM already offers an Internet stream. I use it. The primary area where it lacks in relation to Pandora is that it is hardly inventive. It's not interactive. You turn it on and basically forget that it's there until you want to send off a Tweet to tell your "followers" what song you're listening to. I like this about it, but I also still like terrestrial radio -- the ultimate white noise. The research shows that people like Pandora because it personalizes the listening experience.
SatRad 2.0 is coming. I have heard rumblings that it might be on the way sooner rather than later. I am not sure if this is a bid to steal some of Pandora's IPO thunder or for another reason, but it's a real possibility that the service launches way ahead of the holidays, maybe even as soon as summer. If Sirius/XM does decide to raise its rates as widely anticipated come August 2011, a simultaneous launch of SatRad 2.0 could mitigate some of the likely outrage.
Undoubtedly, SatRad 2.0 steps firmly on Pandora's toes and probably several other people's space as well. For instance, it would be logical to integrate satellite radio right into a vehicle's navigation system [read: Garmin (NASDAQ:GRMN)]. When you're not driving, imagine being able to see Howard Stern do his show or, better yet, the girls of Playboy Radio take calls [look out Netflix (NASDAQ:NFLX) and YouTube (NASDAQ:GOOG)]. While personalization and other Pandora-like features will surely accompany SatRad 2.0, I expect Sirius/XM to attempt to do more than simply match Pandora. They need to give people a reason to not even consider it in the first place.
Clear Channel. The fact that Clear Channel could not simply stop Pandora in its tracks is a testament to what a horrific job the company and terrestrial radio as a whole has done to counter the Internet, satellite, and new media threat. Until recently, it essentially did nothing. If, however, Clear Channel can find a way not to implode under its massive debtload, chop shop management style, and record low employee morale across the country, it might be able to stunt Pandora's growth.
Clear Channel owns 892 radio stations, as of the end of 2010, according to its most recent annual report. The fact that it cannot do a better job of kicking its iHeart Radio concept into the mainstream is beyond me. Despite often appearing as one of the top iPhone and Blackberry app downloads -- and actually being pretty fun to use -- you don't hear much about iHeart. Maybe I hang in the wrong circles, but iHeart elicits nothing even close to the buzz surrounding Sirius/XM and Pandora.
That said, Bob Pittman, the company's head of Media and Entertainment Platforms appears poised to do something ... anything. Let's face it. If you cannot leverage the power of hundreds of stations, major personalities such as Ryan Seacrest, and company-owned billboards in big cities to make a splash with iHeart, you deserve to go belly up.
Apple. Obviously, Apple is a household name. And it's not a radio company. But, it is a media company. And a consumer products company. And an Internet company. And a gadgets company. And a software and hardware company. And a tech company. And it needs to do very little in relation to Pandora, Sirius/XM, or Clear Channel other than just be itself. In fact, Apple probably even not-so-indirectly dings consumer staples companies -- hmmm, I might need to start buying the cheap toilet paper so I can put more money in my iPad fund.
As is, Apple provides competition to Pandora. The iPod, iPhone, and iPad, all integrated into iTunes and the consumer's mobile lifestyle, compete with all of the above. If Apple wants to, it can make a move and further thrust its dominance on the world. (Although, it's interesting to note that Ping did not necessarily take off). This move could happen when it finally moves to the cloud via its massive North Carolina facility.
Most of all, Apple could take Pandora or Sirius/XM out with one swipe of its debit card. (Unless it saw something it could not live without in iHeart, I doubt Apple would make a play for Clear Channel). If that happens, the company that gets bought out wins by default. The one leftover likely goes out of business. Overnight, Apple could go from offering Sirius/XM, iHeart, and Pandora apps on the iPhone to marginalizing two of them and featuing one. Very powerful. And not out of the realm of possibility given how long Steve Jobs has been sitting on billions of dollars in cash.
Disclosure: I have no positions in any stocks mentioned, but may initiate a short position in NFLX over the next 72 hours.