Some readers have kindly pointed out to me in that I have been much less assertive, if not downright nebulous, in my asset allocation biases in recent weeks. Given the poverty of economic news today, this may be a good time to discuss allocation biases.
It is not so much that my convictions have suddenly become stronger, but some points merit our attention.
We have taken a very opportunistic (tactical) approach in recent weeks, betting on equity market resilience (taking advantage of cheap OTM calls and Eurostoxx money-receiving put ladders) and on the hawkishness of the ECB, with purchases of put spreads, put flys and put condors on the Schatz, as the latter surged during the risk off (107.80), following the Fukushima alerts.
With the Schatz now at 107.10, i.e. 1.83% on the 2-year German benchmark bond, and a Eurostoxx index apparently defying the law of gravity (2970), what can we make of the situation on the eve of the ECB's monthly meeting?
Fixed Income
In one of the rare instances since 2007, you have not seen me decry the ECB's expected 25-bps rate hike tomorrow, which has already been priced in by interest rate markets. The Euribor interest-rate curve incorporates expectations of about three 25-bps rate hikes for all of 2011 in the context of a gradual cycle, with a Euribor Dec. 11 at 97.88, i.e. 2.12%. This projection, which we consider reasonable, should lead in the medium term the German 2Y rate into a trading range of 2% to 2.50%, like that of 2003 to 2005.
However, just to set the record straight, I do not at all believe these rate hikes are needed due to the threat of inflation and that the ECB must tighten policy. From a macro-European standpoint, I find these projected hikes to be useless, given the strength of the euro and the establishment of austerity plans in both struggling and solid economies (
maximum deficit of 0.35% of GDP in 2016
).
Besides, ECB interest rate hikes have never led to more oil extraction or grown corn and cotton. They are even negative for peripheral nation economies, like those of Spain or Ireland, where real estate markets are already in the dumps and where a large part of mortgages are pegged to the Euribor. And these hikes could have an even more harmful effect if they lead to the euro's strengthening (1.50?), since it would plunge already-struggling peripheral nations into an even more painful recession, like in July 2008, as OPEC oil prices climb in relative value. Oh well, we had better deal with the Austrian ostriches we have.
Having said that, if we must bear the Caudine Forks of this antiquated form of monetarism -- recalling the relics of the gold standard, as the ECB pursues its role as institutional crutch for banks and euro zone governments unable to raise funds at reasonable rates on markets today -- the price to be paid is not so high after all.
In any case, interest rates no longer have much influence on the financing conditions of these governments, since most are already dependent on the EFSF and, soon, the ESM, whose financing conditions are mainly based on those of Germany. A strengthening of the ECB's anti-inflation credentials (as if they really need it) will instead limit the rise in German long-term rates, which explains our bear-flattening bias.
As you can see in the graph below, German 2Y rates of 2-2.50% already amount to an accommodative posture by the ECB (2003/2005). It could become the euro zone norm, given the weakness of the financial system and the rediscovery since 2008 of the value of safety.
In contrast, there is no reason to panic in the very short term, since the 40-bps hike since the end of February already provides a sufficient safety cushion to be able to confront tomorrow the dark side of the force.
It is still more than worth your time to take a close look at the American interest rate curve, notably the 2/10 year spread (267 bps with 2Y at 0.82 versus 157 bps in Germany with 2Y at 1.83%), which is at levels that warrant the establishment of aggressive bear-flattening strategies, if you agree with me that the Fed will harden its stance in the months ahead. And if it limits or spreads out its Q2, that will just add to the jackpot.
Might 2-year German bond rates be eturning to normal?
[Click all to enlarge]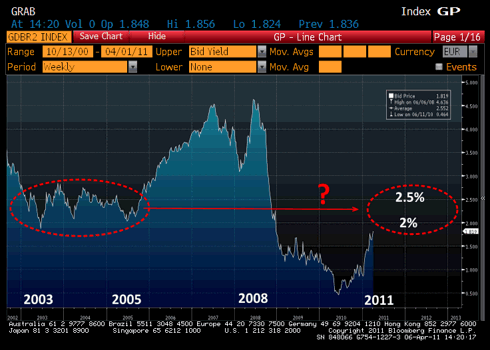 Stock markets
This is the most complex part in any reading of the crystal ball. Let's not forget that, according to the Theory of Efficient Markets, all information is already included in share prices. And while we're at it, that sheep never jump off the cliff.
As we enter a new period of budget austerity in Europe, and soon in the United States (
Is Paul Ryan a modern-day Andrew Mellon?
), with the world's major central banks expected to tighten the screws (except for Japan; thus, our bear yen versus dollar bias), I remain skeptical of the markets' ability to repeat last year's performance in 2011 (or even that of 2009).
Surprisingly, the S&P increased 12% in 2010, while the Eurostoxx shed 5.80% (12% in dollars), which complicates matters somewhat for those who think solely in terms of index points.
Our bias for this year will be very cautious, with defensive strategies adjusted to implied volatility levels and the skew of the volatility curve to limit premia costs while maintaining a real hedge to protect against a decline in stock indices.
Despite the fairly low level in implied volatility, we are still not advising people to accumulate. Instead, we prefer waiting for more negative momentum indicators.
You can nonetheless see in the graph below a divergence, which merits a few minutes' pause for reflection.
The S&P 500, copper prices and Apple (NASDAQ:
AAPL
) share prices have been highly correlated since 2009, with copper reflecting world growth and Apple high-end tech consumption in a world reflation climate of risk on.
However, you will also notice that the S&P has de-correlated in recent days from Apple and copper, with it re-surging as the two decline. During the preceding de-correlations (red oval sketches), the S&P then underwent a correction.
A weightless S&P? Beware of a lack of oxygen.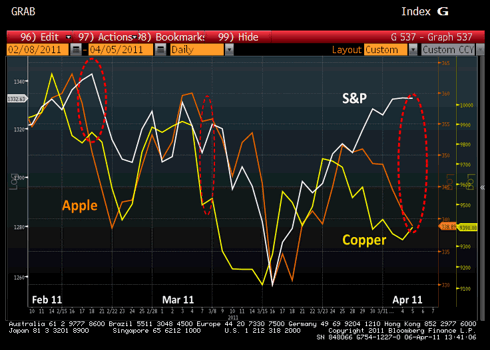 Disclosure: Long 20 years OAT and 30 years BTP Zero Coupons, EDF Corp 5 Years 4.5%, Greece 2 Y and 10 Y bonds.