All over the world, gold has emotional, cultural and financial value, which supports demand across generations. Gold is fashioned into jewelry and used to manage risk in financial portfolios and protect the wealth of nations.
Nonetheless, the gold hasn't fared very well over the last few years. It has fallen almost 36% from its all-time high (August, 2011) of US$1,900 an ounce. Such drop has cost several millions in losses to the whole industry.
This year is not the exception. The gold price has fallen nearly 12% from its March high of US$1,379 an ounce as expectations of gathering momentum in the US economic recovery and, more importantly, further gains in the US dollar have erased the brightness from the precious metal that cut up an impressive 12 consecutive years of gains up until 2012.
Gold prices have historically moved in the opposite direction of the US dollar, so we should not be surprised that the strength of the Dollar has weighted over the yellow metal. Some analysts argue the US dollar may move higher as the world's largest economy recovers and the US Federal Reserve begins to unwind its ultra-loose monetary policy. On Thursday October 30, for example, we saw another big drop after the Federal Reserve pulled the plug on its stimulus program and showed confidence that the U.S. economic recovery is on track.
Nevertheless, some facts indicate that the worst of the pain might be over.
Key facts: Is now time to believe again?

Source: Saxo Bank
As noted in the chart above, the price of the gold might have found a support around $1,200 an ounce, as it had done three times in the last two years. One reason to justify these "support levels" might be the industry by itself, where companies' balance sheets are experiencing significant pain.
Tens of companies have gone out of business due to weak prices. Since there are not as many producers as before, a shortage in the supply of the metal may take pace, triggering an upside in the price.
As stated by Bloomberg, gold price is approaching the level at which many miners break-even their production.
Continued Rise in Money Supply Further Boosts Gold
Directional movements in the gold price have been closely correlated with increases in global money supply (M2) since 1998. In a Bull Case scenario, central banks in both the developed and developing world continue to adhere to accommodative monetary policies, which should subsequently raise global M2 and support a further increase in gold prices, as it has in the past.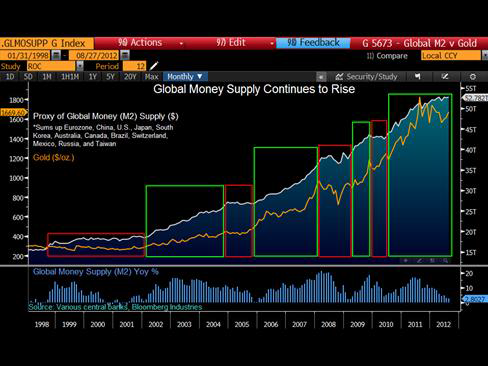 Source: Bloomberg Terminal
U.S. Mint Gold Coin Sales Reach 8-Month High as Prices Fall
Gold coin sales more than tripled to 58,000 ounces in September from 13,000 a year earlier, yet this year's total sales are 46% below 2013's pace. Sales rose 132% sequentially from August reaching an eight-month high. The average gold price for the month was down 4.6% to $1,236 an ounce. Volatility in emerging market currencies this year could have boosted the sales. The higher demand for gold as a protection against volatility is a key issue since it can further boost the price of the metal.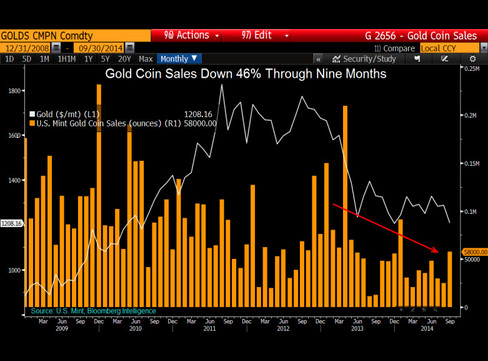 Source: Bloomberg Terminal
Gold Miner Debt Soars 637% as Price Falls Faster Than Costs
Net debt-to-Ebitda ratios for the top gold producers has grown considerably over the last few quarters. Gold prices fell faster than companies could cut costs, and earnings dropped 41% while net debt increased 637%. Companies had taken advantage of low interest rates to help fill the gap in falling cash from operations as well as to fund acquisitions. Now they are faced with high debt ratios and not a lot of capital to pay down their debt. This could cause some companies to go out of business, benefiting the metal from the supply-demand perspective.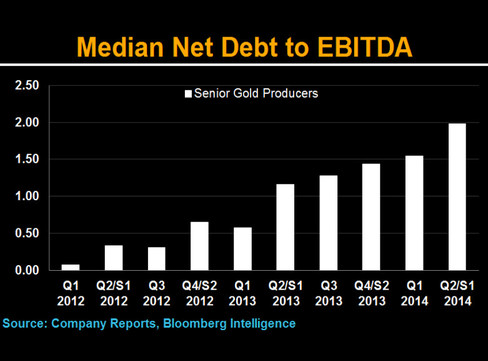 Source: Bloomberg Terminal
China is a key factor
China is growing, and so is its hunger for gold.
China, the world's largest producer for seven years, became the largest buyer of gold in 2013, surpassing India. The sharp increase in demand, which took a decade to build, came after China built exchanges, relaxed gold ownership rules, and created exchange-traded funds for investors to participate in the gold market.
China's gold demand, as reported by the World Gold Council, is expected to increase 20% from the current level of 1,132 tonnes(t) per year to at least 1,350t by 2017.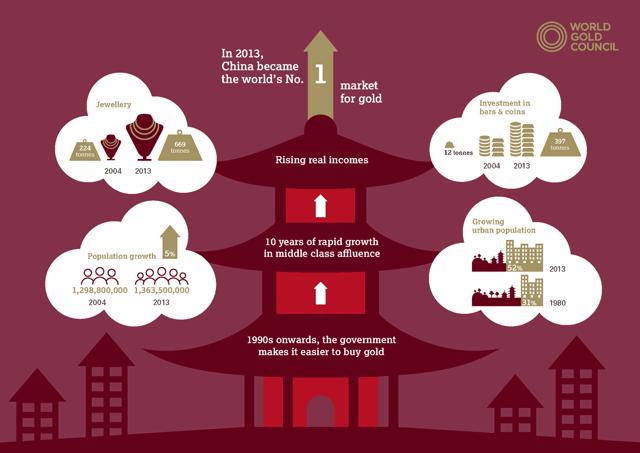 Source: World Gold Council
China is on pace to import two thirds of non-Chinese mined gold production this year. The Shanghai Gold Exchange will launch a physical gold exchange, and a new physical contract is expected from the Singapore Exchange.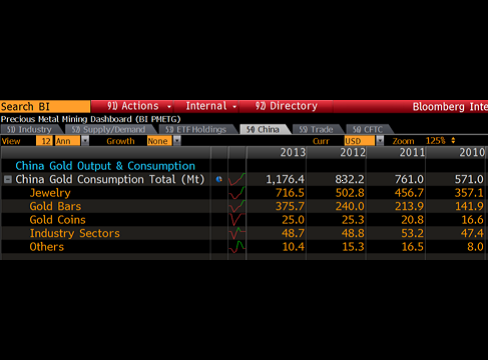 Source: Bloomberg Terminal
The launching of the so-called "Shanghai Gold" contracts may change the gold market's reality of "consumers in the East, pricing power in the West." China has hungered for gold for decades, consuming 1,176.4 tons in 2013 is up 41.36% yoy.
The continuously increasing demand from China is definitely a key issue since it is projected that China could become the world's largest economy, overtaking America by 2016. With a higher economic power, at some point the demand could overcome the supply, helping to boost gold's price.
Final Thoughts
Although it is clear that we will see more volatility, gold remains a favorite play for speculators due to the growing list of worries spanning global economics and geopolitics.
Since it is clear that the lowest cost producers will experience the least pain under the current situation, the investors should be careful when selecting their favorite player.
You cannot predict future prices, so you should weight the risk/benefit before investing.
Disclosure: The author has no positions in any stocks mentioned, and no plans to initiate any positions within the next 72 hours.
The author wrote this article themselves, and it expresses their own opinions. The author is not receiving compensation for it (other than from Seeking Alpha). The author has no business relationship with any company whose stock is mentioned in this article.