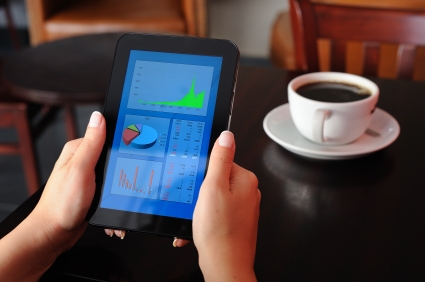 Not everyone wants an iPad. Sure, I've played with Apple's (NASDAQ:AAPL) hot device, but I belong to another tribe; I love Research In Motion's (RIMM) Blackberry. That's my disclaimer; I'm a Blackberry fan and brand evangelist. So while others rejoice in iPad 2 news, I'm eagerly awaiting the launch of the Blackberry Playbook. I actually expected to find RIM and the Playbook front and center at the CTIA Wireless show in March but was disappointed to find that they skipped the event this year to focus on their own Blackberry World conference in May.
With all of the buzz surrounding iPad 2, Samsung's Galaxy Tab, and Motorola's (NYSE:MMI) Xoom, I began to wonder how the Playbook will fare when it launches on April 19th. For answers, I leveraged the Compete panel of connected device users–part of our Smartphone Intelligence Report – and I was able to gather insights from consumers who are in the market for a tablet. My hope was that I could glean something from current consumer attitudes about tablets that could benefit RIM as it prepares for market entry.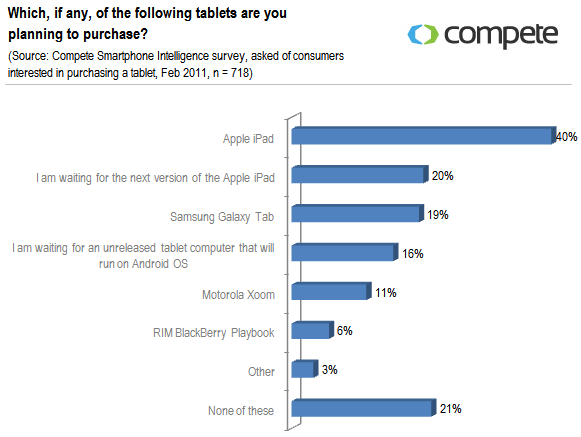 (Click chart to enlarge)
This data above is a cautionary tale for RIM. Despite a flood of released and upcoming Android tablets, Apple dominated mindshare even before the iPad 2 refresh on March 2, 2011. In fact, this data indicates that 40% of all those considering a tablet are considering an iPad, and 20% of all those considering a tablet are planning to wait for the next iPad, which was announced after this survey was fielded.
But rather than dwell, let's examine consumer behavior associated with the soon to launch Playbook. Again, I turned to data from Compete for consumer interest in the iPad, Xoom, and Playbook. Comparing consumer interest in any product relative to the iPad is difficult because of Apple's unparalleled marketing might. But even relative to the Motorola Xoom, online consumer interest (the best measure, in our opinion, of future purchase intent) was 4X higher for the Xoom than it was for Playbook in January and February. Some have argued that this is because Blackberry appeals more to the enterprise than to the consumer, but those lines are blurring – enterprise devices and apps must appeal to users on a more mainstream "consumer" level. In fact, RIM recently announced the availability of Android apps on the Playbook at launch signaling that they understand this paradigm shift.
The fact that the Playbook was announced fall 2010 but will not launch until April 2011, is concerning. In a competitive marketplace with growing demand for connected devices, nearly six months is far too long to maintain consumer interest. Personally, I cannot wait to get my hands on the Playbook, and I'll wager I'm not alone. But then there may be a growing number of Blackberry loyalists who have grown weary and are prepared to "jump ship."
By taking a closer look at consumer data, especially how various devices match up in the mind of the consumer, RIM can better tap into demand for new devices and leverage the momentum for a successful launch. After all, if you have them at hello, you'd better have them when it's time to purchase. Just like they had me!