Most of us have heard the adage:
"Past performance is not indicative of future results."
Nowhere is that more true than on Wall Street during earnings season.
A company can have the best track record of beating the estimate and still fumble the ball the next quarter. Take Apple (NASDAQ:AAPL), for instance.
As the company was launching the iPod, then the iPhone and then the iPad, it was beating the estimates quarter after quarter. It strung together so many beats, it was almost a sure thing.
Then Steve Jobs got sick and passed away and things changed.
Apple had its first earnings miss in more than five years in 2011. It then had two more misses in 2012 and another in 2013. But since then, it has put together another string of six beats and appears to be on its way to replicating its past glory.
It's this uncertainty which makes earnings season so fun, and frustrating, at the same time.
Beating Consistently Is Not Easy
I keep track of companies that haven't missed on the Zacks Consensus Estimate over the last five years on a post-it note taped to my desk.
Yes - the list is so small, it fits on a post-it.
It's not easy to beat or meet the Zacks Consensus Estimate every quarter for five years. Even those that have proven they can do it eventually break down.
Wyndham Worldwide (NYSE:WYN), for example, had an awesome track record going before it finally missed in early 2014. Signet Jewelers (NYSE:SIG) also looked steady until the second quarter of 2014 when it unexpectedly missed.
I had to cross both of them off of my list.
Who Cares If a Company Beats All the Time?
Beating, or missing, on earnings doesn't tell you what is going on inside a company. It's not the same as looking at a company's P/E ratio or its expected earnings growth.
But when a company beats consistently over the course of a long period, it does tell you something about management and possible momentum inside a company.
It also can indicate that the story inside a company is more bullish than even the analysts understand.
Short-term traders can use a company's earnings track record as a way to play the stock during earnings season. It's at least another bullet point of information.
There's something inherently positive about a company that beats quarter after quarter after quarter. While it's not a guarantee that a company's share price will go up, a company that is beating every quarter is doing something right.
So who is beating every quarter right now?
Three Companies That Have Beat Five Years in a Row
The list of companies that have beat consistently is small, as I said. It's just a few dozen companies out of over 4,000 that Zacks covers.
You also want to buy companies that have a Zacks Rank of #1 (Strong Buy), #2 (Buy) or #3 (Hold). This cuts the list down even further.
But I have found 3 companies that fit this criteria. One of them may surprise you, given the difficulties this company has had over the past few years.
1. Fossil Group, Inc. (NASDAQ:FOSL)
2. Jarden Corporation (NYSE:JAH)
3. lululemon athletica inc. (NASDAQ:LULU)

1. Fossil
Fossil is a retailer best known for its watches, clothing and accessories. It sells in department stores, on its own website and in its own retail stores.
Fossil has been incredibly consistent in its earnings beats, with just two "meets" over the last five years.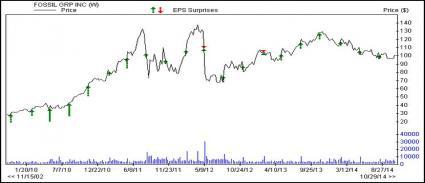 It's fundamentals also continue to be strong with double-digit earnings growth expected this year and next.
Forward P/E = 14.1
2014 expected earnings growth of 12.3%
2015 expected earnings growth of 11.4%
Zacks Rank #3 (Hold)
Next Earnings Report: It hasn't announced the exact date for third quarter results, but it should be sometime in the first two weeks of November.
2. Jarden
Jarden is a consumer products company with over 120 recognizable brands including First Alert, Rawlings, Crock-Pot and Yankee Candle.
Jarden just barely managed to keep its winning streak alive as it recently "met" the Zacks Consensus Estimate for the third quarter. It was the company's third "meet" over the last five years.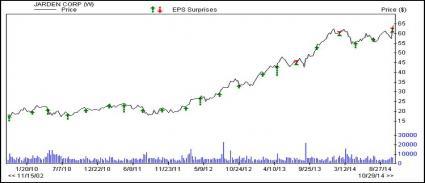 Investors liked what they heard in the third quarter as shares have been hitting new 52-week highs. The stock is splitting 3-for-2 next week.
Forward P/E = 16.4
2014 expected earnings growth of 9.8%
2015 expected earnings growth of 12.4%
Zacks Rank #3 (Hold)
Next Earnings Report: Jarden just reported its third quarter results. It will report its fourth quarter results in early Feb 2015.
3. lululemon
Lululemon is a retailer of athletic and yoga wear for men and women. It operates over 250 stores worldwide and also sells through its own website.
Lululemon has been on a roller coaster in recent years with the changing of its top management, including CEO, and then the public relations fiasco with the fabric of its popular yoga pants.
Despite all of these issues, Jarden has beat every quarter over the last five years. That's an impressive record given what has been going on behind the scenes.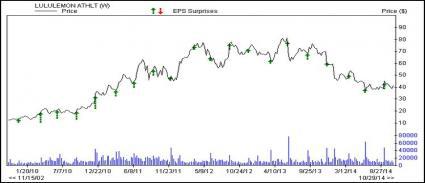 Earnings are expected to finally turn around and start growing again next year.
Forward P/E = 23
2014 expected earnings growth of -7.6%
2015 expected earnings growth of 13.9%
Zacks Rank #2 (Buy)
Next Earnings Report: It reported fiscal second quarter results on Sept. 11. It is expected to report third quarter results around Dec 11.
Full Disclosure: The author of this article owns shares of JAH.
LULULEMON ATHLT: Free Stock Analysis Report
JARDEN CORP: Free Stock Analysis Report
FOSSIL GRP INC: Free Stock Analysis Report
(email registration required)