Anyone who closely follows the financial markets knows that the bulk of economic reports are released one hour before the US equity markets open at 8:30 eastern time. There are exceptions to this rule (Michigan Confidence, Industrial Production, etc.), but for most reports issued by the federal government, 8:30 is the designated time.
With lawmakers in Washington still at odds over a budget agreement, there are several key economic reports that will not be issued next week if the government goes into shutdown mode. The table below is a rundown of economic reports scheduled to be released next week. Economic indicators shaded in gray are reports that will not be released in the event of a shutdown, while reports in black font will be reported as scheduled.
As shown in the table below, in the event of a shutdown, more than half of the reports scheduled to be released will be mothballed. These reports include Retail Sales, Jobless Claims, PPI and CPI. The only government issued reports that will be released are Empire Manufacturing, Industrial Production and Capacity Utilization. The reports are issued by the Federal Reserve, and since the Fed is not funded by Congress (it prints its own money!) its operations will go on uninterrupted. For the Fed at least, a government shutdown couldn't be better. First, its operations continue as normal, and secondly it will not have to contend with any of those 'pesky' reports on inflation.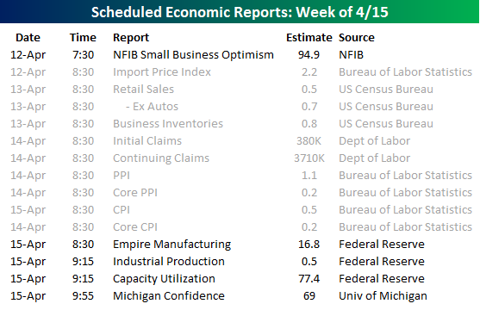 (Click chart to expand)