The Morgan Stanley China A Share Fund (NYSE:CAF) is a closed-end fund with an objective of capital growth. Its coverage universe is both A-shares and B-shares that trade in the Shanghai and Shenzhen exchanges. However, at least 80% of the assets will be in A-shares (hence the name). In addition to equities, it may also invest in structured notes and other types of structured instruments. It uses Morgan Stanley's Qualified Foreign Institutional Investor (QFII) status to directly buy the shares in the companies, as opposed to using swaps or other derivatives like many other A-share funds.
CAF currently has a $480MM market cap and trades at a slight premium-to-NAV of 1.55%. It has a lofty expense ratio of 1.78% which prompted me to ask if it is worth paying this high fee to buy into China's A-share market, which is largely closed off to foreign investors. Let me clarify upfront that I am long CAF. I established this long position in 2007 when CAF was the only game in town as the sole U.S. listed A-share fund. However, as I explained in this recent article, there are many other alternatives today, especially the relatively inexpensive ETF PEK, whose expense ratio is currently capped at 0.72%. One of the readers of that article pointed out the PEK uses derivatives while CAF does not. This is certainly one plus point for CAF since derivatives complicate the tracking process and can result in a large premium-to-NAV. Further, CAF is an active fund which might be able to add value in an emerging market like China where local knowledge and expertise might be useful in stock picking.
CAF holds about 40 securities. Here are the top 10 (courtesy: CEFConnect):
| | | |
| --- | --- | --- |
| Holding | | %Portfolio |
| Shanghai Pharmaceutical Co., Ltd. | | 6.98% |
| Ping An Insurance Group | | 6.47% |
| Sany Heavy Industry Co., Ltd. | | 5.97% |
| Wuliangye Yibin Co., Ltd. | | 5.08% |
| Qinghai Salt Lake Potash Co., Ltd. | | 4.56% |
| China Merchants Bank Co., Ltd. | | 4.34% |
| Huayu Automotive Systems Company Ltd. | | 3.70% |
| Shanxi Xishan Coal And Electricity Power | | 3.63% |
| Ufida Software Co.,ltd. | | 3.59% |
| Tsingtao Brewery Co., Ltd. | | 3.51% |
| Zhengzhou yutong bus co., Ltd. | | 3.41% |
Let me start the performance tracking with two charts: The first shows CAF's performance since inception, and the second shows the performance, in that time period, of the MSCI China A share index which is the official benchmark for CAF. The two charts show that CAF has badly underperformed its official benchmark since inception. CAF's gain is 42% while the benchmark has gained 195.6%.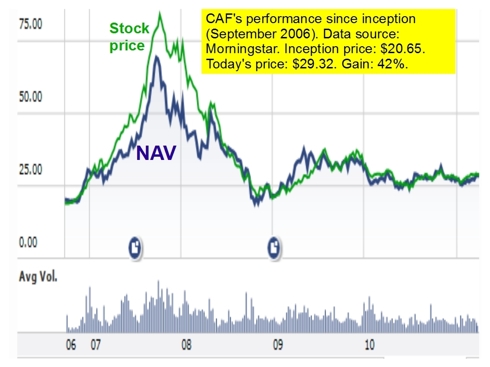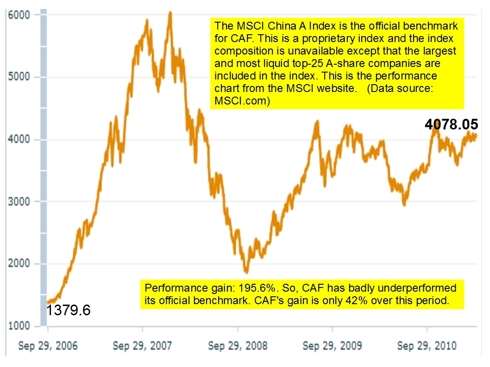 The MSCI China A share index is somewhat of a mystery given its proprietary nature. It is also somewhat obscure. Hence, I decided to compare CAF to two better known benchmarks: the CSI 300 index which includes the top-300 A-shares traded in Shanghai and Shenzhen, and the Shanghai Composite (SSE) which includes both A-shares and B-shares traded in Shanghai. The CSI 300 is the better benchmark for CAF, but the SSE is the mostly widely quoted China index, hence I decided to include both. I also included PEK in the last comparison.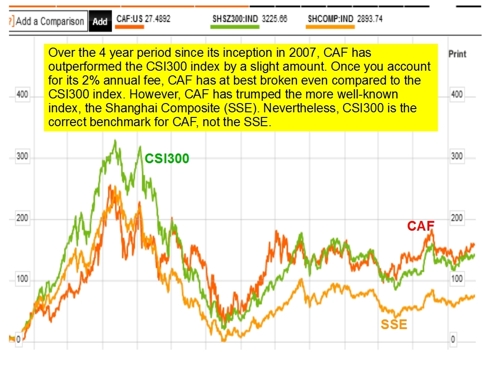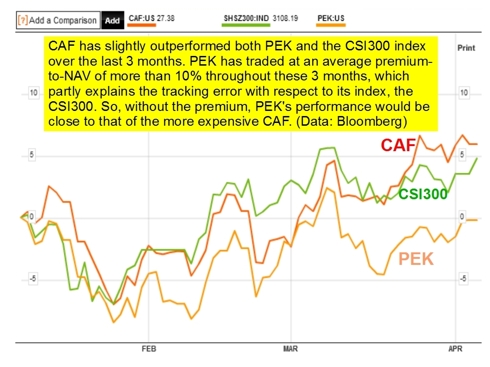 So, what's the verdict? Since its inception four years ago, CAF has very little to show for its high expense ratio and its concentrated portfolio which translates into more volatility and higher risk. The index-tracking PEK is a better alternative despite its current lofty premium of nearly 16%. PEK's premium should reduce over time resulting in a closer tracking of the CSI 300 index. Going by its past performance, I doubt if CAF will outperform PEK (or other A-share ETF) over the long-term.
Disclosure: I am long CAF, PEK.