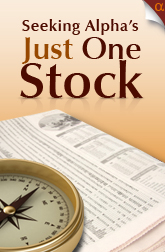 Several times a week, Seeking Alpha's Jason Aycock asks money managers about their single highest-conviction position - what they would own (or short) if they could choose just one stock or ETF.
---
Brian Katz is chief investment officer for The Colony Group, a Boston-based RIA advising high-net-worth individuals, corporate clients and institutional investors. He previously worked in research analysis at Kobren Insight Management and has more than 15 years of experience.
We've talked about high conviction holdings before; welcome back, and it's good to talk with you again.
Likewise. Thank you for the opportunity.
In the 15 months since we discussed your holding of Verisign (NASDAQ:VRSN), it's up more than 50% (and issued a special $3 dividend in December); how has the trade worked out for you?
We started accumulating VRSN in June of 2009, prior to our interview with Seeking Alpha. It has been a standout performer for our clients. Through the end of March, the stock is up more than 110% including the special dividend, compared with 49% for the S&P 500. We predicted at the time of our interview that VRSN would deploy its cash in a shareholder-friendly transaction. The $3/share special cash dividend still leaves VRSN with more than $8/diluted share of cash on its balance sheet. We could see more shareholder-friendly transactions down the road.
Moving to the present day: If you could only hold one stock position in your portfolio (long or short), what would it be?
We like Sensata Technologies Holding (NYSE:ST). The company was carved out of Texas Instruments (NYSE:TXN) in April of 2006 and had an initial public offering in March of 2010.
Tell us more about the company behind the stock.
ST is an engineering firm that manufactures and sells sensors and controls used in a wide variety of end markets ranging from automobiles, off-road vehicles, aircraft, commercial HVAC systems, and appliances. Pressure, force, and position sensors account for approximately 60% of sales, with controls - which include circuit breakers and power inverters - composing the remaining 40%.
Sales into the global auto market represented 57% of total last quarter spread across the Americas (39%), Europe (35%), and Asia (26%). China represented 13% of total sales and grew 43% last year. The company employs 10,500 people, the majority of which are based in low-cost manufacturing centers located in Mexico, China, Malaysia, and the Dominican Republic.
How does your choice reflect your investment approach?
ST exhibits the two investment characteristics we hold most dear in a company: a sustainable or defendable competitive position and strong free cash flow.
ST has the No. 1 share position in 80% of its served global markets. ST typically enters into multi-year contracts with OEMs because its highly engineered sensors and controls are customized to meet customers' needs. As a result, its solutions are unlikely to be displaced by competing products due to the time and cost of certifying the system, which can require up to three years of testing. ST maintains a library of 20,000 custom-designed products supported by almost 400 U.S. and foreign patents.
In terms of free cash flow, ST generates high returns on its assets and is not very capital intensive. In 2010, the company generated $300 million in operating cash flow and spent $53 million on capital expenditures. One of the reasons ST has been able to maintain a high level of cash flow is its exceptionally low cash tax rate of approximately 5-7% of adjusted earnings before interest and taxes (EBIT). This low tax rate comes from a combination of tax deductible intangibles, net operating losses, tax holidays, and beneficial tax jurisdictions. Management expects that the company should maintain this tax rate for the next seven to eight years.
How much is your selection based on Sensata's industry, as opposed to a pure bottom-up pick?
The sensor and control industry is benefiting from a rebound in auto and industrial production. The auto industry, which makes up about half of ST's revenues, appears especially well positioned to benefit from secular growth out of emerging markets and a recovery within developed markets. Within emerging markets, strong economic growth is helping to create a burgeoning middle class, a phenomenon which generally leads to a steep rise in auto sales funded by growing per capita income. Most prominently, China recently became the largest auto market in the world, surpassing the U.S. The developed markets, such as the U.S., are seeing a recovery in auto sales due to pent-up demand from the Great Recession. Both of these trends should have a multi-year lifespan.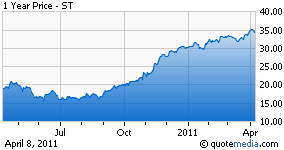 While we prefer to start from the bottom and work our way up when evaluating stocks, we also appreciate the extra tailwind from industry-specific secular growth drivers. ST has unique growth opportunities that will serve to augment the secular industry growth story outlined above. ST's management team is targeting double-digit annual organic growth via increasing content, which should drive 7-10% growth in revenues, and expanding penetration within emerging markets, which could add another 2-4% to growth.
Trends toward more regulations targeting safety, fuel efficiency, and environmental emission controls are boosting ST's efforts to increase content at its customers. All of these growth drivers in combination with management's strategy of deleveraging the balance sheet should help ST experience above-average earnings growth over the next few years.
How is this company positioned with regard to competitors?
ST is either No. 1 or No. 2 in all of its served markets and is No. 1 in 80% of those markets. Within the automobile sensor market, ST holds a commanding 40% share, followed by Bosch at 20%, and Denso (OTCPK:DNZOY), at 10%. These two competitors offer integrated systems whereas ST primarily supplies components. Therefore, ST has a larger potential client base as it is not competing with its customers. Moreover, auto OEMs are turning away from using integrated packaged systems in order to differentiate their products and better control the design of these systems.
How does the stock's valuation compare to its competitors?
ST has few direct public peers, but Amphenol (NYSE:APH) has a similar business model, cash flow profile, and capital efficiency characteristics. Currently, ST trades at 16.8 times fiscal 2011 consensus EPS, compared to 17.0 times for APH. We prefer to value most companies on a discounted cash flow basis. Here we derive a fair value for ST of more than $38 per share using conservative assumptions. [ST closed today at $34.56.] Our expectations are that through continued debt reduction and double-digit revenue growth, earnings can increase by a little more than 18% each of the next two years, which would allow the stock to exceed our conservative target price.
Does your view differ from the current consensus sentiment on Sensata?
General sentiment on the shares has remained bullish since the IPO, mirroring the climb in global auto production. Our variant perception, however, is that investors are likely underestimating both the magnitude and duration of the auto and capital goods recovery cycles. In addition, we believe that ST remains off of many investors' radars. The company only came public last year and is still not covered by many sell-side analysts.
Does the company's management play a role in your selection?
As I explained before, we use a discounted cash flow (DCF) valuation model as our primary tool to value stocks. Most DCF models assume that management will reinvest capital in a manner that will generate returns commensurate with the company's historical returns. Therefore, management's ability to execute and allocate capital is extremely important to our process.
ST has a seasoned management team led by Chairman and CEO Tom Wroe, who joined the company in 1972. The company's COO and sensor division president also both have over 10 years of experience with the firm. Management's strategy has been to align their R&D investments with safety and environmental regulations in order to capture an expanding share of sensor and control content within their customers' systems.
Management also looks to complement organic growth with targeted technology acquisitions to expand ST's addressable market while also leveraging the company's low-cost manufacturing footprint and tenured customer relationships.
What catalysts, near-term or long-term, could move the stock significantly?
In addition to the obvious - such as higher-than-expected auto sales and incremental customer design wins - acquisitions, including the recently closed Honeywell (NYSE:HON) onboard sensor business, could help fuel higher-than-expected earnings growth in the years ahead. The Honeywell business was operating at margins nearly half of ST's corporate average. By realigning manufacturing and targeted sales synergies, management expects these margins to double within the next 12 to 18 months. Management also maintains an active pipeline of over $1 billion in potential deals.
Is it likely that because of the locations of its worker base, Sensata is able to avoid the short-term dislocations that are afflicting the auto-parts supply chain due to the quake and tsunami that ravaged Japan last month?
It is still unclear what economic impact the earthquake in Japan will have on ST. The company does not manufacture in Japan, and therefore should see no impact to its own production.
We are concerned, however, that auto manufacturers may be forced to curtail production due to disruptions within their supply chains. This could impact results over the next few quarters. We expect that any production shortfall would be made up in subsequent quarters.
What else could go wrong with your pick?
Our greatest concern regarding ST is the company's high debt load: about 65% debt-to-capital. Its net debt-to-EBITDA ratio stands at a worrisome 3.1x, and the company has $1.4 billion of debt coming due in April 2013. Our concerns are mitigated by ST's cash position and its ability to generate prodigious amounts of free cash flow. ST exited the December quarter with $494 million in cash and its operations are expected to generate over $500 million in operating cash flow this year offset by only $65 million to $70 million in capital expenditures. Given this strong cash flow, we are confident in ST's ability to refinance this debt.
ST's ownership structure was a concern of ours; however, there has been some notable improvement of late. Sensata Investment Co., which is majority owned by Bain Capital, owns about 51% of the company, down from about 79% at the time of the IPO. Since the IPO, ST has successfully completed two secondary offerings on behalf of Bain Capital, which has helped expand the float and attracted new investors. We were encouraged that these secondary offerings went off without notably disrupting ST's share price, but we acknowledge that future offerings could prove more troublesome.
And thanks, Brian, for sharing your thesis with us today.
You're welcome.
Disclosure: The Colony Group is long ST in client accounts.
Read more Just One Stock interviews »
If you are a fund manager and interested in doing an interview with us on just one stock or ETF position you'd hold, please email us at Just One Stock.