The Street is still not one hundred percent sold on Cadence Pharmaceuticals (CADX). Cadence is a small pharmaceutical company with a market cap of $564 million that just received FDA approval to sell its pain-reliever drug Ofirmev in the U.S. Ofirmev is an intravenous formulation of acetaminophen for the management of pain and reduction of fever in adults and children recovering from surgery. The company in-licensed rights to Ofirmev from Britstol-Myers-Squibb (BMY), which sells this drug in Europe and other markets, under the name Perfalgan.

Bulls point that Ofirmev is a superior drug compared to post-surgical pain relievers opioid narcotics and NSAIDs currently used by hospitals, since acetaminophen has fewer side effects. In addition, management estimates that U.S. sales of Ofirmev could rapidly reach $600 million or higher in a few years, based on Perfalgan 22% market share of the intravenous analgesic market in Europe. If the market penetration of Ofirmev in the U.S. is higher, potential sales could reach $1 billion.

Bears contend that no established sales track record exists for Ofirmev and actual sales will be lower than what the company anticipates because hospitals have a lengthy and thorough review process for the adoption of new drugs. They cite the very slow start of another pain-reliever drug Caldolor, an intravenous ibuprofen recently launched by Cumberland Pharmaceuticals (CPIX). Finally, Cadence might need to go through another round of equity issuance to pay its newly hired sales force. Oppenheimer has a sell rating on Cadence with a target of $4.

While the case to own CADX based on fundamentals has been made elsewhere ("Cadence Pharmaceuticals: A Rising Star"), we offer a bullish picture for Cadence's stock using technical analysis.
The stock just broke out to the upside from a descending triangle. (Click to enlarge)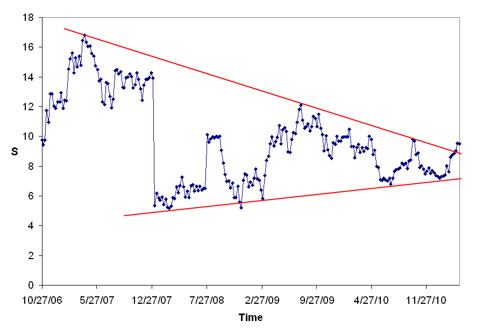 Historical weekly prices between October 2006 and April 2011 from Yahoo Finance are used to construct Cadence's 5-year chart. The line that trends upward (the support line) is obtained by connecting the higher lows, while the line that slopes downward (the resistance line) is drawn by connecting the lower highs. Two weeks ago, the resistance line was violated with the stock breaking up to the upside. If confirmed, the breakout is a very bullish pattern that could lead to sustained price increases in the coming weeks and potentially pushing the stock up to $18.
The 50-day moving average just crossed the 200-day moving average, a bullish signal known as the Golden cross-over. Note that the Relative Strength Index (RSI) is trending upward and is above 50, confirming the validity and strength of the current upward trend in the stock.
Both the 50-day and 200-day moving average are trending up. In addition, CADX closed at $8.98 on Friday, April 8th, above the 50-day moving average $8.15 and the 200-day moving average $7.93.

Finally, CADX is a short-squeeze candidate with more than 24% of the float held by short-sellers. Interestingly enough and showing Wall Street's indecision about CADX, the stock is under accumulation by institutional investors that purchased $16.6M during the current quarter and $721K last quarter. Yahoo Finance also estimates that 64% of the shares are held by institutions and mutual funds, including Fidelity, Wellington and T. Rowe Price.

Having painted a bullish case from technicals, we provide three different ways for investors to participate in CADX's breakout.
Given the indecision of Wall Street, a prudent way to play the breakout is to initiate half a position by buying shares at current levels and re-evaluate CADX's prospects once sales for Ofirmev for the first quarter of 2011 become available. If the number disappoints as expected by the bears, the stock could decline to $4-5 as predicted by Oppenheimer. Investors will then need to listen carefully to management's remarks during CADX's conference call and decide whether they remain bullish on the stock, in which case they need to double down at lower market prices. Those who turned bearish and no longer believe in Ofirmev's prospects, will have to part from their holdings at a loss.

Since Cadence is a speculative stock with no established sales track record, another way of participating to the upside without committing too much capital is to buy long-term calls. Out-of-the-money calls with a strike price of $10 that expire on November 19, 2011 have a bid-ask spread of $1.05-1.40. Assuming that investors buy the call at the ask price, their bet will be profitable if and only if CADX closes at a price higher than $11.40 on November 19, 2011. Investors who prefers to buy deep in-the-money calls to avoid paying large time premium can pay between $3.70 and $4.30 for a November 2011 call with a strike price of $5.

Finally, aggressive investors who have the utmost confidence in Ofirmev's prospects can finance the purchase of the long-term call by selling a put with the same expiration date and a lower strike price. This strategy is quite risky but will offer tremendous returns if Cadence's stock shoots to the upside. Selling a put will be a profitable strategy if Cadence's stock price at expiration is higher than the put strike price. However, investors might bear losses if the stock closes below the strike price at expiration.
Let us a review an example of the proposed strategy where investors sell a put with $7.5 strike price expiring on November 19, 2011 and use the proceeds to buy a November 11 call with a $10 strike price. Currently the bid-ask spread for such a put is $0.95-$1.25. Assuming that investors receive $1 for the put, they can use this dollar to buy a November 2011 call with a $10 strike price at $1.30 for a net debit of 30 cents.

The payoffs at expiration are as follows. If CADX closes at say, $12 on November 19, 2011, the call will be worth $2 while the put expires worthless. In this positive scenario, investors enjoy a 566% rate of return on their investment ($2/.3). On the other hand, if the stock closes at $6 on November 11, the call expires worthless while losses on the put are equal to -$1.5 per contract.

Disclosure: I am long CADX.