APPLE'S TASTY VALUATIONS
Apple Inc. (NASDAQ:AAPL) is a unique company. It has the market capitalization of a widely popular and established brand but the coolness of an up and coming trend. Its products are part design genius and marketing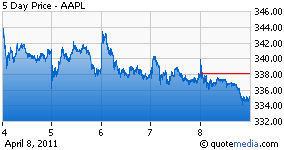 brilliance. Surprisingly, for all of Apple's success and potential, its valuation multiple are growing slower than the earnings. While the trailing price/earning ratio is 18.69, a healthy but expected multiple for a company of Apple's cache, the forward price/earning ratio is 12.56. Once you eliminate the approximately $50 billion of excess cash, the forward price/earnings is a surprisingly low 10.90! To be clear, we are not Apple bears. But despite the valuations, there are reasons for caution.
READING BETWEEN THE HEADLINES
TechCrunch reported that Apple had blacklisted Best Buy (NYSE:BBY) from further iPad 2 supplies because the company was unhappy with certain sales policies at the big box electronics retailer. This is a rumor. While it was generally viewed as a negative for Best Buy, it may not necessarily be a sign of strength from Apple.
If the rumor is true, there are many different ways to interpret Apple's actions. It could illustrate Apple's iron fisted management of its reputation and the marketing of the iPad 2. It's plausible to believe that Apple was unhappy with Best Buy's action for two reasons. First, lying about store specific iPad 2 inventory levels has the potential to smear the Apple brand. Second, it reduces Apple's control of their own inventory and sales management.
For the more openminded investor, Apple's actions could signal that iPad 2 supply shortages are worse than expected. As a result, Apple used a minor issue as an excuse to reallocate supply of iPad 2's to their preferred sales outlets, their website and stores. There isn't enough information for investors to draw conclusions, but they should consider the different possibilities as additional information becomes available.
TURNING POINT IN PRICE?
Apple's second life has been nothing short of miraculous. Their recent products, the iPod, iPhone and now iPad have been industry game changers. The original iPad was released in April 2010 and a year later, it's still the preeminent device in this space. Competitors like Samsung, Toshiba (OTCPK:TOSBF), Blackberry (RIMM), Dell (DELL) and Hewlett-Packard (NYSE:HPQ) have struggled against the iPad. Maybe more surprising than Apple's technological edge over competitors is the fact that the iPad is also priced below comparable tablets. This pricing advantage has been a major underappreciated dimension of Apple's iPad success, but things may be at an inflection point.
Acer's (ACEIF.PK) $450 Iconia tablet is the first Android Honeycomb tablet that undercuts the iPad's price. While the tablet looks good based on specifications, the jury is still out on the device. Investors should be rightfully skeptical of Acer's entrance in the tablet market, but they should be very cautious about the long term consequences. A functionally competitive tablet with a lower price could lead to reduced margins at Apple even if the tablet industry continues to grow and according to a recent article in Bloomberg, it appears that Acer is an ambitious competitor with a proven track record. From the article,
Acer has "an aggressive plan" to gain share of the tablet market in the next two years, he [J.T.Wang, Acer Chairman] said."
GOING FORWARD
Apple is one of the hottest companies in the world and its trading at low valuations in both absolute and relative terms considering their dominance and track record of success. Still, investors should always be cautious of potential investment risks and Apple is no exception. It's worth noting that the tablet industry was essentially created by the iPad over a year ago. Before that, tablets were considered a dead end product. Within a year, Apple has created massive demand for a new product segment. As impressive as this is, it also illustrates the speed with which the next competitive threat can develop. The developments at industry participants like Best Buy, Dell, HP and others demand attention. Investors are right to praise Apple's successes, but they should also view potential threats with an open and cautious mind.
Disclosure: I have no positions in any stocks mentioned, but may initiate a long position in AAPL, DELL, HPQ, RSH, BBY over the next 72 hours.