Top Copper Executives, Vendors and Investors Convene
World's Largest Copper Producers
Last week was a busy one in Santiago, Chile where CRU's 10th Annual World Copper Conference was held as

part of CESCO week. CRU is a worldwide consulting firm which specializes in mining and is known for its generous hosting of conferences. CESCO is the
Center for Copper and Mining Studies, an independent, non-profit organization created in Santiago, Chile in 1984.
The members of CESCO work as executives or consultants for national and foreign mining companies, others as professors in local or foreign universities. CESCO has positioned itself as a meeting place for diverse sectors interested in mining which includes business, academia, public policymakers and professionals in several disciplines. Chile is the world's largest producer of copper and the state owned company Codelco is the world's largest copper miner by product produced.
The Demand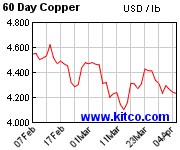 for Copper: Short, Intermediate and Long Term
As was noted in the Monday April 4, 2011 edition of the Financial Times, the price of copper slid 8% since hitting an all-time high of $10,190 per tonne; $4.62 per

p

ound in February. (Copper is priced both at dollars per pound and by dollars per tonne.
There are 2204.62262 pounds
per tonne.)
However, contrary to that paper's expectations, there was little nervousness about the price of copper among miners last week.

"Copper traders have been feeding off of a generally optimistic tone emanating from the CESCO/CRU mining conference in Santiago, Chile, this week, where many executives and industry heavyweights are predicting a tighter supply base and a resurgence in Chinese demand in 2011", The Sydney Morning Hearld reported in its Sunday April 10, 2011 edition.

The outlook for the industry is bullish. While there is some concern among investors that miners are diminishing their profits by hedging some of their production, it is hedged at very profitable levels. Further, a short to intermediate term downturn in prices was not unexpected, nor is price volatility that unusual
.
In a previous article
published by Seeking Alpha on February 7, 2011,
I reported some concerns when copper was near its record highs.
I quote that article below:

"Adding to the worry about copper supply, demand and prices are two uncertainties concerning China, the leading user of copper. The first is a question as to how much do they have warehoused and stockpiled. Are the reports and estimates they have provided accurate? If not this could lead to mispricing in the market. How much remains in warehouses is not known nor is how it will affect 2011 China's imports."
The second question is even more difficult to answer.
"How much will increased industrial activity cause demand to rise? Recent reports of strong economic recovery in the Middle Kingdom have had the paradoxical effect of lowering estimates of future economic activity. It is feared that China's central bank will raise interest rates to dampen an overheated economy leading to decreased production. And, what is true for China is also true for the rest of the world, the US, Europe, the Asian powerhouses Japan and South Korea and emerging nations. All will try to balance expanding economic activity and its benefits with incipient inflation which can be neutralized by slowing the former."
For more concerning the copper use by the state owned electric company, the China State Grid Corporation and other demand factors, please see the above referenced article and others in the series linked to it.
It turned out that China did indeed have warehouses full of copper, and of course, interest rates were raised last week a quarter point to 6.31 percent by China's Central Bank
.
It appears after only a few days that this increase is having little impact on the copper market.
Freeport-McMoRan (NYSE:FCX),
the world's largest publicly traded copper producer, said it's confident Chinese copper demand will continue to gain even as the nation raises lending costs
to cool inflation. "China has done a remarkably good job of managing the extraordinary growth that they have," Freeport Chief Executive Officer Richard Adkerson said in an
interview
in Santiago and reported by
Matthew Craze for Bloomberg,
"In the long run we are very confident about the outlook for copper
demand in China."

If the Chinese continue increasing industrial production and build as many as 36 million homes this year, confidence in the outlook is warranted.
China will account for half of the world's copper demand by 2020, John MacKenzie, head of Anglo American Plc's (London: AAL) copper business, said in a presentation in Santiago. There will be a "huge" increase in infrastructure spending in emerging countries, he said. China now accounts for 40% of the world market for the red metal.
Chinese demand
may recover to grow 6% this year, said Charlie Sartain, who runs Zug, Switzerland-based Xstrata Plc's copper business.
Vale (NYSE:VALE), the Brazilian mining giant, sees the price of copper rising to back over $10,000 in the second half of the year and some predict $11,000 by the end of the year. However, most would not be surprised if there was additional price easing until mid-summer and lows might be in $8,500 range with the absolute floor at $8,000.
The miner Rio Tinto (NYSE:RIO) , as reported by Reuters Wednesday, believes the world copper market could see a supply deficit of half a million tonnes this year and a shortage which may extend beyond 2013. Rio Tinto's copper unit chief executive,
Andrew Harding's view
is of a larger deficient than that of a consensus of mining executives, traders and investors at the Santiago Conference. His statement has an implication of higher prices than others have predicted.

There seems to be a consensus that copper prices will have increased volatility in coming months on fears of a growth slowdown in China and emerging markets and unforeseeable world events, especially concerning the mid-East and energy prices. However, the price is expected to be strong from sometime in the late third to fourth quarter.
Some see the tsunami related disasters in Japan as a net negative for copper. It is clear that the terrible events of earthquake, tsunami and radioactive leaks have reduced demand in the short term. However, starting later this year there will be
rebuilding in Japan
on a massive scale, greatly increasing demand. Add to this the slow but positive economic growth in developed nations and in emerging markets and demand will exceed supply capabilities.
Analysts believe that the market has been in deficit since mid-2010 and that it is only because of remaining unreported inventories that the price is down. While there may be some increase in ore mined, and scrap will also be used at an increased rate, refined production is not likely to outpace demand and the market will remain in deficit this year. Prices are expected to rise in late 2011, and also through 2013 and possibly longer. It takes several years to bring a copper mine into full production and supply will almost certainly trail demand.
Is copper a good investment? It depends on your perspective. The below 1 year chart shows a respectable rise in the S&P 500 (red line), a better rise in Southern Copper Corporation (NYSE:SCCO) (green line); and even better performance by Freeport-McMoRan Copper and Gold (blue shaded area and line). It looks like the latter, FCX, is indeed a great investment-- beating the S&P 500 by about 15%.
However, things don't look so good in the 3 Month chart below. While the S&P 500 (red line) is up 5%, Freeport-McMoRan (blue shaded area and line) is down 5% and Southern Copper Corporation (green line) which incidentally pays a dividend of about 5.8%, is down almost 15%.
Click to enlarge
These historical charts are very helpful, especially in observing trends. However, I believe they also illustrate the problems in presenting visual data which can be misleading if one doesn't look carefully at each dimension of the chart. Are you an investor? A trader? I believe that it useful to look at charts for similar time periods to those that you intend to hold the security. Longer and shorter periods of time add to our overall perspective on the stock's movement and volatility. It is often useful to look back ten years or more.
Hedging by Miners, Costs of Production and Market Price
Miners typically hedge one-fourth to one-half of their production by using options to guarantee that they would sell within a price range on certain dates. This limited hedging of production leaves room for additional upside profit if prices rise above the hedge levels. Copper producers have hedged very little for several years and that has changed for 2011; I believe that is because they have been able to lock in great profits.
At today's price levels which are in the $4.25 a pound range, it will be a profitable year for the miners. The industry average cost of production for a pound of copper is estimated to be $1.12. Freeport-McMoRan's cost is a little less than $1.00 and Southern Copper Corporation has costs in the $0.85 range, the lowest in the industry.
While a short term downward trend may continue, I remain bullish on copper. As a long term investor I will endure the inevitable ups and downs in the market price of copper and the price of copper stocks. My experience is that mining stocks have a fairly high beta, earnings and dividends that fluctuate, and prices which often contain an overreaction to events and news. They are not for everyone and I only take them in small doses.
Disclaimer: No recommendation is made to buy or sell any security. One should only make investment decisions after doing due diligence and after seeking professional financial advice when needed.
Disclosure:
I am long SCCO.