An article in Barron's this weekend highlights some recent research about the performance of copycat strategies that track and invest in the largest stock holdings of successful fund managers. Here is a key quote from the research:
A team led by University of Maryland finance professor Russ Wermers reports that you can beat the market by four percentage points a year, using a technique that systematically harvests the best stock selections from the fund industry.
Of course there are thousands of fund managers and a multitude of strategies to consider.
I have selected an exceptional manager, Nicholas Equity Income Fund, to track based on these three key requirements: (1) A proven long-term manager that generates alpha; (2) an income focused strategy that generates high dividend yields; and (3) a mid-cap market focus to provide investors with some additional diversification beyond the typical large cap dividend champions.
Nicholas Equity Income Fund (NSEIX) has an incredibly successful long-term performance record using primarily mid-cap high income stocks. Here is a quote from a US News summary for the fund.
Manager Albert Nicholas's fund, aimed at retirees and those who want an extra income stream, has built a portfolio that's chock full of high-dividend companies. The fund's objective is to provide a steady dividend and moderate capital appreciation.
In order to create and track a copycat portfolio, I decided to focus on Nicholas Equity Income Fund's top mid-cap holdings that provide attractive dividends yields. Despite a declared focus on mid-cap, the fund does have flexibility to look for value in small and even mega cap stocks. I ignored the larger names, Walgreens (WAG) and Pfizer (NYSE:PFE) to maintain focus on mid-cap asset class. Eight of the top ten holdings as of January 31, 2011, were mid-cap and have attractive yields, with the group generating an average yield of 4%. Those eight stocks have an average market cap of $4.2 billion.
images
Nicholas Equity Income Fund's Top Mid-Cap Holdings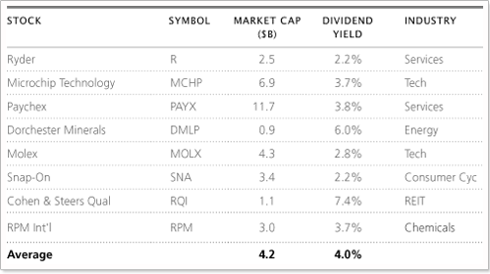 Two new mid-cap stocks appeared as of January 31, 2011 compared to December 31, 2010. Molex (NASDAQ:MOLX) and Cohen & Steers Quality Realty Income (NYSE:RQI). Performance of the top holdings tracking portfolio was hurt by 2 of the stocks that fell out of the top ten, Hudson Bancorp (NASDAQ:HCBK) and Frontier Communications (NYSE:FTR). Both suffered substantial losses in the 1 month period from December 31, 2010 to January 31, 2011.
Nicholas Equity Income: Why Track The Top Picks?
US News summary is referred to above. It highlights Nicholas as the #2 Mid-Cap Value Fund based on its long-term track record and 3rd party fund ratings. I analyzed the fund's performance relative to its benchmark and we can see a 40% outperformance over the past 5 years.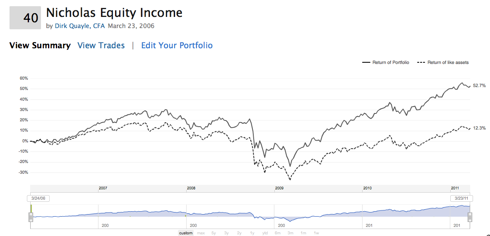 Tracking Performance of the Top Holdings
I'm now tracking the performance of Nicholas Equity Income Fund's top holdings. The portfolio will be updated when Nicholas Funds posts the changes. below is the performance of the top picks since December 31, 2010. As mentioned above, 2 stocks, HCBK and FTR, hurt the 2011 performance YTD. Those are no longer top ten holdings and were sold in the portfolio below on January 31, 2011.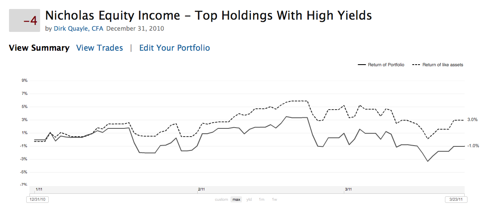 Please note that the stocks mentioned in this article are not suitable for all investors and each investor should consider his or her own financial situation or consult a financial advisor before making their own allocation decisions. Any securities discussed are used as a reference and should not be considered advice. There are risks in any investment strategies and prior performance does not guarantee future success.
Disclosure: I have no positions in any stocks mentioned, and no plans to initiate any positions within the next 72 hours.