Shipping Industry Overview
I track mainly three sectors in shipping - dry bulk shippers, tankers and containers.
The dry freight sector has been hit the hardest - facing over supply from new builds, reduction in demand and quite a few black swans in the recent past. These include floods in Australia, Indian iron ore exports and the Japanese earthquake. Eventually, effects from these events should be reversed. The Japanese rebuild is expected to be a boon for the industry with Forward Freight Agreements already indicating an increase of over 50% in dry freight rates later in the year.
Nevertheless dry freight rate and stocks currently continue to remain depressed as seen in the Baltic Dry Index chart below.


(Click to enlarge)
The tanker sector can be subdivided into dirty tankers (which transport crude oil) and clean tankers (which transport refined products). Though the rates in tankers are not as depressed as the dry bulk sector, they are still much lower than the pre-crisis levels. Clean tankers rates have performed better than crude tankers recently, thanks to the shut down on refineries in Japan which caused diesel prices in Europe to rise. This created arbitrage opportunities to ship diesel from USA, where prices are lower edging up clean tanker rates.
Chart of the Baltic Clean and Dirty Index below.


(Click to enlarge)
The container ship sector has been the best performing sector of the three. The chart below says it all. The New Contex index, which tracks time charter rates for various sized ships has bounced back sharply from the crisis level. The rates are only 30% lower than the rates seen during the highs of 2007.


(Click to enlarge)
I see a lot of opportunities in shipping stocks today, which is one of the most depressed sectors in the market. My interest mainly lies in the following areas
Dry bulk and tanker companies with manageable debt and trading at discount to NAV. The rationale is these companies will be able to survive this cycle while the more leveraged ones will have to undergo some kind of restructuring or equity issue.
Companies with fixed rate contracts to good credit counterparties which have been sold off with the industry. The rationale is the cash flow of these companies does not depend on spot freight prices but are fixed.
High dividend yield stocks with manageable debt or fixed rate charters.
Dry bulk/tanker companies with exposure to Container ships market. Container freight rates and ship prices have risen substantially over the last year, which have not been priced into many companies.
I have been building a portfolio of shipping stocks which fall under above categories. Paragon Shipping Inc. (PRGN) is one of the latest additions to my portfolio.
Paragon Shipping
Paragon as of 31 Dec. 2010 had 11 dry bulk carriers and two container ships. They also have seven new drybulk buildings, of which two will be delivered in 2011 and five in 2012. Paragon trades at a price to book value of 0.32, price to sales of 1.25 and price to operating cash flow of 2.75. These numbers command a closer look.
Fixed Rate Contracts & Dividend
What I like about Paragon is 98% of the 2011 charter rates are fixed providing cushion from low spot rates. These contract prices are much higher than current spot rates. They have 55% of 2012 charter rates fixed as well. When these contracts expire later this year and in early 2012, Paragon should be able to fix them at prices much better than current spot rates going by what forward rates are trading at.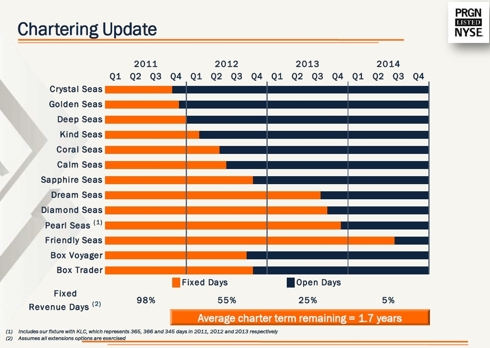 (Click to enlarge)
At current stock price of 2.81, Paragon has a dividend yield of 7.12%. This dividend should be safe for the near future as the rates are fixed.
Manageable Debt
As of 31 Dec. 2011, Paragon had USD 317.84 million of total debt and their equity was 490.47 million. Therefore, the debt to equity ratio is 65%. They also had USD 34.79 million in cash. These are very comfortable numbers for a company operating in the time charter space. Their operational cash flow for 2010 was USD 60 million. One can expect similar number for 2011 as most rates are fixed.
They have debt repayment of USD 35 million scheduled for 2011, which can be comfortable covered by cash on hand and internal operating cash flows for 2011 (34.79 + 60 = USD 94.79 million).
They have also secured 65% financing (up to USD 135 million) for their seven new buildings. The equity portion for the new builds is around USD 73 million. Please note only 2 of them are being delivered in 2011, Paragon should have enough internal cash flow to accommodate this equity portion over 2 years.
This means Paragon doesn't require any new equity issuance to fund operations or new builds going forward.
Container Ship IPO Deal
Paragon last week announced a spinoff of its container ship business through an IPO. Post the IPO, Paragon will hold 2.3 million shares of the subsidiary (22.7% of box ships) and will see a cash inflow of USD 70 million. The IPO price range has been set at $15 to $17.
The value of 2.3 million shares of box ships is USD 34.5 million at $15. Paragon is unlocking a minimum of USD 104.5 million (34.5 + 70 million cash) of value from this spin off.
USD 104.5 million is 63% of market cap of Paragon, which is very substantial. Post the transaction, Paragon would have USD 104.79 million of cash (not adding the operational cash flow) which is 33% of outstanding debt.
With all future new building funded, I don't rule out a substantial special dividend soon. For illustration, if Paragon pays out the full USD 70 million cash proceeds from IPO, that would be a USD 1.18 dividend on a USD 2.81 stock price. Even if Paragon pays out 50% of the cash proceeds from the IPO that will have a yield of 21%.
There could be a dip in the operating cash flow and regular dividends as the container ships are no longer there, but I expect it to be more than replaced by the new builds which come online in 2011 and 2012.
Conclusion
Paragon Shipping Inc. ticks a lot of points that I am looking for in shipping companies like manageable debt, high dividend yield and exposure to the container ship market. In addition, It also has a near term catalyst of the substantial special dividend. All this makes me believe makes Paragon Shipping Inc. a very interesting risk/reward proposition at current price.
Disclosure: I am long PRGN. I have been buying PRGN since the accouncement of Box Ships IPO.