It has been a magnificent run. I'm talking about the 95% surge in stock prices, as measured by the S&P 500, since March 9, 2009. Of course there's no denying that the preceding fall was just as spectacular. However, investors that had the guts to pour cash into the stock market as armageddon knocked on our door have been richly rewarded.
This brings us to the present. As I stated the S&P 500 is up almost 95% in slightly over two years. I began the year bullish, predicting the S&P 500 would rise 5%-10%. I still see those gains as being possible. However, my near-term outlook has become more bearish. I have very little doubt the stock market will have a significant correction fairly soon. This could be in the range of 10%-20%. I have remained bullish on the market for the better part of the last two years. I am still bullish on the economy for the long-term and I do not see the U.S. entering into another recession soon. I believe in this country and the ingenuity of its people. Long-term, the U.S. will do very well.
The change in my near-term outlook is due to several reasons. The first reason, and the most significant, is the sharp rise in the price of oil and gasoline. The chart below shows the steep rise in the two over the last two years.
Click to enlarge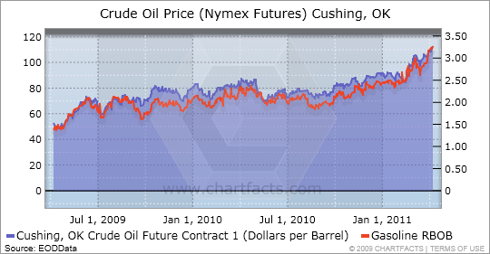 This rise in gasoline is a tax on the consumer and on business. The sharp rise over the last month is not yet represented in corporate earnings. Most of the country has yet to see $4 per gallon gasoline. I fear when that happens consumers will get "sticker shock." Earnings estimates for the year are high. Sustained high input costs could certainly cause companies to miss expectations.
The second concern I have is the extreme bullishness in the markets. According to a CNBC report last week, bearish sentiment recorded the largest drop in seven years. According to the report, the percentage of bears fell to just 15.7% from a prior weekly reading of 23.1%. Usually a contrarian indicator, this could signal a near-term top in the market.
Lastly, I am concerned about the ending of the Federal Reserve's quantitative easing program, dubbed QE2. Although I feel it is time to end the program on schedule, interests rates will almost certainly rise. Rising rates will cause bond values to decline. In addition, rising rates can become a drag on corporate earnings. Both the stock market and bond market are likely to factor this in long before the actual end of the program. I would look for this to become an issue for both very soon.
In preparation for what may be a significant correction I am recommending investors raise cash levels. I have personally begun taking profits during market rallies. I have no problem with investors holding 30%-40% of their portfolio in cash at this time. I do not hold this much cash, but I have hedged virtually all my positions with options. In addition to options, I use the AdvisorShares Active Bear ETF (NYSEARCA:HDGE) to hedge my total portfolio. Cash is a very poor long-term investment, but holding it in order to redeploy it at a later time is now prudent.
Investors should consider more defensive stocks for their equity positions. One of my favorite picks right now is Harris Corp (NYSE:HRS). Harris is a defense/technology stock. Its defense business is not very exposed to government cutbacks and the company has won numerous contracts for radio equipment in recent months. I also like Kroger (NYSE:KR). They have a large private-label selection of goods which will benefit if consumers begin to trade down. They have also recently shown strength in passing price increases through, offsetting some of the inflationary pressures. Nokia (NYSE:NOK) represents a deep value investment. The stock has been beaten down to a point of attractiveness. It trades at a forward PE of less than 12 and a price to owner earnings ratio of 5. Nokia also pays a 6.5% dividend. I like the prospects of the deal between Nokia and Microsoft (NASDAQ:MSFT) to begin making phones using a Windows platform.
I continue to hold shares of Apple (NASDAQ:AAPL), though I am no longer as bullish on the stock for the short-term. Apple could face some issues with its supply chain due to the Japan disaster. If consumer spending slumps due to higher commodity prices, Apple could be hurt. Shares of Apple have traded horribly over the last week from a technical perspective. Apple is down nearly 3% over the last five trading days. Long-term, the company is still undervalued.
Bonds have me very worried. I have eliminated all but the shortest duration bonds from my portfolio. Interest rates have virtually nowhere to go but up. The ending of QE2 in June will exacerbate this. I hold two bond ETFs, both of very short duration. I hold the Guggenheim Bulletshares 2012 High Yield Corporate Bond ETF (NYSE:BSJC) and the Guggenheim Bulletshares 2011 Corporate Bond ETF (NYSEARCA:BSCB). Both funds are unique because they hold bonds that mature within the year listed on their fund. As the bonds expire the funds are rolled into T-Bills until the end of the expiration year when they are distributed to shareholders. Investors may be wise to, at the least, shorten the maturity of the bonds they hold.
I am not recommending trying to time the market. I am simply recommending that investors position their portfolios to benefit from opportunities to buy at lower prices in the future. Any correction, as steep as it may be, will probably only last through the summer. Stock prices will likely be lower in three to six months than they are today. A wise investor can benefit from this. As a steep correction will likely be met with money coming in that is still piled up on the sidelines, prudent investors would be wise to wait for better opportunities to come.
Disclosure: I am long HDGE, HRS, KR, NOK, AAPL, BSJC, BSCB.