EANTC (European Advanced Networking Test Center) and Light Reading have just published (pdf) a white paper about carrier Ethernet global interconnection that will be officially presented at the Ethernet Europe conference this week, April 12-13th, at the Marriott Grosvenor Square in London.
There are a few players running Ethernet Exchanges at the moment, the most important being Equinix (NASDAQ:EQIX), CENX, TelX Group, and Neutral Tandem (NASDAQ:TNDM) – all of them with a slightly different approach to the service.
The last two operators, data center provider TelX and Neutral Tandem, actually joined forces to provide a better and easier-to-manage service to their customers, and now their offerings are built using the same unified exchange fabric, resulting in a seamless customer experience, regardless of the location used.
On April 4, Tinet, a Neutral Tandem subsidiary, announced the launch of its global wholesale offering, "EtherCloud." This Layer 2 service builds on the integration of Tinet's existing wholesale Ethernet business and the Ethernet Exchange previously launched by Neutral Tandem.
As Telecom Ramblings reported:
It is the physical manifestation of what Neutral Tandem's COO Surrendra Saboo described as a network exchange in an interview here in October soon after the acquisition of Tinet. The vision is of an exchange that is not geographically limited to one location, i.e. if you connect in Chicago you can reach any other endpoint that is connected via any other location that is part of the EtherCloud, whether that is in Chicago or through an NNI to some incumbent on the other side of the planet, all the way down to the tail circuit where needed. Along with it comes an intuitive and feature-rich customer portal, something that is critical to any such offering.
CENX claims to be the first and most connected Carrier Ethernet Exchange delivering carrier-neutral and collocation-neutral Carrier Ethernet Exchange interconnect services to its customers.
CENX announced several partnerships, including one with data center provider CoreSite (NYSE:COR), resulting in its Carrier Ethernet Exchange services being available in all CoreSite facilities.
Another recently announced service is MemberLink, that enables carriers to purchase services on distant CENX Exchanges to which they are not currently connected. This way CENX's customers may also be competing with each other to get an additional business, transport to the remote exchange, while the operator keeps it "neutral" role – the opposite of Neutral Tandem's approach.
Apart from these specific differences, is there a common business model within all these operators? The answer seems to be that these providers really have a different approach to the service, resulting in different monetization models.
Equinix is leveraging its worldwide data center footprint targeting, through this additional service, to increase revenues for its core business, selling space and connects to customers.
CENX seems to have more interest in the interconnection business alone, leveraging other operators' data centers, and letting customers compete for some business that may originate from its services.
Neutral Tandem is developing a more complex offering that may look at maximizing the revenue potential.
Each approach has its positive and negative sides, and it's probably too soon to evaluate the full potential of this business and declare winners and losers.
Back to the Light Reading white paper, as it is interesting to try understand where this kind of offering stands now.
EANTEC analysis represents the fourth round of neutral interoperability tests in live service provider production networks.
Participating service providers were Abovenet (NYSE:ABVT), Level 3 (NASDAQ:LVLT), Teragate and Tinet, with Equinix representing the Carrier Ethernet exchange partner.
As it is discussed in the introduction to the white paper:
The good news is: Interconnection of basic point-to-point services is not a technical issue. The services worked once the service providers had completed provisioning.

For the first time, we successfully tested E-LAN multipoint services across two service providers, Level 3 and Tinet. The services worked fine in this initial validation.
The test was run implementing Carrier Ethernet services between multiple providers, interconnecting them either at Equinix's London location (LD4) or the Frankfurt location (FR2), based on where the operators had equipment. Abovenet then provisioned a service to connect the two Equinix hubs.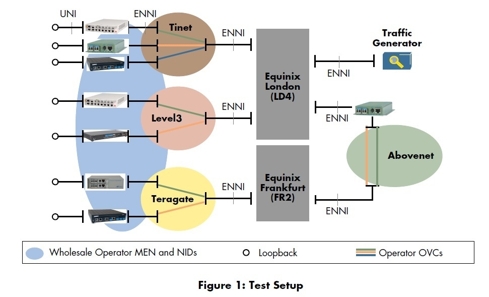 (click to enlarge)
Three weeks of testing amongst the multiple parties were conducted, and the white paper reports the "state of the art" of the service, without getting into specific performance metrics.
As a brief summary, here is a final quote from the white paper:
Without agreed-upon interconnect agreements among the providers defining the service configuration and service level agreements in advance, completing any testing in just a couple of weeks would likely have been impossible.

The results show that there is still progress to be made, but things are moving. ENNI availability is increasing, both for E-LAN and E-Line services. OAM tools are however not deployed everywhere, and bandwidth profiles prove to be a challenge.



Disclosure: I am long EQIX.