In 2007, the global real estate market represented more than $900 billion of equity capitalization and was growing, according to the National Association of Real Estate Investment Trusts (NAREIT). For a long time, publicly-traded real estate investment trusts were only available in areas like the U.S. or Australia. Today more foreign countries are adopting similar structures and from the investor perspective U.S. only REITs is sub-optimal diversification. In fact, a shift toward a REIT portfolio with more exposure to international properties seems to be a smart move. Expanding an investment portfolio to include international real estate can open the door to increased return while reducing risk.
Below please find the major country International REIT ETFs capitalizations: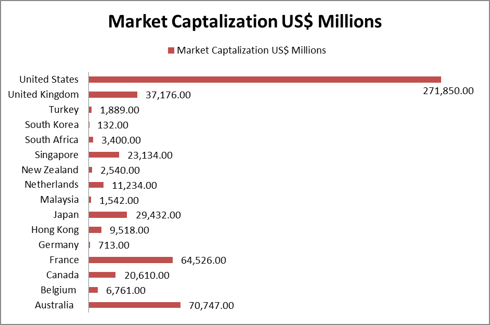 (Source: Ernst & young – Global Real investment trust report 2010)
Property is often a lagging indicator of economic downturns since investors flee falling equity markets to the perceived safe haven of real estate. Only later, when unemployment threatens, does the property market feel the pinch.
Even with the global economic crisis in the past years, we have only seen a few REIT bankruptcies — New City in Japan and General Growth Properties in the US are perhaps the highest-profile examples. In general, banks have worked with REITs to modify or extend maturities on existing loans rather than force sales in a difficult market
.
We show a table of the leading international REIT ETFs.
| | | | | | | |
| --- | --- | --- | --- | --- | --- | --- |
| Description | Symbol | 1 Yr | 3 Yr | 5 Yr | Avg. Volume(K) | 1 Yr Sharpe |
| SPDR Dow Jones Intl Real Estat | | 20.47% | -5.23% | NA | 385 | 88.47% |
| SPDR Dow Jones Global Real Estate | | 19.99% | NA | NA | 76 | 104.5% |
| WisdomTree International Real Estate | | 18.39% | -5.85% | NA | 32 | 82.37% |
| iShares S&P Dev ex-US Property | | 11.25% | -5.94% | NA | 25 | 52.74% |
| iShares FTSE EPRA/NAREIT Dev Real Estate | | 8.59% | -7.37% | NA | 91 | 42.21% |
Most of the REITS have similar results except IFGL and WPS. RWX is the best with a one year yield of 20.47%, best of the three year returns (although not good) and the highest volume. RWX volumes are also very good but all these ETF are the new and none them has the 5 year yields.
Note this research from Ernst and Young clearly indicates that international REITS diversification provides a hedge against falling prices of real estates in developed nations.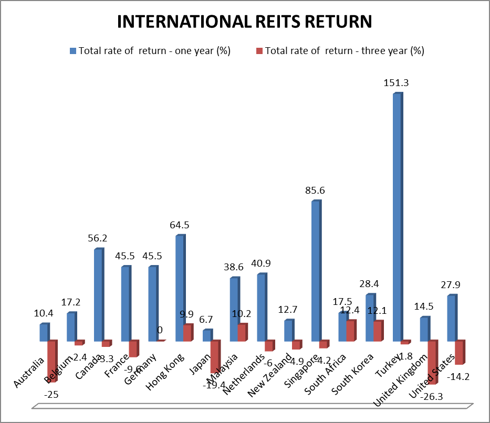 (Source: Ernst & young – Global Real investment trust report 2010)
Note that governments are also supporting REITS. US REITs are given special tax status that allows them to avoid
corporate tax
, as long as 90% of the income is distributed to investors.
In Europe, governments have adopted or are considering a number of regulatory changes to spur investment in REIT vehicles, as at the moment, there are some structural impediments to REIT status. In the UK, the House of Lords wants the Government to encourage REITs to own residential property. In Germany, the Government is considering dropping rules that prohibit REITs from investing in residential property. Germany is weighing the extension of a 50% exemption on capital gains tax for institutional and corporate property owners that sell assets to REITs. The Japanese Government has provided a facility for J-REITs to purchase or refinance bonds coming due and has thereby shored up investor confidence. It has also removed tax obstacles to REIT mergers.
Overall international REITs provides a broad hedge in the real estate sector. By diversifying the portfolio with international REITS we can not only hedge the risk but we can increase our returns too.
Disclaimer: MyPlanIQ does not have any business relationship with the company or companies mentioned in this article. It does not set up their retirement plans. The performance data of portfolios mentioned above are obtained through historical simulation and are hypothetical.
Disclosure:
I have no positions in any stocks mentioned, and no plans to initiate any positions within the next 72 hours.