With the fast-rising prices for silver and gold that have set new all-time highs this past week of April 2011, many investors must be wondering, what does one do to take advantage of this situation?

It does seem to the author that there is a distinct lack of media attention covering the precious metal rise. As always, there seems to be an equal number of bears calling the rise in prices a bubble and signalling danger versus an equal number of bulls calling for a further rise to $50 USD and beyond, based upon currency debasement. For myself, I see further gains based upon supply and demand factors of the emerging markets growth, and I will watch with interest.
As for a prediction for the silver price, based upon a quick look at the charts and the application of some Elliott Wave's principles, I call for silver to rise to between $42 to $48 USD, before a slight correction, and then further moves upwards. Perhaps, I will clarify this prediction with some details on my blog later.
Silver Equities Price Charts
To clarify what is happening in the markets, an examination of the charts always helps. Following are a baker's dozen of the silver equities that I use to gauge the silver market's state.
iShares Silver ETF (NYSEARCA:SLV)

The SLV silver ETF is very important to watch as a proxy for the price of silver. The chart of the SLV performance since summer of 2010 is as follows: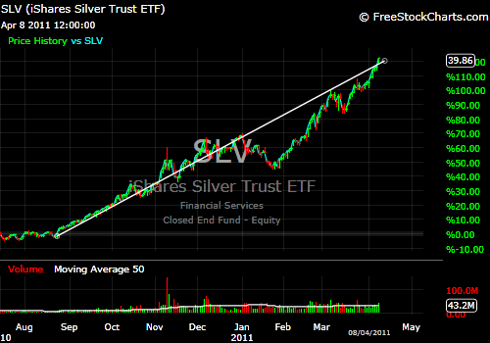 The start date of these charts is chosen to be August 2010, the beginning of the strong upward trend for silver, that is fully apparent in the chart designated by the white line. It helps an investor in the markets, that there is a strong underlying sector trend. With this strong silver trend then, if you have silver equities in your portfolio, you might just be having a tough time from keeping a smile off your face.
Global X's ETF of Silver Miners (NYSEARCA:SIL)

This SIL is a new ETF started in spring of 2010 to capitalize upon the interest in silver miners. Following is a listing of the fund's major holdings for some company investing ideas:
SIL Holdings
Data as of 4/8/2011 SIL Fund Holdings
| | | | | | | |
| --- | --- | --- | --- | --- | --- | --- |
| | % of Net Assets | Name | Identifier | Market Price($) | Shares Held | Market Value($) |
| | 12.55 | SILVER WHEATON CORP | 828336107 | 46.91 | 1,785,195.00 | 83,743,497.45 |
| | 10.37 | INDUSTRIAS PENOLES CP | 2448200 | 37.76 | 1,831,787.00 | 69,171,175.13 |
| | 10.35 | FRESNILLO PLC | B2QPKJ1 | 26.94 | 2,562,401.00 | 69,030,786.85 |
| | 10.27 | PAN AMERICAN SILVER | 697900108 | 42.65 | 1,606,851.00 | 68,532,195.15 |
| | 7.23 | FIRST MAJESTIC SILVER | 2833583 | 24.60 | 1,961,733.00 | 48,259,164.82 |
| | 5.42 | COEUR D'ALENE MINES CORP | 192108504 | 36.69 | 985,057.00 | 36,141,741.33 |
| | 5.21 | SILVERCORP METAL USD | 82835P103 | 15.99 | 2,175,448.00 | 34,785,413.52 |
| | 4.40 | SILVER STANDARD RESOURCES | 82823L106 | 35.08 | 837,243.00 | 29,370,484.44 |
| | 4.30 | HECLA MINING COMPANY | 422704106 | 9.76 | 2,941,960.00 | 28,713,529.60 |
| | 4.16 | POLYMETAL GDR | 731789202 | 21.60 | 1,285,845.00 | 27,774,252.00 |
| | 4.00 | HOCHSCHILD MINING PLC | B1FW502 | 10.19 | 2,616,503.00 | 26,657,934.14 |
| | 3.31 | MINEFINDERS CORP | 602900102 | 15.31 | 1,442,729.00 | 22,088,180.99 |
| | 2.55 | ENDEAVOUR SILVER CORP | 29258Y103 | 12.37 | 1,373,048.00 | 16,984,603.76 |
| | 2.43 | FORTUNA SILVER MINES INC | 2383033 | 6.72 | 2,409,239.00 | 16,189,159.55 |
| | 2.04 | BEAR CREEK MINING | 2578668 | 11.15 | 1,218,354.00 | 13,585,366.48 |
| | 2.03 | MAG SILVER CORP | 55903Q104 | 14.48 | 933,861.00 | 13,522,307.28 |
| | 1.55 | GREAT PANTHER SILVER LTD | 2926472 | 4.28 | 2,413,294.00 | 10,340,166.58 |
| | 1.55 | ALEXCO RESOURCE CORP | 01535P106 | 9.78 | 1,056,987.00 | 10,337,332.86 |
| | 1.09 | ECU SILVER MINE | 2810575 | 1.11 | 6,563,408.00 | 7,270,574.23 |
| | 1.09 | GOLDEN MINERALS CO | 381119106 | 24.15 | 299,966.00 | 7,244,178.90 |
| | 1.02 | ORKO SILVER CORP | 2872605 | 2.77 | 2,457,796.00 | 6,806,520.43 |
| | 1.00 | SCORPIO MINING | 2503381 | 1.64 | 4,085,970.00 | 6,703,911.49 |
| | 0.82 | EXCELLON RES | 2311249 | 1.07 | 5,139,524.00 | 5,478,435.03 |
| | 0.65 | US SILVER CORP | B182KL5 | 0.82 | 5,291,480.00 | 4,313,255.72 |
| | 0.46 | MINCO SILVER CORP | B0SL8P5 | 6.72 | 460,271.00 | 3,092,844.11 |
| | 0.19 | MINES MANAGEMENT INC | 603432105 | 3.09 | 403,554.00 | 1,246,981.86 |
| | 0.01 | MAG SILVER CORP CAD | 2581332 | 14.46 | 4,640.00 | 67,110.04 |
| | 0.01 | CASH | CASH | 1.00 | 35,344.49 | 35,344.49 |
| | 0.00 | BROWN BROTHERS SWEEP | BBHMM | 1.00 | 32,365.71 | 32,365.71 |
| | 0.00 | BRITISH STERLING POUND | GBP | 1.64 | 56.92 | 93.16 |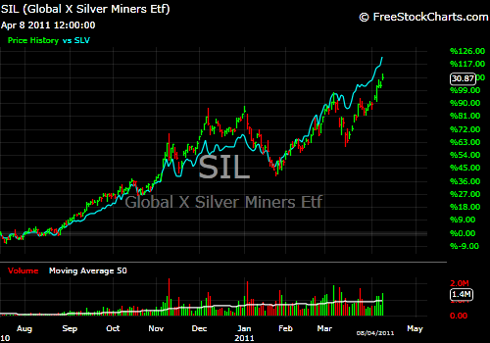 The trace of the SIL is set against the silver blue trace for the SLV, to give a relative indication of how the silver miners are leveraging the price of the silver metal itself. The right scale is calibrated in percentages to view the gains since the start of the silver run from August 2010.
Interestingly, in the above chart, the SIL does show positive and negative leverage to the silver prices. Presently the equities in the fund are lagging the price of the silver metal. Perhaps this lag action is an indication that the silver run still has some distance to run further.
First Majestic (NYSE:AG)

If you are an investor in First Majestic, congratulations -- Mr. Neumeyer, CEO deserves a lot of credit for masterfully managing the 500% rise of First Majestic as depicted in the chart following: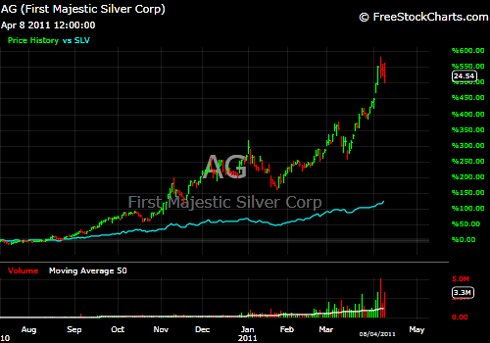 Note the tremendous leverage that First Majestic has obtained relative to the rise of the silver price. Obtaining a prime listing for AG on the New York Stock Exchange and choreographing and positioning the company to take advantage of silver's bull run was certainly well done by the company management.
Silver Wheaton (SLW)

Silver Wheaton is the author's crème de la crème of silver stocks, with their unique business model of collecting royalties on silver sales from their miner partners. The price action for Silver Wheaton is shown following: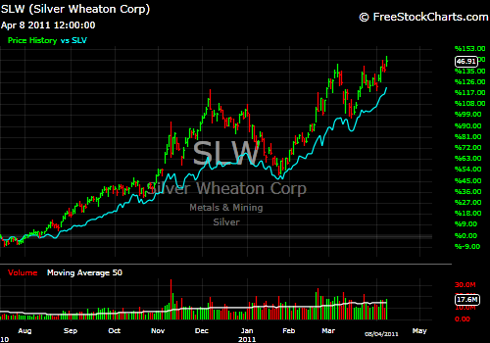 Silver Wheaton has leveraged the silver price since the beginning of the run, last summer and has not looked back since. Silver Wheaton is sporting a 140% gain. Note that Silver Wheaton is quite volatile, moving upwards and downwards quite violently in response to the changing price of silver.
Coeur D'Alene (NYSE:CDE)

The Coeur has struggled over the past few years to bring their three major mines into full production. Their stock price chart follows: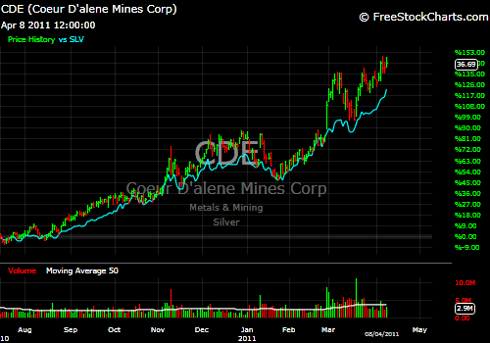 CDE has mainly followed along in the silver's price footsteps, until their 2010 financial report at the end of February 2011. Then based upon the promising report with three mines in production, the San Bartolome silver mine in Bolivia, Palmarejo gold/silver mine in Mexico and Kensington gold mine in Alaska, the Coeur has rallied recently.
Pan-American Silver (NASDAQ:PAAS)

Pan-American Silver is the operator of eight mines in Mexico, Peru, Argentina and Bolivia, and expects to produce between 23-million and 24-million ounces of silver this year. Their chart follows: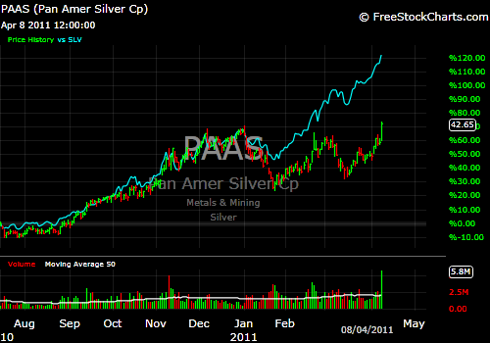 Pan-American generally followed the trace of the silver price in performance until they released their annual results in January 2011. They reported that production in 2011 is expected to be slightly lower, and the market sold off the stock as a result.
Hecla Mining (NYSE:HL)

Hecla Mining is the operator of two main silver mines, their Lucky Friday, Idaho and Greens Creek, Alaska mines, both located in the US. Their price chart follows: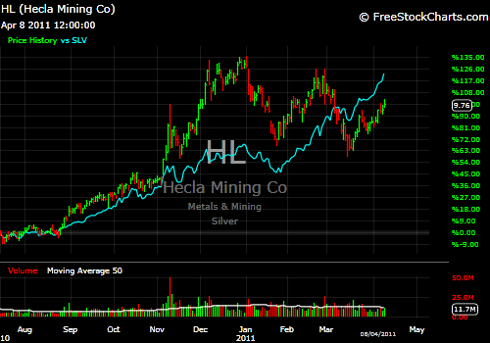 Hecla showed great leverage to the silver price in the fall and their 2010 fourth quarter was very good. Hecla's 2010 financials were record highs of $418 million in revenue, reported in February 2011. However, the ghosts of previous operators' environmental liabilities came back to haunt their share price, and Hecla is now underperforming the silver price.
Silver Standard (NASDAQ:SSRI)

Silver Standard is an evolving silver producer that is bringing their Pirquitas Mine in Argentina to full production. Their chart price is following: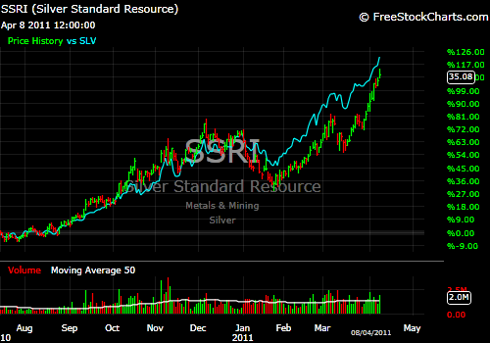 Since December 2010, their stock price has lagged the silver price, since their two largest prospective properties in British Columbia Canada, were 50% sold off to their previous CEO's new company Pretium.
US Silver (OTC:USSIF)

US Silver operates the combined Coeur, Caladay and Galena mines in Wallace, Idaho. Their stock price chart follows: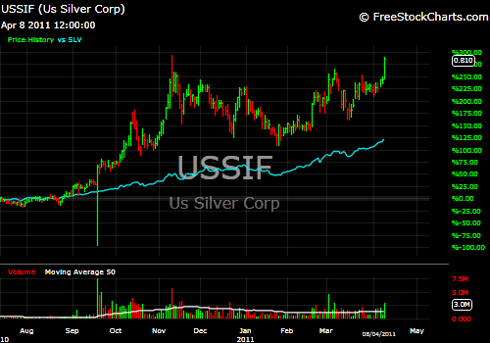 US Silver is a relatively higher cost producer with their high grade underground mines and shows high leverage to the silver price as the silver price rises. There is speculation that US Silver is a possible acquisition candidate due to their proximity to the Coeur and Hecla mining operations.
Canadian Zinc (CZICK.PK)

Canadian Zinc is a high grade silver zinc mine associated with the Hunt brothers of silver mania fame in the 1980s. The stock price chart follows: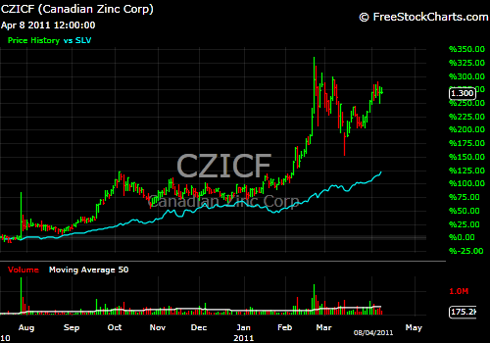 Canadian Zinc's stock price is showing increasing interest as time draws near for their critical water usage environmental permit. Here is a previous interview with their COO. Their mine is 95% complete, yet has not operated since being built in the 1980s. 2011 will be an interesting year for this misnamed silver junior.
Silvermex (GGCRF.PK)

Silvermex is the consolidation of two silver juniors in Mexico, previous Genco Resources and the older Silvermex. Here is a previous interview with Genco's CEO prior to the merger. The chart price for Silvermex follows: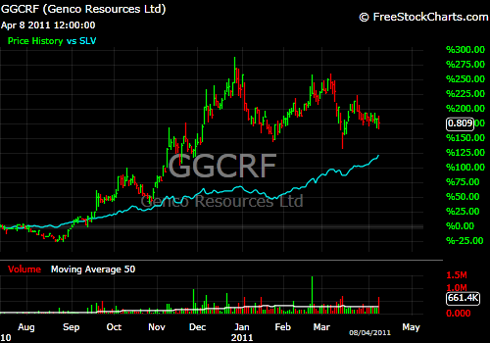 Silvermex is showing strong leverage to the silver price that has fallen off recently due to the disappointing 2010 financials, just released. The company is in the process of revamping their operations with new management and strategy. 2011 will be an interesting year for Silvermex.
Excellon (OTCPK:EXLLF)

Excellon is a smaller producer in Mexico, searching for a large carbonate replacement mantos type deposit. As the chart price shows following, they have not yet found the spark: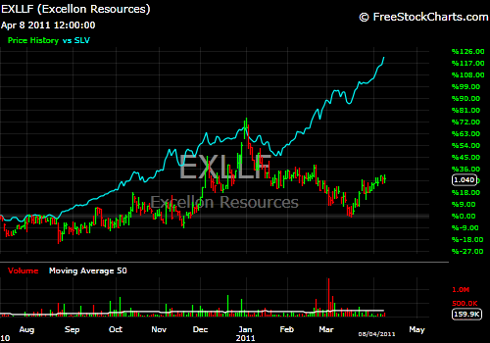 The type of deposit that they are searching for are typically large and formed from high grade lenses of a substantial quantity of ore. They are presently preparing for drilling this summer.
Goldcorp (NYSE:GG)

Are you surprised that the one of the big three Golds is here in this article about silver stocks? Well, you should not be. Goldcorp was the author of the genesis of Silver Wheaton. Silver Wheaton was originally started in 2004 as a side operation to add value to Goldcorp by purchasing the silver production. Goldcorp divested the remaining ownership of Silver Wheaton in 2008. Goldcorp has sold 25% of the future production of silver at their cornerstone mine, Penasquito in Mexico, to Silver Wheaton. But Goldcorp still has the other 75% left of the world's largest silver deposit in the world, 1.1 billion ounces of reserves. The Penasquito Mine is Mexico's largest mine, and is expected to reach design capacity in 2011, with production of 500,000 ounces of gold, 28 million ounces of silver, 450 million pounds of zinc and 200 million pounds of lead annually.
The chart of Goldcorp follows: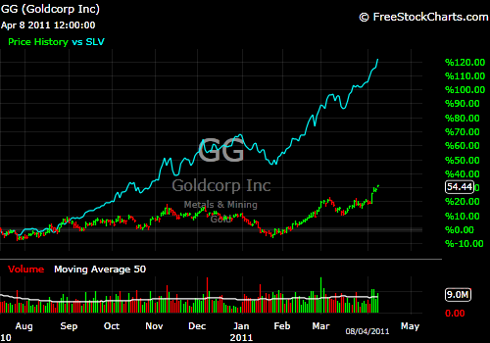 Note that Goldcorp has been range bound for most of 2010, even with rising gold and silver prices. The performance of Goldcorp may now be taking a turn for the better. Goldcorp pre-announced their 2010 production in January 2011 and their shares have risen by 30% since then.
Marco, isn't this against your modus operandi, do you not just specialize in small mining juniors? Yes, I do, and I do that mainly because smaller mining stocks with a small stock price usually mean the possible gains are much easier. However, there is a promising strategy in Goldcorp with their smaller-priced warrants, which I detailed in an earlier post here.
Well, readers, the above baker's dozen of silver equities are the prime ones that I keep an eye upon. They are summarized in the table following along with their gains since August 2010:
Comparison of Silver Equities Gain Since Aug 2010

Company

Symbol

%Gain

iShares Silver Trust ETF

SLV

123%

Global X Silver Miners ETF

SIL

112%

First Majestic Silver Corp

AG

525%

Silver Wheaton Corp

SLW

140%

Coeur D'Alene Mines Corp

CDE

142%

Pan-American Silver Corp

PAAS

72%

Hecla Mining Corp

HL

100%

Silver Standard Resources

SSRI

110%

US Silver Corp

USSIF

290%

Canadian Zinc Corp

CZICF

270%

Silvermex Resources

GGCRF

180%

Excellon Resources

EXLLF

28%

Goldcorp Inc

GG

30%
My Stocks in This Silver Situation
Silver has performed sensationally since summer of 2010, giving over a 100% gain. Again, I admire the spectacular performance of First Majestic Silver in their over 500% gain since August of 2010. The author does not like chasing stocks that have run up, so it is enough that I admire the performance and congratulate the management and stock holders that were astute.
The major silver stocks examined above are following the silver price gains with fluctuations dependent upon their specific operating circumstances. Silver Wheaton and the Coeur are two standouts in that they are providing a bit of leverage to the silver price.
The minor silver stocks, US Silver Corp, Canadian Zinc and Silvermex Resources have all turned in multiples of the silver price gains. This is due to their specific situations and the fact that they are smaller Junior miners looking to start and or expand their operations.
The special situation of Goldcorp, is that of a glamorous gold and silver producer, that is just bringing Mexico's largest mine into full production in 2011.
There is also special situation of Excellon Resources, a junior producer/explorer that is searching for the mother lode.
I hold a position in Silvermex presently,as it is currently bargain-priced. I am looking to re-enter positions in US Silver, Canadian Zinc and Goldcorp warrants. As for Excellon Resources, I am watching the prices for an entry. Should these smaller companies execute well this year, I look forward to gains as the silver price rises. Stunning price rises such as accomplished by the "First" silver security would be just stunning, should they occur.

Disclosure: I am long GGCRF.PK.I may initiate positions in GG.WT, CZICF.PK, USSIF.PK, EXLLF.PK in the next 72 hours.


Important Disclaimer: The information and opinions contained within this document reflect the personal views of the author and should be viewed as food for thought and amusement only. The author may from time to time have a position in any of the securities mentioned. There are no guarantees of the accuracy, reliability or completeness of the information contained herein. Independent due diligence and discussions with one's own investment and business advisor is strongly recommended. These writings are not to be construed as an offer or solicitation with respect to the purchase or sale of any security or as an endorsement of any product or service. We do not request or receive compensation in any form in order to feature companies in this publication. It is prohibited to copy or redistribute this document to any type of third party without the express permission of the author. This document may be quoted, in context, provided proper credit is given.