New investors usually learn the hard way not to chase stocks. Perhaps something like this happens:
News comes out and the stock jumps 20% in one day. The message boards are chock full of bullish comments on how the shares will triple in the next few weeks. The new investor's heart rate is pounding as he tries to exercise self-control and wait. The stock pops another 3% and he can't take it anymore. He buys in. What seems like seconds later, the stock begins retracing as losses quickly pile up. Angry and frustrated, the investor pulls out of the stock. Weeks later, he notices that after the pullback the stock rose over time. Frustrated, he wonders how he can time his buying with hot stocks in the future.
Stock Trading and Momentum
Much research has already went into the study of momentum and this has been widely reported on. A good read in this regard is from authors Narasimhan Jegadeesh and Sheridan Titman in a paper called Momentum.

In a nutshell...
Stocks that beat the market over periods of 3 – 12 months usually continue to outperform the market over the following year.
In another paper by Jegadeesh however, he noted that stocks beating the market over the past month underperformed the market in the following month. Is trading using one month momentum periods a failure?
One Month Sector Rotation
A paper called, Relative Strength Strategies for Investing, by Mebane T. Faber used a one month sector rotation strategy profitably from 1973 – 2009 and achieved 70% higher gains than the buy-and-hold strategy over equal periods (17% annually vs. 10%). Since 1928, this simple strategy outperformed buying and holding 70% of the time.
What is the method? He would simply hold the one to three top performing sector funds. Every month he would re-evaluate and make sure his two holdings only represented the top performers. Capital is spread equally across funds if using the top 1, top 2, or top 3 funds.
Tracking Sector Performance
Tracking sectors can be achieved with such sites as Select Sector SPDRs. The top 2 performing sectors over the last trailing 30 days are Energy (NYSEARCA:XLE) and Materials (NYSEARCA:XLB). (The S&P 500 in the chart below is tracked using the SPY fund)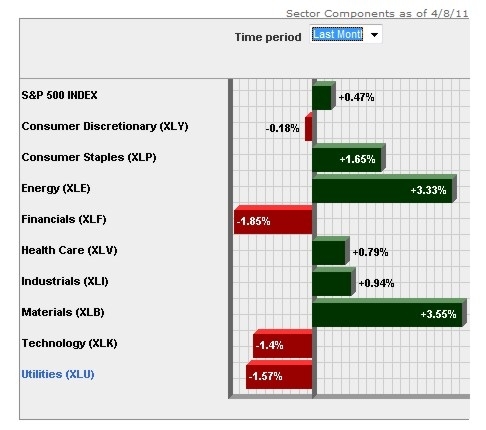 Is that where our strategy ends? It need not be if we want to combine some other high momentum stocks over the past 52 weeks.
Strong Stocks in Hot Sectors
From here we can drill down to pick strong 52 week stocks within each sector. Of course, keep in mind that as we do so, our risk goes up as we are increasing localization rather than spreading risk across an entire sector. Transaction costs could become a problem if we buy many stocks and sell them monthly. This method is suitable for higher risk momentum traders. If you want to follow a simple rule with one or two transactions per month, follow the sector strategy above.
(If you prefer to find stocks with accelerating fundamentals such as high-growth revenue or accelerating earnings growth CAN SLIM style, check out the two accompanying articles)
Sector: Basic Materials and Energy

The stocks below all have very strong 52 week momentum and are in the top 2 performing sectors.
Based on your preference for company size, you could trade the top one to three stocks in your desired market cap category.

Remember that this combination of momentum strategies does not rely on digging through financial statements. It is a quick method that relies on trading momentum to carry prices as you toggle between hot sectors, and possibly hot stocks within those sectors for a strategy that has been shown to provide excess gains over long periods of time.

Disclosure: I have no positions in any stocks mentioned, and no plans to initiate any positions within the next 72 hours.