In only three months, 2011 has given us a lot of things that we probably hadn't been expecting in early January. $40 an ounce silver, an incredibly weak US dollar, $112 a barrel oil, geopolitical unrest, and nuclear reactor failure. Commodities and metal currencies really look like they're bound to continue their rally unless we get some action from the Fed on the weak dollar, so what are we going to do with all the cash we're holding?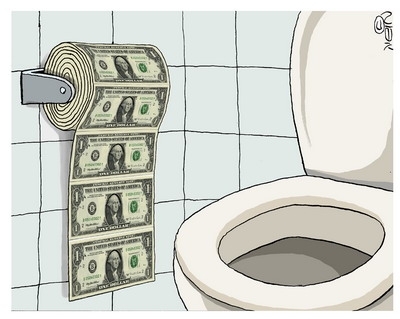 This article is intended for those who are looking to diversify their long term negative stance on the US dollar. Don't want to dabble in forex trading? Already holding a lot of gold or silver exposure? Here's 5 tickers that are worth of look if you're still bearish on the buck.

1) Powershares DB Agriculture Fund (NYSEARCA:DBA)

This is my favorite overall fund for inflation. Why? Well, the fund holds futures contracts in agricultural commodities like cattle, corn, coffee, sugar, cotton, wheat and others. Unlike other funds who hold equity in the agri-sector, the futures held by the fund will have a much more immediate effect from increasing food prices. This, in addition to the natural overall demand for food make this a perfect way to play inflation with stomachs around the world to support your prices.

Below is the DBA chart, which has been trading sideways for the time being but will undoubtedly be prepared for another leg up if food prices rise. I believe $34.00 is a very solid entry point for a fraction of your position if you can get it.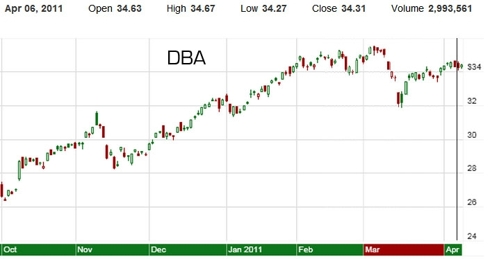 2) ETFS Physical Palladium Shares (NYSEARCA:PALL)

This is the ETF for investing palladium since it's backed by a huge pile of physical palladium, which has a dual-role as a precious metal and an industrial catalyst for absorbing hydrogen. It has high sensitivity to automobie markets, as more than half of palladium is used for catalytic converters. This ETF follows palladium's spot price almost perfectly, with only a few seconds of delay. I have been following and trading in and out of PALL for quite a while, and I predict that the metal's demand will remain solid while the supply remains questionable. The dollar's decline has also not been "priced" into the metal, as other commodities have strongly outperformed palladium.

Palladium has recovered very nicely from its massive drop in March, and has a chart not too unfamiliar. The Fukushima incident caused an irrational fear of all things automobile related, and palladium took the hit hard. It has recovered very quickly however, and may begin testing its old 52-week high very soon. Trade accordingly.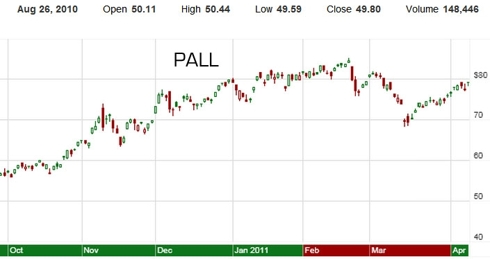 3) ETFS Physical Platinum Shares (NYSEARCA:PPLT)
This ETF is essentially the same thing as the palladium one, but holds the better known metal platinum. As palladium's more expensive big brother, it has more status as a precious metal and has a little bit less focus on the auto industry. Other than that, the two metals are almost similar although their price action has varied in the past.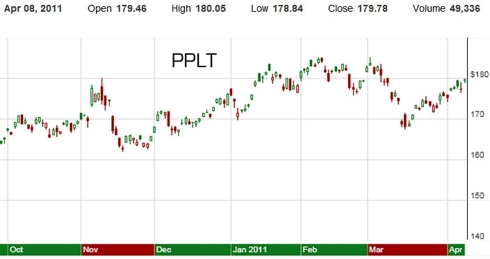 4) UBS Livestock Subindex Total Return ETN (NYSEARCA:COW)
Bet on the bulls to be bulls!
This is a very straightforward ticker. It's a more specific way to play agriculture with less focus on overall inflation, betting directly on livestock prices themselves. Investing variables including increasing costs for livestock upkeep from rising corn and farmland prices, stronger demand on a better economy and increasing population and the chart itself make this look like an attractive asset right now. Look for the pullback to end, followed by a potential snap back up to the 52-week high of $33.09.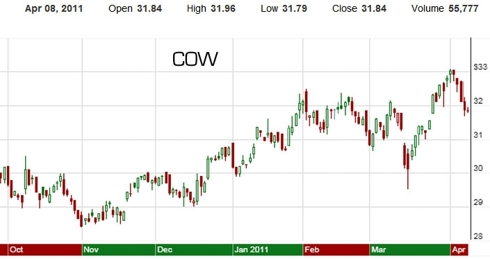 5) Teucrium Corn Fund (NYSEARCA:CORN)
Another easy ticker to remember, CORN mimics the price of the vegetable through futures. Compared to livestock, corn has a more fundamental role as a food source in the United States (they feed cows with corn after all). Things also get more complex factoring in the corn subsidies produced by the government and the fact that supply control is easier for this commodity.
Still, this vegetable is absolutely essential to our food production and will hold its value if the dollar takes another turn for the worse. Overall, it's another way to run from the greenback. This fund has just broken a new high lately along with the commodity itself, so beware of a possibly correction in the short term. Still long term bullish on the commodity though.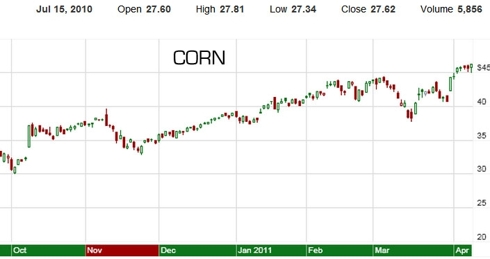 Happy trading, and put those dollars to work!



Disclosure: I have no positions in any stocks mentioned, and no plans to initiate any positions within the next 72 hours.