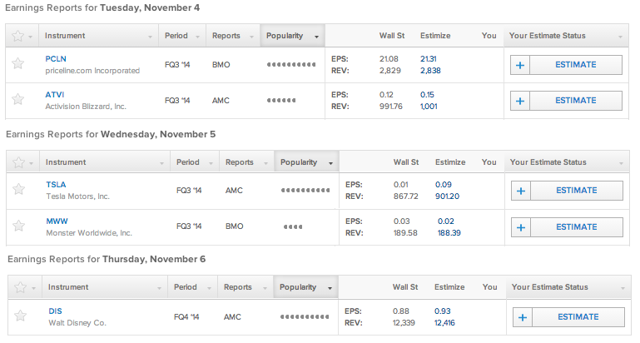 Tuesday
Priceline.com (PCLN)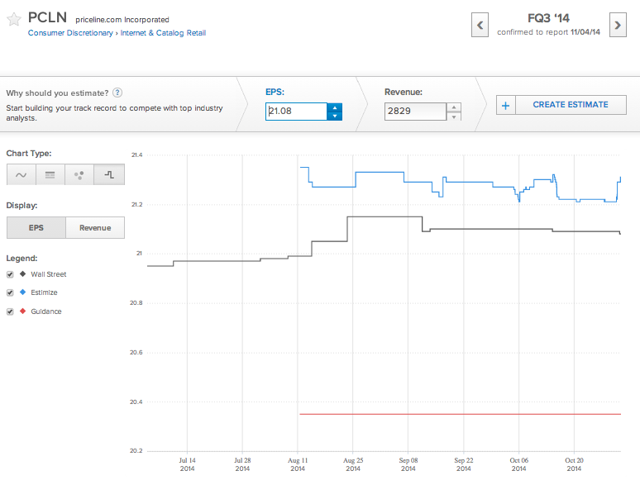 The Estimize consensus jolted higher at the end of last week after Priceline's peer Expedia posted great results. Expedia (NASDAQ:EXPE) reported profits of $1.93 per share, topping the Estimize consensus of $1.79 and beating Wall Street's forecast of $1.75.
Expedia was boosted by increased hotel demand; the travel company saw its gross books increase by 29% on a year-over-year basis. Since hearing the news from Expedia, analysts on Estimize have raised their EPS consensus estimate 10 cents higher from $21.21 to $21.31.
Analysts on Estimize are looking for Priceline.com to increase its revenue by 25% compared to the same quarter of last year. That would be an even better relative gain than Expedia's 22% sales growth despite Priceline doing more than double Expedia's total revenue in the pending quarter.
Activision Blizzard (NASDAQ:ATVI)
Much like how a strong quarter from Expedia is influencing estimates on Priceline, we've seen better-than-expected results from gaming companies and the expectations are high for Activision Blizzard.
Earlier in the season Electronic Arts (NASDAQ:EA) reported earnings of 75 cents per share compared to the Estimize consensus of 55 cents while the Street was at 53 cents. Take Two Interactive Software (NASDAQ:TTWO) also beat expectations losing only 44 cents per share while the Estimize community forecast -46 cents and Wall Street was at -48 cents.
Activision Blizzard owns several recognizable franchises such as Call of Duty, Warcraft, and Diablo. This quarter, there's a lot of hype around a game called Destiny which launched on September 9th with much fanfare and a huge marketing campaign.
An expansion for Diablo 3 on Sony PlayStation and Microsoft Xbox consoles was also released this quarter which is expected to be a winner. World of Warcraft will continue to be a steady stream of income for ATVI and relatively young freemium virtual trading card game, Hearthstone, has also been a tremendous success on desktop and tablet.
Wednesday
Tesla (NASDAQ:TSLA)
Contributing analysts on Estimize have much higher expectations from Elon Musk and co. than Wall Street. The Estimize community is expecting the electric car company to report profits of 9 cents per share compared to the Wall Street consensus of just 1 penny.
This quarter CEO Elon Musk unveiled a more efficient Tesla D Model S supercar with dual motors. The D can do 0 to 60 in a blurring 3.2 seconds putting it on par with the world's elite high performance vehicles.
Tesla also announced that progress on its autopilot for self driving cars is ahead of schedule. Cars being built at the Tesla factory today include all the necessary hardware for self driving, but the software technology is still being perfected.
Investors will also be hoping to get some information about the launch of the forthcoming Model X. Analysts will hope to see the Model X launched in the spring or summer of 2015 rather than having it pushed back to the fall.
Monster Worldwide (NYSE:MWW)
The parent company of jobs board site Monster.com is set to report on Wednesday. Although the September jobs report came in much better than expected, analysts on Estimize are not expecting much from Monster. The Estimize community is expecting Monster to miss the Wall Street consensus on both the top and bottom line.
One point of weakness for Monster could come from increased competition from alternative online recruiting tools. Last week LinkedIn (LNKD) reported its 3rd quarter earnings and saw its recruitment division, Talent Solutions, grow revenues by 45%.
Regardless of the why, contributors on Estimize are setting the bar low for Monster on Wednesday.
Thursday
Disney (NYSE:DIS)
The Happiest Place on Earth will deliver the final major report of the week on Thursday. Over the past 3 quarters, Disney has put up 3 large earnings beats.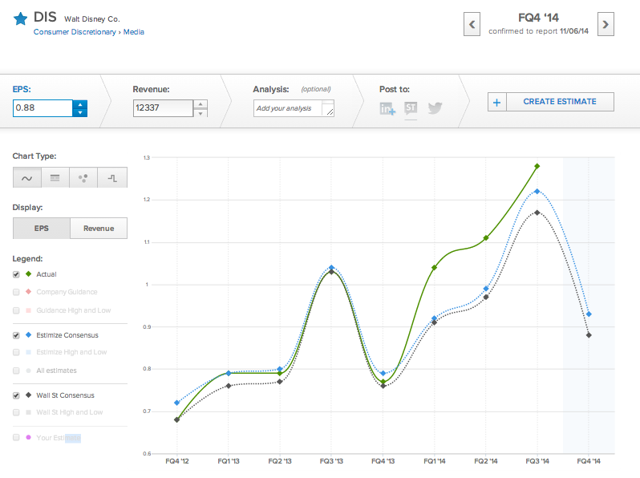 Last quarter, Disney's Parks and Resorts segment grew 8%. In the parks, Disney is now using its own wearable technology, MagicBands, to enhance its guests' experience and collect data.
MagicBands can be used by guests to unlock their hotel door, check in for FastPass on select rides, enter parks, and make quick payments for merchandise and food. By collecting visitor data, Disney should be able to learn about guest behavior and make optimizations that improve guests' experiences while driving higher profitability.
On the content side of its business, Disney has been impeccable. Frozen has been the gift that keeps on giving. Friday night on Halloween, there were zillions of children dressed as characters from the hit animated movie.
Last quarter, Disney's net income from cable networks decreased 7% to 1.9 billion. According to Disney, the drop came largely from ESPN, but was partially offset by relative strength in ABC Family. Cable will likely continue to be an area of pressure for Disney as consumers increasingly are getting content from streaming and on demand web platforms like Netflix (NASDAQ:NFLX).
Disclosure: None.