Since the twin August catalysts of the launch of its Groupon-like Spotlight service and the Fed's speculative bubble inducing QE2, OpenTable (NASDAQ:OPEN) shares have been on a tear. They have more than doubled from an already-frothy valuation and continue to hit new highs with every news story written about Groupon's potential $25B IPO.
Travelzoo (NASDAQ:TZOO) appears to be following the same pattern. However, I believe that investors are overlooking one key problem: Spotlight is not really going all that well, trending worse and seeming unlikely to be a material contributor to revenue in the near term. It is certainly not performing remotely like Groupon, so investors hoping that OpenTable's business gets a "Groupon effect" look bound to be disappointed.
OpenTable launched the first Spotlight weekly $25-for-$50 restaurant coupon deals in New York and Boston in August 2010. Spotlight was then rolled out in Atlanta, Chicago, Los Angeles, San Francisco, Washington DC, Philadelphia and Denver over the course of Q3. Since then, the pace of new market launches has slowed considerably, with no new cities added during Q4 and only London and Minneapolis-St. Paul launched in Q1 2011.
OPEN also began offering two deals per week in its three largest markets, New York, San Francisco and Los Angeles. The most recently introduced market of Minneapolis is apparently only supporting one offer every other week. More importantly, the total number of coupons sold per week and per offer has slowed considerably over the course of Q1 and the first week of Q2 is now running at just over half the run rate as the first couple of weeks of the year.
I've been tracking Spotlight since its launch and noticed a pattern: New market launches start strong and then fade over time as the customer base gets inundated with a new fine dining coupon offer every week. Spotlight coupon sales ramped rapidly as OPEN brought on new markets; but absent the launch of new markets, sales are trending down. Judging from the slow start in Minneapolis, it is unclear how many more attractive markets OPEN has to expand in.
As you can see from the graph below, overall coupon sales initially ramped nicely as the company rolled out new markets, cooled down near the end of 2010, and then started 2011 strong. However, with only two new markets launched in the first quarter, both total coupon sales and sales per offer have trended down substantially over the course of Q1. In fact, the total number of coupons sold per week started out Q1 2011 at over 12,500, but are down almost 50% to roughly 6,800 per week over the past month. In other words, the company began the year selling Spotlight coupons at about an $8M annual net revenue run rate (12,500 coupons x $12.50 x 52 weeks, assuming OPEN keeps 50% of the sales price). By the end of the quarter, the run rate was closer to $4.5M annually and trending downward.
[Click to enlarge]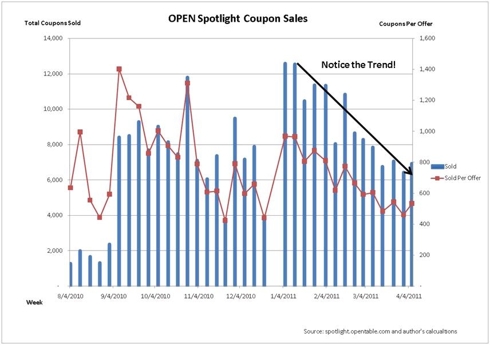 What does this mean for the success of the Spotlight initiative and OPEN's valuation? In my opinion, the implications are decidedly negative. The excitement around Groupon is largely due to its mind-boggling ramp, allegedly from zero to a $3-4 billion annual revenue run rate in three years. By contrast, OpenTable's Spotlight initiative went from zero to an $8 million run rate in five months, and then back down to a $4.5M run rate over the next three.
While I can't deem Spotlight a complete failure, it is definitely no Groupon. Although I believe that TZOO's valuation is questionable as well, at least its local deals initiative has reportedly ramped over about the same period of time to an estimated $5.5M of revenue (not run rate) in Q1 of 2011 alone. Travelzoo recently hired the co-founder of Restaurant.com to beef up its local restaurant deal offerings, and in its last earnings call highlighted it outsold OpenTable for an offer on a particular restaurant customer. The daily deal space is now choked with competitors that also sell restaurant coupons, not the least of which is Groupon itself.
While I am sure OpenTable will grow Spotlight somewhat from here by launching new markets, it appears that either due to competition or the reluctance of high-end restaurants and diners to adopt couponing, its market opportunity is constrained. If Spotlight's 10th U.S. market (Minneapolis) can only support one coupon every other week, I seriously doubt adding markets #11-#20 will even come close to doubling the business. In fact, unless the trends turn around, I question whether Spotlight will even reach a $10M run rate in the next two to three years.
In the initial Groupon-induced excitement around Spotlight's launch, many sell-side analysts posited OpenTable could expand Spotlight to 40-50 cities with a deal a day in the big ones and modeled tens of millions of revenue in 2012 and beyond. A recent wildly bullish report from Citi (NYSE:C) justified its $108 price target with a number of absurd sell-side spreadsheet extrapolations -- among them the idea that North America subscription and reservation revenue would grow at a 29% CAGR for the next five years (i.e. growth won't slow down at all from the Q4 2010 rate over that time) and achieve an implied 60% operating margin for North America (an operating margin not observed in even the best network effects business models such as eBay (NASDAQ:EBAY), Google (NASDAQ:GOOG) or Microsoft (NASDAQ:MSFT)).
Perhaps most absurdly, the analyst had Spotlight in 120 cities around the world. What's even more amazing is that even this extremely optimistic analyst recently downgraded on valuation. Unless OPEN can change the trends at Spotlight or make up for it in other areas of the business, analyst revenue estimates are going to have to come down. Declining analyst revenue estimates are not generally good for a frothy stock. Even $10M in Spotlight revenue would be a pretty flimsy support for the more than $1.2 billion in market capitalization that OPEN has added since August.
Disclosure: I am short OPEN.