Last month I published an interview on Seeking Alpha with Whatstrading.com options strategist and Seeking Alpha contributor Frederic Ruffy about manipulation and the options market. Ruffy concludes that it's not necessarily manipulation that pins stocks to a particular price at options expiration; rather, it involves what amounts to a statistical phenomenon known as the theory of maximum pain.
Max pain basically states that an underlying stock will gravitate towards the strike price where the greatest number of options contracts will expire worthless. I use OptionPain.com's calculator to compute the maximum pain price for relatively volatile and/or highly-watched and traded stocks that investors often believe suffer from manipulation at the hands of big-time traders. I have used this calculator for awhile and found that it performs reliably. It uses a formula close to the one Ruffy describes in the article. By "reliable," I don't mean that it predicts where a stock will land on options expiration day; rather, I mean that it calculates the max pain price correctly based on the available information.
[Click all to enlarge]
Apple (NASDAQ:AAPL)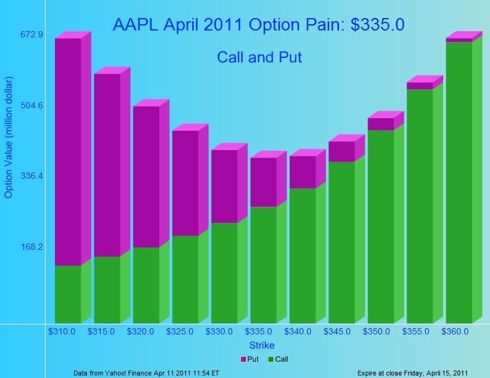 Amazon.com (NASDAQ:AMZN)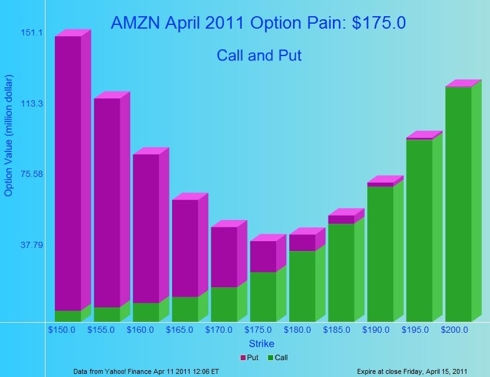 Netflix (NASDAQ:NFLX)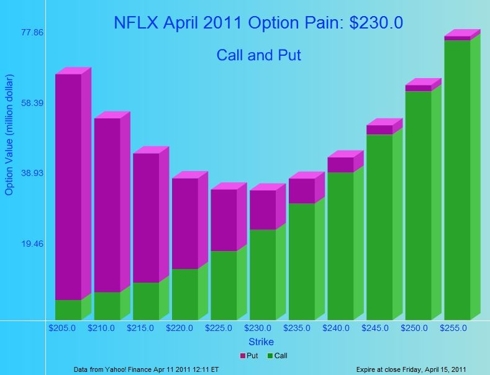 Goldman Sachs (NYSE:GS)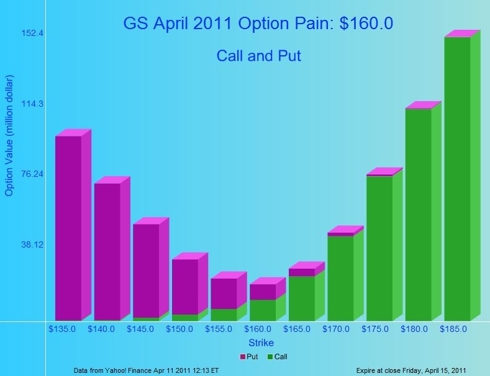 As noted in the charts, each one uses April 2011 options, which expire at the end of this week. You have to use your thinking skills to get your head around the bars. The max pain price sits at the strike where options contracts, both puts and calls, are worth the least. From an option writer's standpoint, low value equals a good thing, as it indicates option contract holders are stuck with positions that will expire worthless. In other words, options at the max pain strike price present the least value to the collective universe of option contract owners. This, clearly, benefits traders who write or sell options contracts.
Two other stocks provide examples where other factors enter the equation and may work in concert with or completely render the theory of maximum pain useless. Stocks that report earnings close to options expiration day and low-priced stocks deserve a different eye than the ones above, which, unless big news breaks, will not necessarily be driven by such factors.
Google (NASDAQ:GOOG)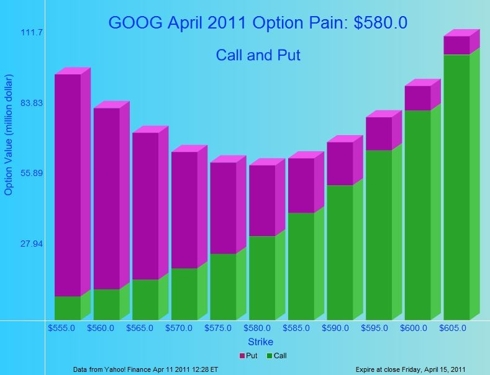 Google reports earnings on Thursday, one day before options expiration day. A blowout or disappointing earnings report from Google -- or something else that causes a major increase or decrease in the price per share after earnings -- could take control of the stock late on Friday.
Sirius XM (NASDAQ:SIRI)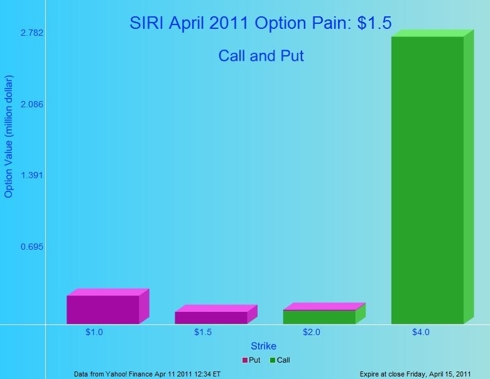 With every options expiration date comes yelps from SIRI shareholders that somebody, somewhere expresses disdain for the company by manipulating the stock down to a lower strike price. This chart -- and particularly how it evolves throughout the week -- should help inform that discussion.
Disclosure: I am short NFLX via long positions in NFLX put options.