The market finished October at all-time highs, riding investors' excitement over the surprise move by the Bank of Japan on Friday. We are now entering the second best month of the year for the Dow Jones Industrial Average (NYSEARCA:DIA), which means we could have seen the end of year rally for 2014 having started in late October. While the move by the BOJ might very well keep the US Federal Reserve on the sidelines for a bit longer, as the added liquidity in Asia could help the region without needing help from the US, we still think that the Fed will walk a very tight line in monetary policy with the mantra being 'do no evil'.
Investors are digesting some M&A deals this morning and there are rumors that a few more deals are in the works. In the US, there is a lot of attention being paid to the mid-term elections and the possibility of having both houses of Congress controlled by the Republicans. Historically, markets have done well when the executive branch and the legislative branch are controlled by different parties.
Chart of the Day:
The German market has continued to rally, but we are now entering an area with some upwards momentum. If European markets can continue their rebound, the next problem area is the 9,750 point level - an area we would look at selling some of the recently recommended exposure to Germany.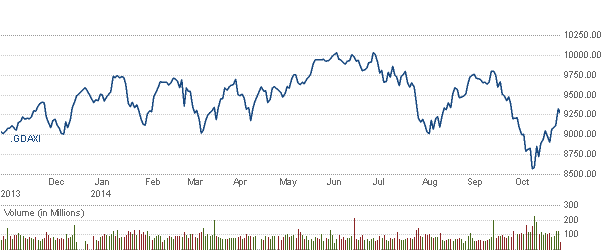 Source: CNBC
We have economic news today, and it is as follows:
ISM Index (10:00 a.m. EST): Est.: 56.2 Act: 59.0
Construction Spending (10:00 a.m. EST): Est.: 0.7% Act: -0.4%
Auto Sales (2:00 p.m. EST): Est.: N/A
Truck Sales (2:00 p.m. EST): Est.: N/A
The Asian markets are mixed today:
All Ordinaries - down 0.36%
Shanghai Composite - up 0.45%
Nikkei 225 - CLOSED
NZSE 50 - up 0.56%
Seoul Composite - down 0.58%
In Europe, the markets are lower this morning:
CAC 40 - down 0.71%
DAX - down 0.55%
FTSE 100 - down 0.68%
OSE - down 0.54%
Argentina Suspends P&G Operations
South America is becoming increasingly hostile to Western multinational companies. It used to be that Venezuela was the main problem country, but with socialist and other extremely liberal politicians being elected to office in numerous countries, investors now have to worry about a handful of countries. Lately, a lot of attention has been paid to both Brazil and Argentina, and today Argentina is once again in the news concerning their regulation of capital outflows from the country.
In what is most likely a political move to strike a blow to a high-profile American company as they continue to lose court cases in US courts over their defaults, Argentina moved to suspend Proctor & Gamble's (NYSE:PG) operations within their borders. It is unclear exactly what the halt of operations entails, as neither the company nor the country has commented on the state of operations. In Argentina, P&G has three manufacturing plants and two distribution centers.
This tax fraud case centers around how companies get capital out of the country with Argentina's laws on capital outflows. The laws are pretty strict and are designed to help the country's inflation and currency issues. In this instance, Argentina is alleging that Proctor & Gamble over billed around $138 million in imports so that it could take out an extra $138 million from the country as expenses and not have to pay taxes on what should have been income either. It sounds like something that many of the companies with international operations would deploy, but we will have to see how this plays out.
In what could be good news for P&G, Argentina has recently struck deals with companies in the chemical and energy industries to allow them to export chemicals and oil and natural gas production in order to help fund exploration in the country's vast shale formations and attract capital to create new jobs. This might be as simple as negotiating a settlement that is acceptable to both sides.
Another Merger Monday
Shares of Covance (NYSE:CVD) are rising sharply on the news that the company has agreed to be acquired by LabCorp (NYSE:LH) for $105.12/share, or a 32% premium over its previous closing price. The purchase price is based on a cash and stock combination, with LabCorp paying $75.76/share in cash and 0.2686 shares of LabCorp for each Covance share. The deal is expected to close in Q1 of 2015 and shareholders of Covance will own 15.5% of the combined company.
It did not take very long for Publicis (OTCQX:PUBGY) to go shopping after their mega-merger fell through, as the company announced that they would be purchasing Sapient Corporation (NASDAQ:SAPE). The deal values Sapient at $25/share, or $3.7 billion, and is an all cash deal which has some Publicis shareholders a bit disappointed. While the deal will not result in dilution, there are some concerns about Sapient's ability to continue to grow at current rates and the lack of moves by Publicis to return cash to shareholders. The thinking is that if Publicis is going to deploy cash for acquisitions to fuel future growth, then there will be a lot less cash left over for shareholders.
Diageo Swaps Assets
While there has been a lot of attention paid to the beer brewers in recent months, Diageo (NYSE:DEO) pulled off a deal before any of the major brewers. Over the weekend the company was rumored to be close to a deal with the family which controls the Jose Cuervo brand, via Casa Cuervo, to exchange brands in a deal which would see Diageo gain full control of the Don Julio premium tequila brand and cash in exchange for the Bushmills Irish whiskey brand. The deal was announced early this morning and will see Diageo pick up the Don Julio brand and $408 million in exchange for the Bushmills brand.
Diageo had previously hoped to buy the entire Cuervo portfolio, but was unable to reach a deal a few years ago and instead decided to focus their attention on the premium tequila market and develop Don Julio when their distribution agreement for Jose Cuervo ended. They have done a good job developing the brand and building market share and are now looking to optimize their spirits portfolio for growth. We like this transaction as it will position Diageo for better growth internationally.
Disclosure: The author has no positions in any stocks mentioned, and no plans to initiate any positions within the next 72 hours.
The author wrote this article themselves, and it expresses their own opinions. The author is not receiving compensation for it (other than from Seeking Alpha). The author has no business relationship with any company whose stock is mentioned in this article.
Editor's Note: This article discusses one or more securities that do not trade on a major U.S. exchange. Please be aware of the risks associated with these stocks.