We've identified three core ways of valuing REITs:
Analyzing dividends retrospectively.
Projecting dividends' growth going forward.
Looking at the accounts -- i.e., capitalizing the net operating income.
We will consider each of these against the backdrop of half a dozen of the U.K.'s largest REITs with dual U.S. listings.
Background

The U.K. only introduced REIT legislation at the start of 2007 with eight listings, so few REITs have long enough dividend histories as REITs for adequate retrospective analysis. Furthermore, historically U.K. companies pay dividends twice yearly in a ratio of approximately 40%/60%, which makes analysis of the most recent dividend difficult. However, more and more REITs are now adopting a regular quarterly pattern of similarly sized payments, including the "Big 2" -- British Land and Land Securities.


Sample/Target REITs
Land Securities (OTCPK:LSGOF) was established in 1944 and owns over 24 million square feet as the country's largest commercial property company, composed of a London Portfolio: 6.6 million square feet of retail and offices with 500 tenancies, and 5k acres of strategic land holdings ripe for regeneration and a Retail Portfolio: 19 shopping centers and 16 retail parks with 18 million square feet of space and 1,600 tenancies. It has been busy trading recently:
Buying most of the remaining shares in X-Leisure (in late 2013), taking it from having no major stand-alone leisure interests in early 2012, to being the U.K.'s biggest leisure landlord with 17 facilities with 5.25 million square feet of prime leisure and entertainment space: bowling; entertainment centers; water parks; bars; restaurants; health and fitness; bingo; casinos; urban & lifestyle retailers; extreme sports retailers; coffee-shops; and Xscape real indoor snow slopes (operated by Snozone).
Buying by reportedly out bidding British Land and Hammerson, Australia's Lend Lease's 30% interest in the enormous and hugely successful 330-shop BlueWater Park on London's M25 orbital motorway in mid-2014.
It also has a turnover rent-based partnership agreement with Accor over almost 5,000 rooms in 29 Ibis and Novotel hotels nationwide.

British Land (OTCPK:BRLAF) owns £12 billion/$19.2 billion of the £17.8 billion/$28.5 billion assets under management, comprising 31.9 million square feet of space focused on London (54% of the properties) and the South East (61%), with most in London offices (7 million square feet), and regional retail (25 million square feet), with a portfolio comprised of 23% West End offices (principally Regent's Place and Paddington Central); 17% city offices (principally Broadgate); 23%/66 retail parks; 11%/85 superstores; 5%/12 department stores; 15 shopping centers; and 3% leisure. It also has a strong development pipeline of 5 to 6 million square feet of office, retail and mixed-use schemes nationwide, and with over 5 million square feet completed since 2004, mostly in Central London.

Hammerson (OTCPK:HMSO) was established in 1942 and since 2012 exclusively focuses on becoming "the best owner-manager and developer of retail property within Europe" (having sold most of its offices to Brookfield), with a portfolio of: 21 prime shopping centers in the U.K. including Brent Cross (the first major enclosed shopping center in the U.K.) on London's North Circular, which it developed back in 1976, Cabot Circus in Bristol, and the Bull Ring in Birmingham; 22 retail parks with over 500,000 square feet of space; and (interests in) 9 designer Value Retail luxury outlet villages.
It has invested in France since 1985 and now almost half of the shopping centers portfolio is France-based. In early 2014, it got planning permission for the £1 billion/$1.6 billion redevelopment of the Whitgift shopping center in Croydon (in a JV with the Australian giant Westfield) for 1.5 million square feet of space plus about 500 residential units.

Great Portland (NASDAQ:GPOR) owns a 100% Central London/80% West End office and retail portfolio of about 50 buildings with around 3.3 million square feet and 450 tenants, mostly clustered around Oxford Street spreading through Mid-Town to the City and south of the river: 29% retail and leisure; 25% technology, media and telecoms; 17% professional services; 14% banking and finance; and 14% other corporates. It also has a large development pipeline that includes 50% of its existing properties, such as the 200,000 square foot Hanover Square JV Crossrail redevelopment with the Hong Kong Monetary Authority, and £483 million/$772 million redevelopment of a former Post Office site near Oxford Street for 220,000 square feet of offices, 40,000 square feet of retail, and 160 apartments.

Big Yellow (OTC:BYLOF) was established in 1998 and is now the U.K.'s largest self-storage operator with 67 facilities with 4.2 million square feet of accommodation (about half in London and the South East but 90% of the revenue), plus an ongoing development pipeline and aggressive expansion drive, offering typically 10-400 and 50-5,000 square feet of warehousing for individuals and businesses, and affordable flexi-office space (for four-plus weeks), student (up to eight weeks), and wine storage services.

Hansteen (OTC:HTHPF) owns about 4.1 million square feet of predominantly industrial properties with approximately 6,000 tenants in: the U.K. (30%/275,000 square feet/3,500 units/460 properties), Germany (55%/1.5 million square feet/90 properties), Holland (335,000 square feet/30 properties), Belgium (40,000 square feet/10 properties), and France (50,000 square feet/two properties).

Legislative Improvements
At the end of 2013, the government made some changes to the original REIT rules and dropped the 3% conversion charge, and made it easier for "blind" REITs (such as the opportunistic Irish REITs, Green/GRN and Hibernia/HBRN), foreign investment and mergers. With the development of niche sectors (and absence of others, such as hotels), the next few years should several more U.K. REITs. The following chart shows share price performance since 2007, relative to the benchmark iShares U.K. Property ETF.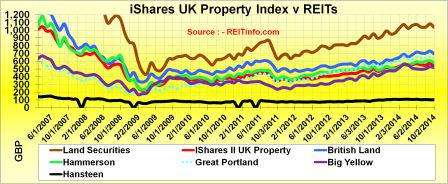 Analysis
For our analysis we have selected the above REITs because they are listed in the U.S. as well, and have several years accounts/dividends history. Below is a quick glance comparison table of the REITs in relation to each other, using key financial metrics: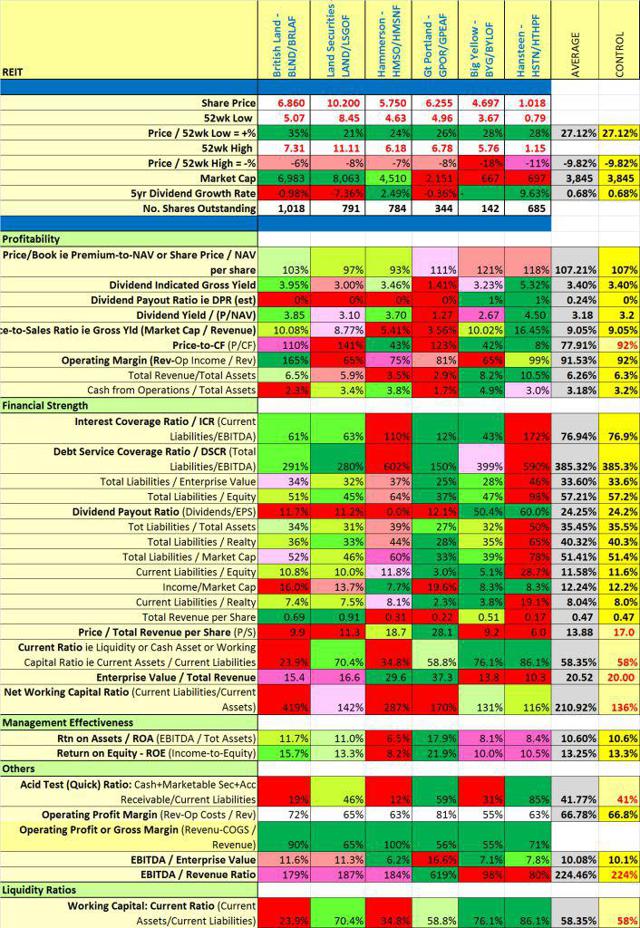 Data from Bloomberg and Yahoo Financial data (October 2014). All REITs are trading up 20%-plus on the year.
Valuation No. 1
We examined the accounts to attempt to calculate the Net Operating Income, which is then capitalized at an appropriate property yield (from reference to the accounts) before making necessary additions (working capital, development projects, land and investments in JVs and affiliates) and deductions (total debt, preferred stock and non-controlling interests) to derive an estimate of Net Asset Value per share. This has been sensitivity tested against revenue -- Analysis 1 below.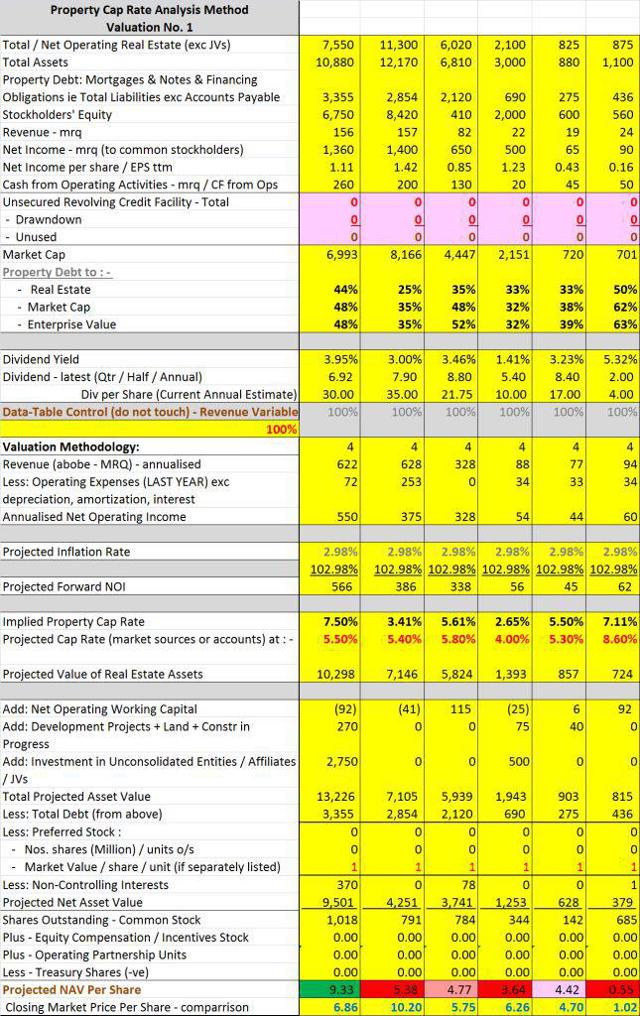 Valuation No. 2
The second methodology uses a matrix of the weighted averages of the dividends paid over the last five years, three years, one year, and most recent quarter/MRQ. The weighting is subjective, but Analysis 2 below is based on the following: 26.7%, 20%, 20%, and 33.3%, respectively; a historical average long-term inflation rate of almost 3%; and a target rate of return of 3.5%. This has been sensitivity tested against the target rate of return -- Analysis 2 below.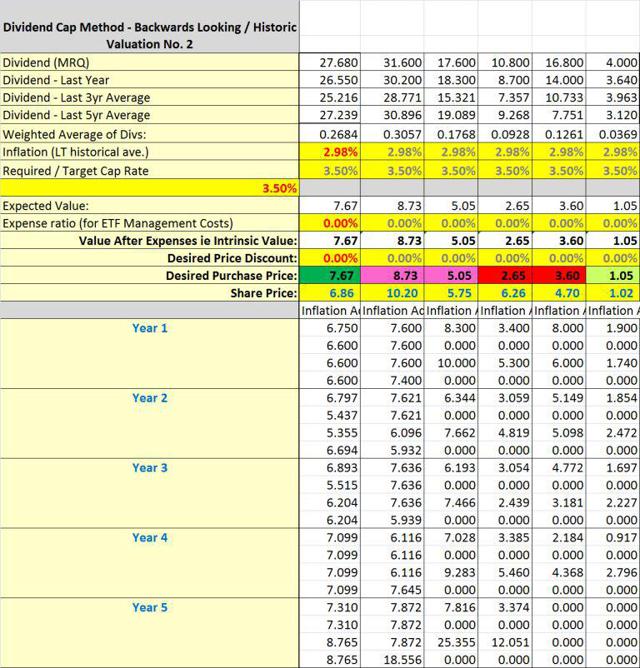 Valuation No. 3
The third valuation model is based on dividends looking forward, which forces an analyst to make a projected forecast of dividend growth (albeit with reference to historical trends), and cost-of-capital discount rate for each REIT. This has been sensitivity tested against the target discount rate -- Analysis 3 below.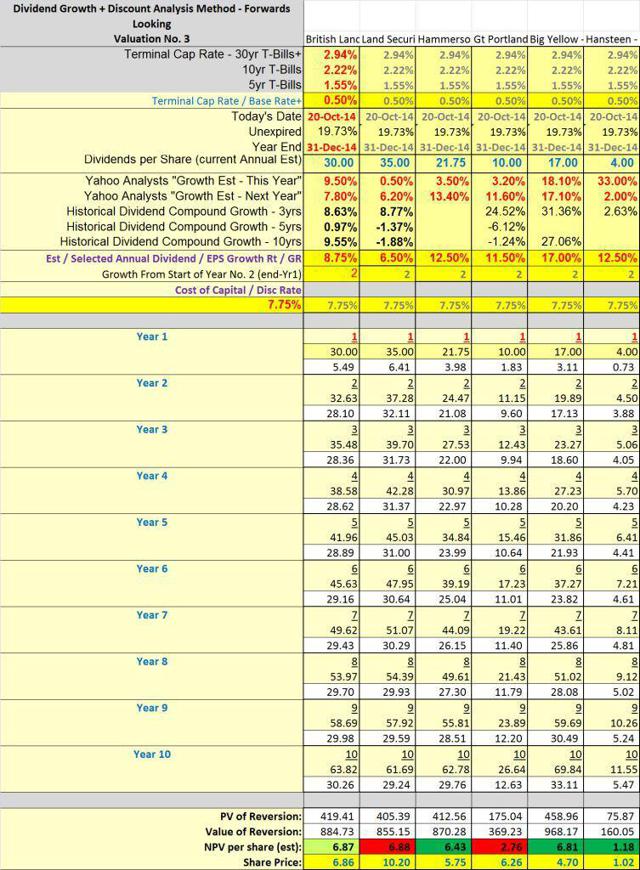 Valuation No. 4
Lastly, a reality check or nuts-and-bolts analysis (see Analysis 4 below): a yield of above 5% scores 3 points (above 4% scores 2 points and above 2% scores 1 point); a price-to-book ratio of less than 1 scores 3 points (less than 1.1 scores 2 points and less than 1.2 scores 1 point); and a gearing of less than 40% scores 3 points (less than 50% scores 2 points and less than 60% scores 1 point). See Analysis 4 below.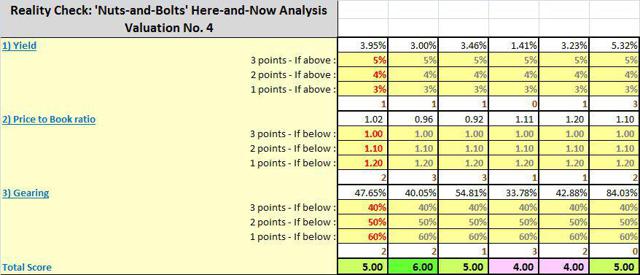 The following data table sensitivity tests the core variables for each of the above four methods -- Analysis 1-2-3-4.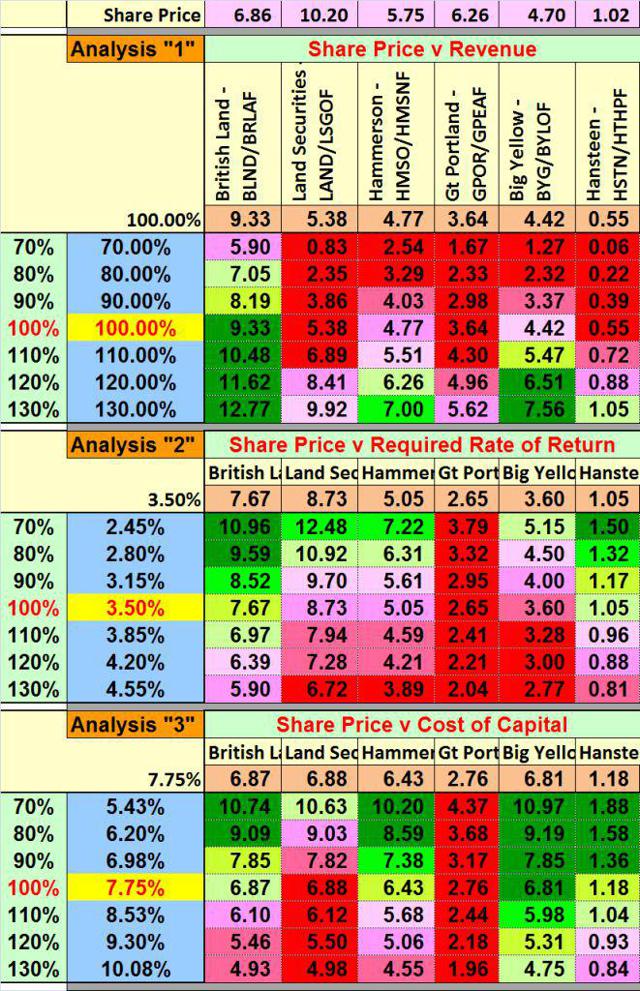 The market should continue to develop over the medium to long term with many more REITs listing and sectors (perhaps especially residential given the housing crisis in the U.K.). However, with most prices at near their 52-week highs, and the London commercial property market reaching new peaks, now may not be the best entry timing -- especially with the economic uncertainty of a general election coming up.
British Land looks the most interesting investment opportunity, with Hammerson, Big Yellow and Hansteen also worthy of more detailed research. Because most countries insist that their REITs regularly revalue their properties, depreciation is not such as issue as with U.S. REITs and their historical "book value"-focused absurdity, and so it is not so important to ascertain FFO (funds for operations), nor adjusted FFO (AFFO). Surely it would just be better and easier for everyone if the U.S. were to simply adopt international valuation standards (there is going to have to be international standardization sometime anyway, so it may as well be sooner rather than later).
Disclosure: The author has no positions in any stocks mentioned, and no plans to initiate any positions within the next 72 hours. The author wrote this article themselves, and it expresses their own opinions. The author is not receiving compensation for it. The author has no business relationship with any company whose stock is mentioned in this article.
Editor's Note: This article covers one or more stocks trading at less than $1 per share and/or with less than a $100 million market cap. Please be aware of the risks associated with these stocks.