Background:
Level 3 Communications (NASDAQ:LVLT) entered into a definitive agreement under which Level 3 Communications will acquire Global Crossing (NASDAQ:GLBC) in a tax-free, stock-for-stock transaction on April 11, 2011. Global Crossing shareholders will receive 16 shares of Level 3 common stock for each share of Global Crossing common stock or preferred stock that is owned at closing. The deal includes the assumption of approximately $1.1 billion of net debt as of Dec. 31, 2010.

GLBC's closing price on Friday was $14.80 and LVLT closed at $1.70 the day following the announcement. This equates to $27.2 for the GLBC shareholder, an 83% premium. The companies expect the transaction to close before the end of 2011.

Good for the Level 3 shareholder?
It is critical the company increase EBITDA and free cash flow (FCF) to service the massive debt on LVLT's balance sheet. The following graph compares EBIDTA and FCF for the combined companies to the same metrics before the acquisition.

LVLT indicated several times in the past it hoped to achieve core revenue growth of about 8-9%. GLBC revenues increased about 3% in 2010 over 2009 and projected EBITDA growth of about 6% for 2011. The projections reflect similar growth rates.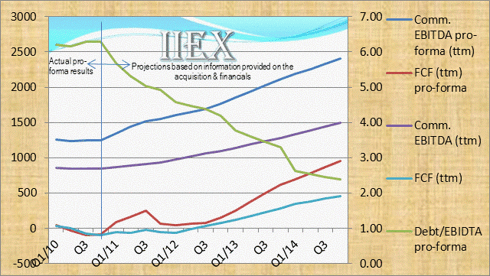 (Click charts to expand)

The deal satisfies two key requirements; increases in EBITDA and FCF. There is a large increase in EBITDA, and FCF becomes noticeably accretive in 2013. The Debt/EBITDA ratio, about seven before the acquisition, immediately drops based on the pro-forma data. The trend will continue down over time, further strengthening the balance sheet.

The deal will also improve earnings. The graph below compares Level 3's stand-alone EPS with the pro-forma data.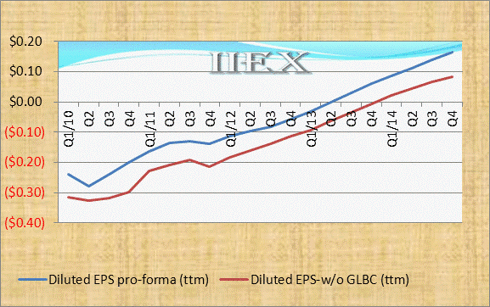 Although not as important as FCF the combined entity reaches positive EPS about two quarters earlier than without GLBC.

There is still a long way to go to realize the synergies management expects. Many may take a wait and see approach since management does not have a good track record at integrating acquisitions. Here is an excerpt from our article, located here, concerning past integrations.
Beginning with the late-2005 acquisition of WilTel, Level 3 has established itself as an industry consolidator. During 2006, the company went on to acquire Progress Telecom, ICG, TelCove and Looking Glass Networks. In 2007, Level 3 acquired Broadwing, the Content Delivery Network services business of SAVVIS, Inc. and Servecast. It looked as if the company was turning the corner but underneath the company was experiencing major problems absorbing acquisitions such as:

Experiencing an increase in the time it took to activate service for customers, hurting revenue growth.
The company was taking longer to resolve customer network service issues.
The company didn't have adequate provisioning capability to convert orders to revenue.
The company lacked adequate internal controls.

As the problems became public the stock plunged to about $1, then on March 10, 2008 ,Kevin O'Hara, president, COO and co-founder, resigned without notice. Jeff Storey was brought in as president and COO. The problems were fixed but not without cost. LVLT's revenue declined at a time it could least afford it.
We think they've learned valuable lessons from past acquisitions and adjusted accordingly, but only time will tell.

The downside is management paid a huge premium, adding about 1.3 billion shares. Based on this dilution, LVLT's fair value is in the low to mid two dollar range. If management were able to increase growth rates beyond single digits fair value would substantially increase. However we feel much of management's attention will be taken up by the integration efforts to insure the mistakes of the past are not repeated.

The bottom line; this is a very good deal for Level 3 Communications.

A complete set of detailed financial data and projections reflected in this article is found here.

Disclosure: I am long LVLT.